In The Sweet Life in Paris, David Lebovitz shares a recipe for his friend's mother's signature Gâteau de Chocolate. "Gâteau Thérèse" is a rich, chocolate cake packed with chocolate, eggs, and butter which when stored at room temperature, seems to improve with age. This cake came to mind last week after I served a chocolate cake made with coconut flour. Given the success of that cake, I was ready to try a Gâteau de Chocolate.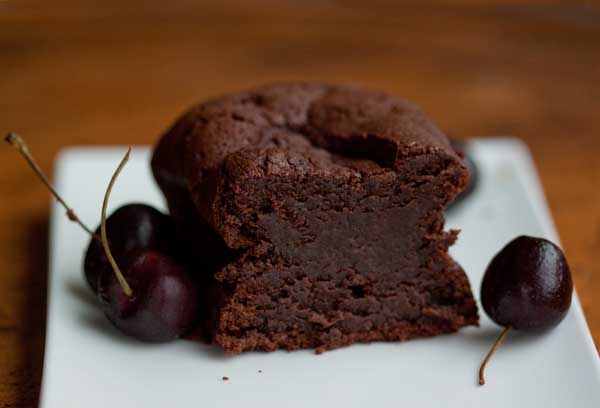 2 Cup Capacity Loaf Pan
The version from the book, Gâteau Thérèse, is made in a 9 inch loaf pan. I halved the recipe and used a 5 ¾ x 3 inch (2 cup capacity) loaf pan which was just the right size and gave us four small servings.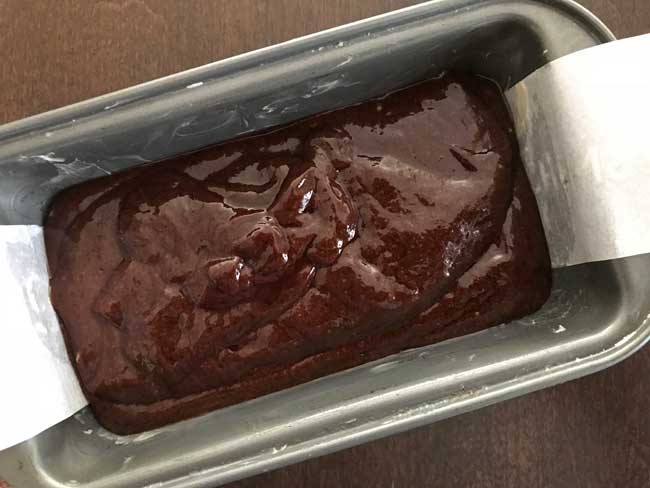 It would be easy to eat the whole cake in one sitting, but I've been trying to see how long it will last at room temperature and have been serving very small portions with whipped cream and fruit.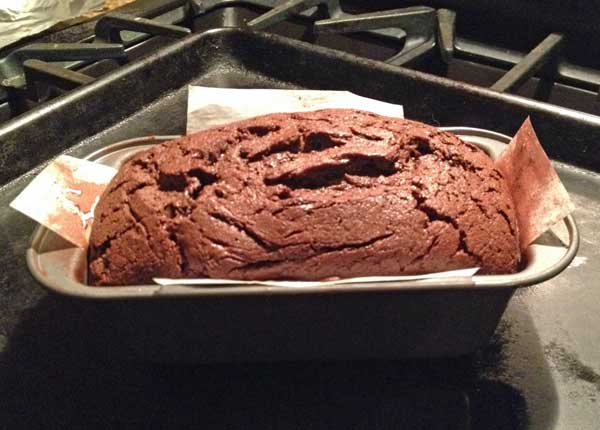 Chocolate Type
We loved this cake, and I plan on trying it with different brands and types of chocolate. Because a few people described the original recipe as not-very-sweet, I used a sweeter dark chocolate (45% cacao) called Choceur.  There are plenty of potential dark and bittersweet chocolates to experiment with, but since there's not much sugar in the recipe I plan on sticking with bars that are lower than 70% cacao. For the butter I used European style, which is great for baking.  The cake was nicely rounded and sank just a little as it cooled.  It didn't need any sort of frosting, but it was the perfect accompaniment to fruit and cream.  It's also good with a little bourbon poured over it.
Recipe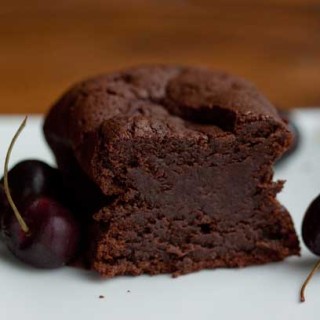 Gâteau de Chocolate
This gâteau de chocolate is a French style chocolate cake baked in a small loaf pan.
Ingredients 
4 ½

ounces

125 g dark or semisweet chocolate, chopped (45 to 63%)

4

tablespoon

60 grams unsalted butter, European style

2

tablespoons

plus 2 teaspoons

35 grams sugar

2

large eggs

at room temperature, separated

1

tablespoon

flour

Pinch

of salt
Instructions 
Preheat the oven to 350°F. Grease a 5 ¾ by 3 inch (2 cup capacity) loaf pan and line the bottom with a strip of parchment paper. If using a different size or small pan, just make sure the batter has room to climb and doesn't go all the way to the top of the pan.

In a microwave-safe bowl, combine the chopped chocolate and the butter and heat at 50% power, stirring every 40 seconds or so, until chocolate is melted and mixture is smooth. If you prefer, you can do this in a double-boiler or bowl set over water. The microwave worked fine.

Stir half of the sugar into the warm melted chocolate mixture, then stir in the egg yolks, and flour.

Using a handheld electric mixer, whip the egg whites with the salt until foamy. Gradually add remaining sugar and whip until whites hold stiff peaks but are not dry.

With a rubber spatula, fold one-third of the egg whites into the chocolate mixture to lighten, then fold in the remaining egg whites just until mixture is smooth and whites are fully blended.

Scrape the batter into the prepared loaf pan, smooth the top, and bake for 30 minutes, just until the cake feels slightly firm in the center. Do not overbake.

Let the cake cool in the pan before serving.