Our box of glute- free flour is dwindling, and even though we are not gluten-free I plan to buy more. I've finally found a brand that tastes great and works perfectly in most recipes, including these Gluten-Free Peanut Butter Chocolate Chunk Bars.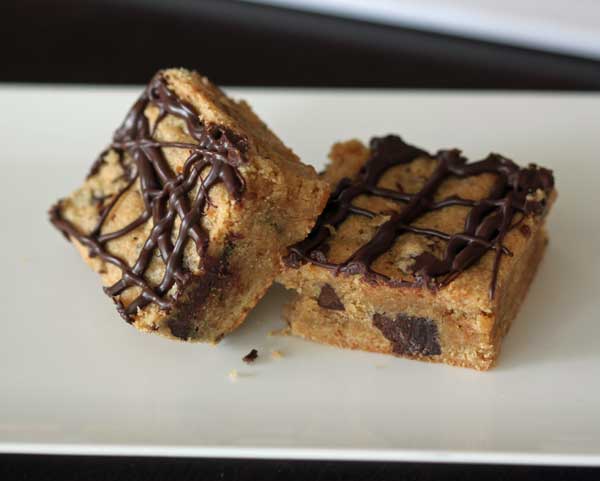 This recipe is derived from a Peanut Butter Chocolate Chunk Brownies recipe I posted years ago. The original is made with regular flour, so if you don't have the gluten free flour, you can use the original recipe. However, I did alter this version somewhat by halving it, using a mixture of regular and brown sugar, and nixing the ganache for a drizzle of melted chocolate. And then of course there was the gluten-free flour blend.  The brand I have been using is Gluten Free King Arthur Multi Purpose.
The bars were great! Just be careful not to use too much flour or overbake, as peanut butter bars are prone to dryness.
I've made the Gluten Free Peanut Butter Chocolate Chunk Bars ONCE. I will add notes and update if I improve them, but my first batch was very good. I may try using a tad less flour.
Recipe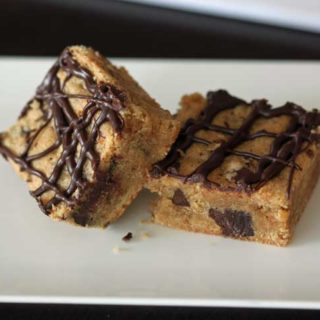 Gluten Free Peanut Butter Chocolate Chunk Bars
Gluten Free Peanut Butter Chocolate Chunk Bars
Ingredients 
1

stick

4 oz unsalted butter, softened

⅓

cup

granulated sugar

⅓

cup

very firmly packed dark brown sugar

¼

teaspoon

salt

1

teaspoon

vanilla extract

½

cup

4.5 oz peanut butter

1

large egg plus 1 egg yolk

¾

cup

plus 2 tablespoons

4.2 oz Gluten Free King Arthur Multi-Purpose Flour (maybe reduce to ¾ cup plus 1 tablespoon)

4

oz

dark chocolate

cut into large chunks
Topping: 2 oz dark chocolate chunks mixed with 1 teaspoon coconut oil
Instructions 
Preheat oven to 350 degrees F. Line an 8 inch square metal pan with nonstick foil.

Beat the softened butter and both sugars with an electric mixer until creamy, scraping bowl often.

Add salt, vanilla and peanut butter and beat until incorporated. Beat in egg, the egg yolk and vanilla.

Add the gluten-free flour and stir until blended, then stir in the chocolate chunks.

Spread batter evenly in pan.

Bake on center rack for 28 to 30 minutes or until edges are lightly browned. Let cool completely.

Melt the chocolate and coconut oil (or butter or shortening if you prefer) together in the microwave by heating at 30 second intervals and stirring. Drizzle over the bars and put in the refrigerator to quick set.

Lift the bars from the pan and cut into squares. They will get softer and absorb more moisture as they sit, so you may not want to serve them immediately. Store in the freezer or in a tightly closed zipper bag or box.
Notes
Measure the flour carefully by weighing it of fluffing it up and measuring by volume without packing. Also, this recipe does not call for baking flour or baking soda.