These are not ordinary brownies, but rather a cross between a brownie, chocolate soufflé and fudge. They are deceptively light and a little piece goes a long way. And because so much of the structure comes from eggs, sugar and chocolate, you can use wheat free flour and make gluten free brownies, or use regular all-purpose for traditional.  Then again, traditional doesn't exactly describe these because the texture is lighter than a typical fudge brownie and these are 0% cakey.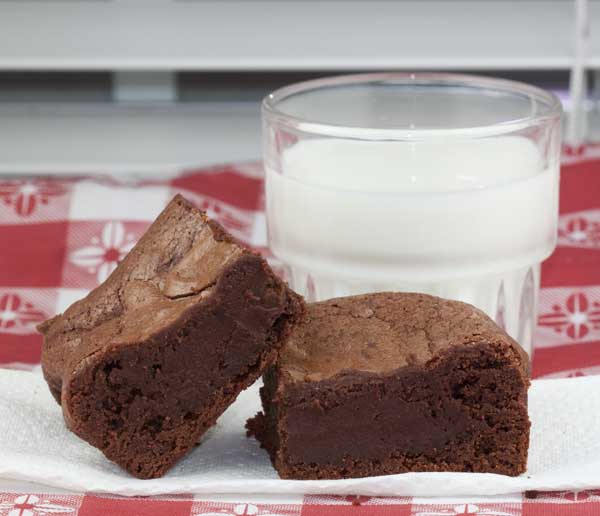 Gluten Free Brownies in a Loaf Pan
My only request is that if you try the recipe, stick with the loaf pan. I've tried doubling and tripling this recipe over the years, but the loaf pan gives the best results, by which I mean crusty edges and a soft centers. And definitely store these in the refrigerator or the freezer.  Also, the only gluten free flour I've tested with is Bob's Red Mill.  If you use a different gluten free blend, let me know how it works!  I think any flour will be fine so long as you weigh out 2.1 oz on a scale.
Square Pan
I recently tested the recipe in an 8 inch square pan. The brownies were much thinner, but still good. Bake time was 20 minutes.
Recipe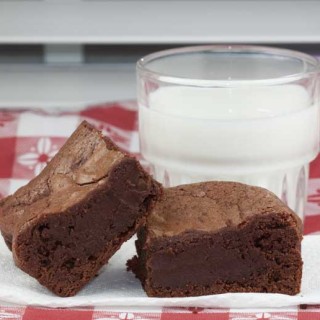 Gluten Free or Not Super Fudge Brownies
Gluten Free or Not Super Fudge Brownies
Ingredients 
114

grams

unsalted butter

cut into chunks (4 oz)

84

grams

unsweetened chocolate

3 oz

210

grams

7 ounces granulated sugar, ground fine in a coffee grinder or processor

(1 cup)

1

teaspoon

vanilla extract

2

large eggs

¼

teaspoon

salt plus another little pinch

¼

teaspoon

xanthan gum

for gluten free version only

60

grams

6 tablespoons Bob's gluten free all-purpose flour or 60 grams regular AP flour

weigh for best results
Instructions 
Preheat oven to 350 degrees F. Line the inside of a 9×5 inch or 8 ½ by 4 ½ inch metal loaf pan with non-stick foil.

Melt the butter and chocolate together over medium low heat. Add half of the sugar to the warm chocolate and stir gently so that sugar dissolves somewhat in the hot chocolate. Remove from heat and stir in vanilla.

In a mixing bowl, using an electric mixer, beat eggs for 2 minutes or until foamy and light. Add remaining ½ cup of sugar gradually to eggs and continue beating for another two minutes.

Fold about ⅓ cup of the egg mixture into the warm chocolate mixture, then fold the chocolate mixture back into the bowl with the egg mixture. Mix together the salt, xanthan gum and gluten free flour (or salt and regular flour) and fold into the batter, keeping it as light as possible.

Pour into pan and bake for 27-30 minutes or until top appears set. The toothpick test doesn't really work with these – it will still come out wet. Internal temp should be around 190 degrees in center. Let cool completely and chill for several hours or until very cold and set. Lift from pan and cut into squares.

Store in the refrigerator.
Notes
Baking time will vary a little with size and type of loaf pan. If you're using a wide metal loaf pan such as a 9 ½ by 5 ½, check at 25 minutes. If your loaf pan is slightly narrow at 9x5 or 8 ½ by 4 ½, 27 to 30 minutes should do the trick. I haven't tested in a small 8x4 inch loaf but suspect bake time would be a little longer due to more batter being piled in a smaller pan. I also have not tested in glass or ceramic.  Bake time for an 8 inch square pan is about 20 minutes (brownies will be thin).