Fuzz's Gingerbread Muffins are named after my sweet daughter. Her real name isn't Fuzz, but we've been calling her that since since she was a toddler with a big fuzzy head of hair, and she's still okay with her nickname. She's also okay with chunks of fruit in muffins and no longer leaves a pile of raisins/nuts/or whatever on the plate. Thank goodness. But even still, these muffins would please "Old Fuzz", because they're fairly homogeneous in texture save for the little bits of candied ginger. They're soft, spicy and have fairly high tops.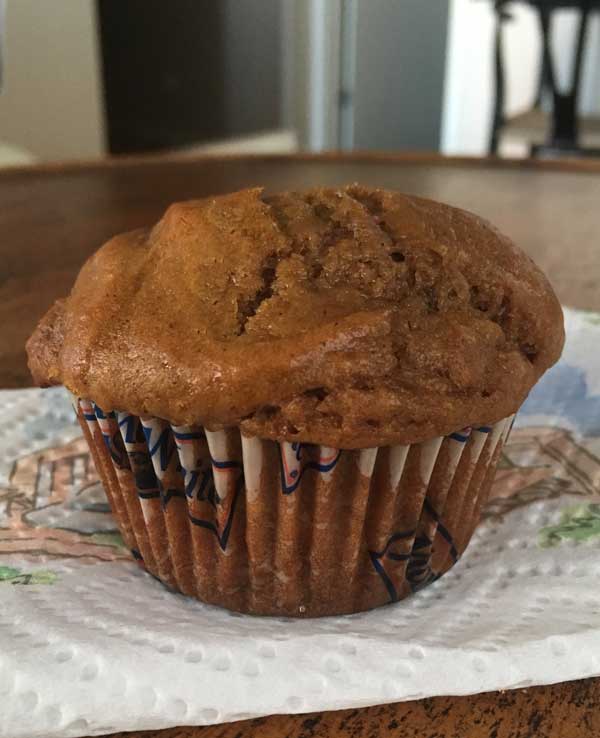 Gingerbread Muffins with High Tops
I came up with these gingerbread muffins while experimenting with ways to get high muffin tops. One trick that works with some batter is to let the batter sit for an hour (or even overnight). As it sits, it thickens, and you can pile it all in the muffin pan then blast it with heat so that the tops set quickly. Following that theory, I let the dough sit, piled it in the cups, then started the muffins at a hot 400 and reduced the heat to 375 so the insides would continue baking without the outsides burning.
This recipe is pretty flexible. You can add a half cup or so of bran cereal if you want, make the muffins larger or smaller or substitute cream for some of the milk if you need richer muffins. The sour cream definitely adds some flavor and helps the muffins stay tall, but if all your have is yogurt then that might work too. I haven't tried it.
Recipe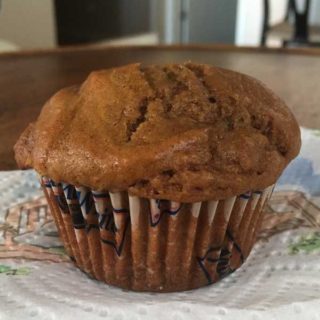 Jumbo Gingerbread Muffins
Letting the muffin batter sit for a while and baking the muffins at a high temperature helps them develop high tops or "crowns". I like a lot of ginger flavor so I add a little candied ginger. Feel free to leave it out or add raisins instead.
Ingredients 
Dry Ingredients
1

cup

4.5 oz all-purpose flour or bread flour

1

teaspoon

baking powder

double acting

1/4

teaspoon

baking soda

1/4

scant teaspoon salt

1/2

teaspoon

ground cinnamon

3/4

teaspoon

ground ginger

1/4

teaspoon

ground cloves

3

tablespoons

packed dark brown sugar

1.5 oz

2

tablespoons

chopped candied ginger

optional
Wet Ingredients
3

tablespoon

mild molasses

1.8 oz weight

3

tablespoons

vegetable oil

1/4

cup

sour cream

2 oz weight

1/4

cup

milk

2 oz weight — for richer muffins you can use whole milk or even cream

1/2

teaspoon

vanilla extract

1

large egg

room temperature
Instructions 
Whisk the dry ingredients together in a medium bowl.

Whisk the wet ingredients together in a slightly larger bowl.

Add the dry ingredients to the wet ingredients and stir with a heavy duty scraper until blended. Cover the bowl and chill the batter for about an hour. It will thicken and puff up slightly as it sits.

Preheat oven to 400 degrees F.

Line 6 muffin cups with paper, foil or parchment liners. Divide the cold batter evenly between the cups, piling it towards the center. For more dramatic muffins, make 4 or 5 muffins and pile higher.

Put the muffins in the hot 400 degree oven and bake for 10 minutes.

Reduce oven heat to 375 degrees F. and bake for another 8-10 minutes (more if making large muffins) or until muffins are set and cooked through. Let cool.
Notes
If you want to make very tall, large, muffins you can pile the thickened batter higher in the cups and make 4 large muffins.