As a follow-up to the Roasted Flour Snickerdoodles, here's a recipe for Roasted Flour Chocolate Chip Cookies. These are big, fat cookies.  I put the mascara in the photo to show scale.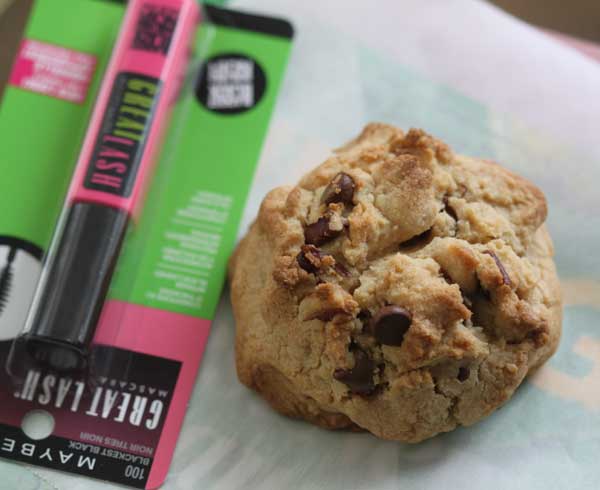 Roasting the flour adds flavor, but it also curbs the spreading so the cookies have a rounder shape.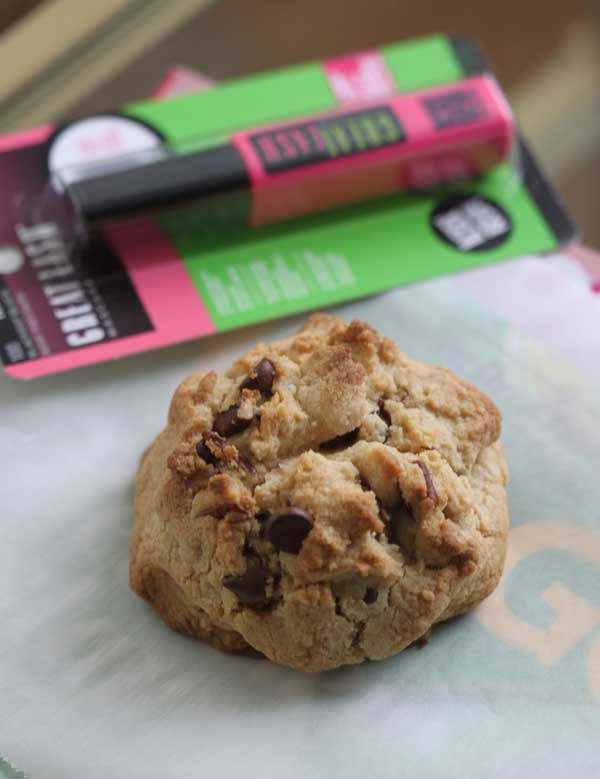 Here's a picture of the cross-section, which in this case is a little over baked.   Usually the insides look a a tad bit more dough-y than this one, which is not to say this cookie didn't taste great!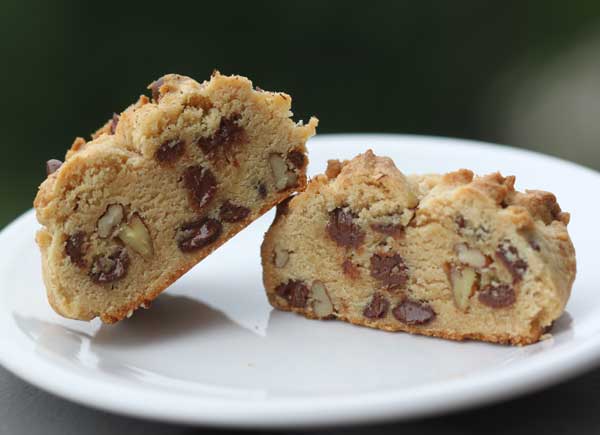 You can make these without roasting the flour, but you may not get quite as round a cookie.  Or you may.  Chilling the dough will definitely help with that, as will using organic or European style butter.
Roasted Flour Chocolate Chip Cookies
Roasted Flour Chocolate Chip Cookies are big, fat chocolate chip cookies made with bread flour, high quality butter and good chocolate chips. I make these using the gram measurements. The volume measurements are just estimates.
Ingredients
1 1/2 cups (198 grams) King Arthur Bread Flour
1 stick (114 grams) unsalted butter, Whole Foods Organic or European style
1/3 cup plus 2 teaspoons (84 grams) light brown sugar
1/4 cup (50 grams) granulated sugar
1 extra-large egg (53 grams), I use a cold egg here
1/2 teaspoon vanilla extract
1/2 teaspoon salt (use 1/4 teaspoon if butter is salted)
1/8 teaspoon baking soda
1/2 teaspoon baking powder
2/3 cup good quality chocolate chips
1/2 cup chopped walnuts or pecans, toasted or untoasted
Instructions
Roast Flour: Preheat oven to 350 degrees and line a rimmed baking sheet with foil. Spread flour on the foil lined sheet and bake for 15 minutes or until it is fragrant. It should not be too brown. Break up any lumps and sift. Let cool completely.
Beat the butter and sugar until light and creamy. Add the egg and beat for another minute scraping bowl, until mixture is very light but kind of curdled from the coolness of the egg. Beat in the vanilla.
In a separate bowl, stir together flour, salt, baking soda and baking powder. Add flour mixture to butter mixture and stir until blended. Stir in the chips and nuts. Empty mixture onto a flat surface and make sure all the dry ingredients are thoroughly blended in.
Divide dough into five (can do four for larger cookies) equal sections and roll into compact balls. Pull the dough balls apart and stick back together so that the broken/rough area is on the outside and the balls are raggedy looking but compact. Chill dough balls loosely covered (so they can dry out a bit) for several hours for thicker cookies or chill for just 30 minutes for not-so-rounded cookies.
Baking Method: Bake in a well-preheated 375 degree oven for 8 minutes, then reduce heat to 350 and bake for another 10 to 15 minutes. My advice is to bake one cookie at a time until you figure out how these cookies do in your own oven. They are good overbaked or underbaked, but they do need to cool completely. I like their texture after they've been frozen and thawed.