As a follow-up to the Roasted Flour Snickerdoodles, here's a recipe for Roasted Flour Chocolate Chip Cookies. These are big, fat cookies made with milk.  I put the mascara in the photo to show scale.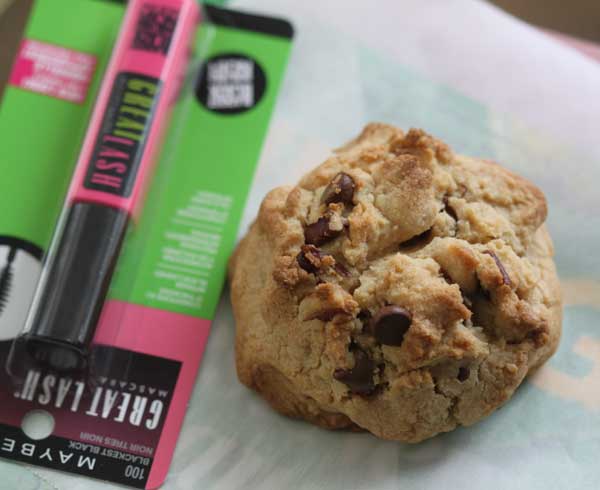 Roasting the flour adds flavor, but it also curbs the spreading so the cookies have a rounder shape.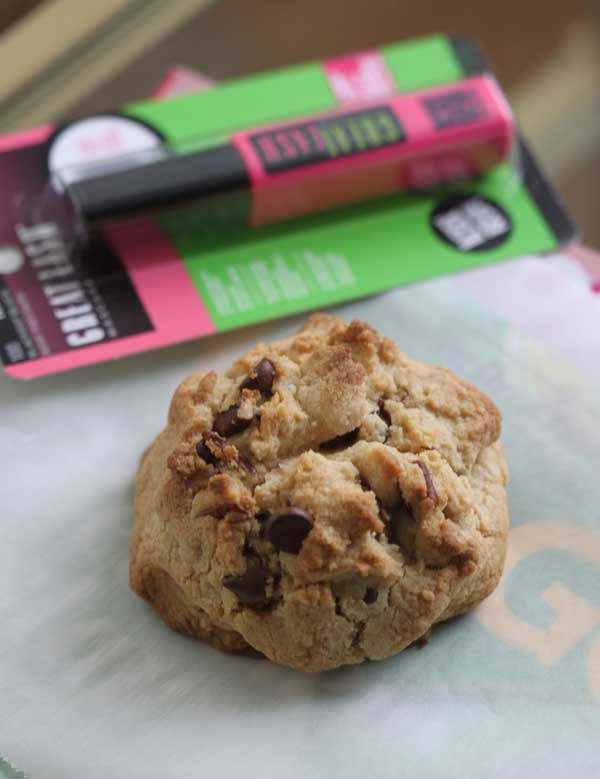 Here's a picture of the cross-section, which in this case is a little over baked.   Usually the insides look a a tad bit more dough-y than this one, which is not to say this cookie didn't taste great!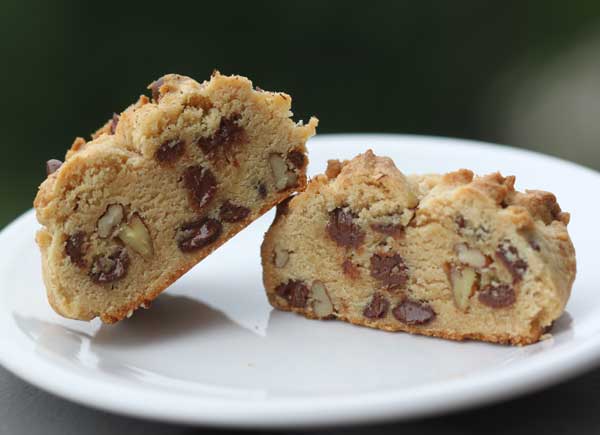 You can make these without roasting the flour, but you may not get quite as round a cookie.  Or you may.  Chilling the dough will definitely help prevent spread as well, but roasting the flour is what really makes a different.  Here's a picture of a cookie made with roasted flour vs. one made with just a mixture of plain bread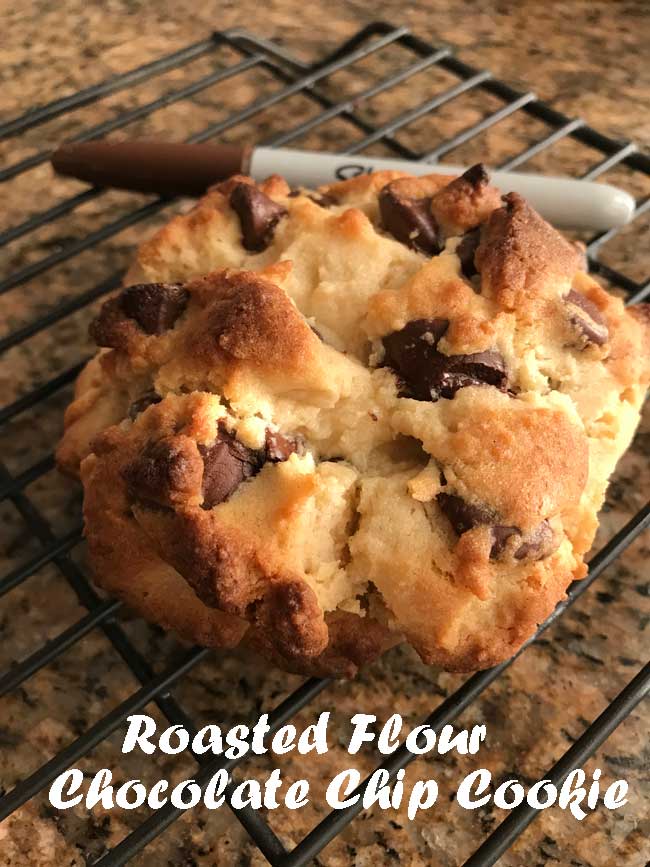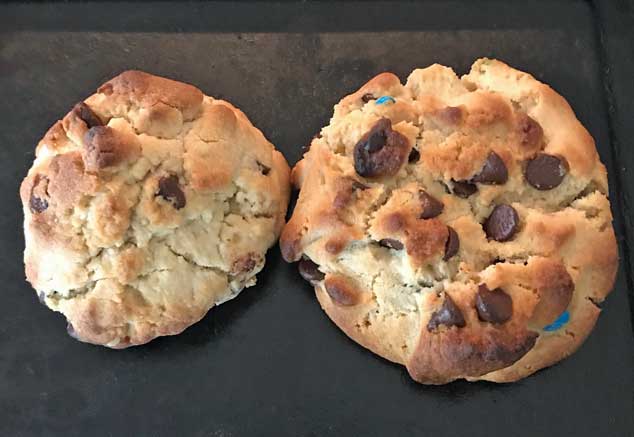 I'm playing around with this recipe a bit and will put it back up shortly!  Update:  Here's the latest rendition.  Also, if you are reading this and actually making it, you are my new best friend.  I pretty much expect no one to try this but the uber curious or pastry chefs.

Roasted Flour Chocolate Chip Cookies
Roasted Flour Chocolate Chip Cookies are made with a mixture of bread flour and ap flour that has been roasted (baked) in the oven at 350 and then cooled.
Ingredients
190 grams flour (150 bread and 50 AP) -- When roasted, it's 170 grams
1/2 teaspoon baking powder
1/4 teaspoon baking soda
1/2 teaspoon salt
2 tablespoons dry milk powder (14 grams)
140 grams unsalted Land o' Lakes butter 10T.
83 grams brown sugar ( 1/3 cup plus 2 T.)
50 grams cane sugar ( I like organic) (1/4 cup)
1 teaspoon vanilla
35 grams egg and yolk beaten together (1 whole egg and 1 yolk weigh out 70)**
½ cup assorted chocolate chips – may want to use more in the future,
Instructions
Start with your 190 grams of flour -- 150 and 40 grams all-purpose (or just use all bread if you prefer a crispier shell). Bake flour at 350 for 15 minutes. Let cool, then break up any chunks and sift. Flour will have lost weight and will now weigh about 170 grams.
Mix together the 170 grams cooled flour, baking powder, baking soda and salt. Add the dry milk powder and stir thoroughly. Set aside.
In the bowl of a stand mixer, beat cold butter until creamy. Beat in brown sugar and cane sugar. Beat in vanilla. Add the 35 grams of cold mixed egg and yolk (save the rest for something else). Beat until creamy.
Add the flour mixture and stir on lowest speed until blended, then add the chocolate chips.
Divide dough into 3 6 oz balls and one about 2-3 oz. (whatever is left). Cover pre-made dough balls and chill for several hours or preferably overnight.
When ready to bake, set dough balls on a parchment lined tray and bake in a convection oven at 350 for 20 to 23 minutes or if you prefer, bake at 400 for about 10 minutes then reduce heat and bake at 330 for another 10 to 12. Let the cookies cool completely or at least until they are warm but but super hot. I like to let them cool completely, freeze, then thaw and re-warm.