Roasting flour is a technique chefs use to add depth of flavor to sauces. In most cases flour is browned over the stove in a skillet. However, flour can also be spread on a sheet pan and baked, then used in cookies and breads. Roasted Flour Snickerdoodles were an experiment to see how it would work in this all time favorite.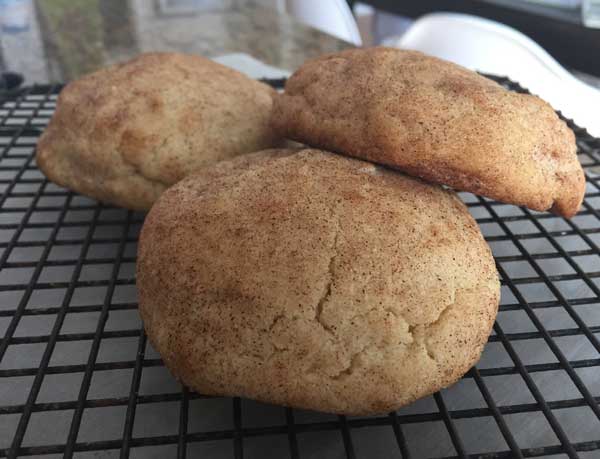 Some people like the flavor of the baked aka roasted flour, but in my opinion the main benefit is that it changes the structure of the flour and gives you a cookie with different textural properties.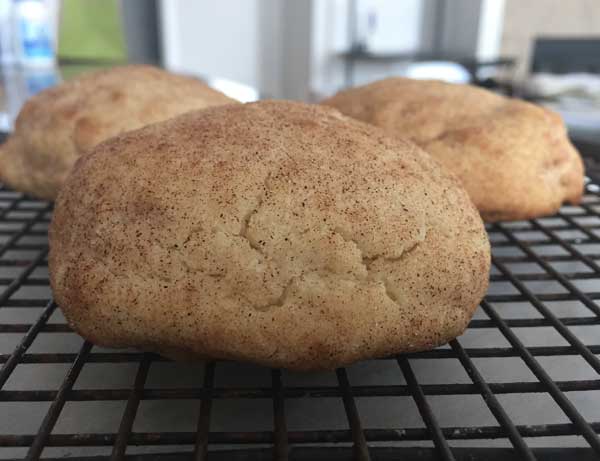 Roasted Flour Snickerdoodles Texture
The Roasted Flour Snickerdoodles didn't spread as much and the interior texture was crumbly yet soft and moist at the same time. My cookies have kind of a yellow hue to them because organic butter was on sale at Whole Foods and that's what I used.Now I'm hooked. Thanks, Whole Foods. What am I going to do when the price goes back up to $5.00 or whatever? But back to the cookies.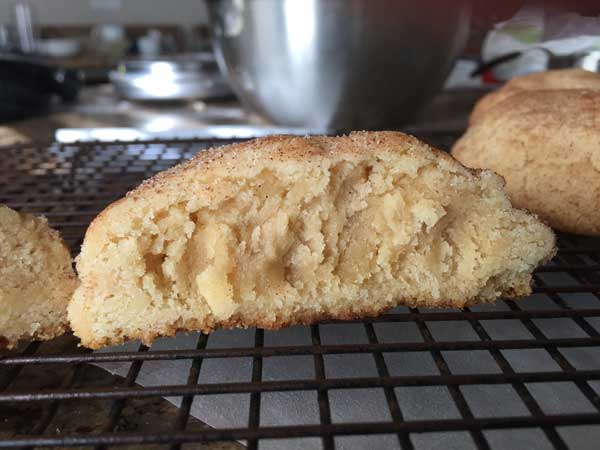 Drying the flour in the oven by baking it and using good quality butter seems to enhance the overall buttery flavor. I kept this batch pretty small, but the cookies themselves are large. They are 4 oz each! I don't think you'll get quite the same textural effect if you make these much smaller, so I recommend making Roasted Flour Snickerdoodles as giant cookies and giving them away as gifts or selling them at bake sales.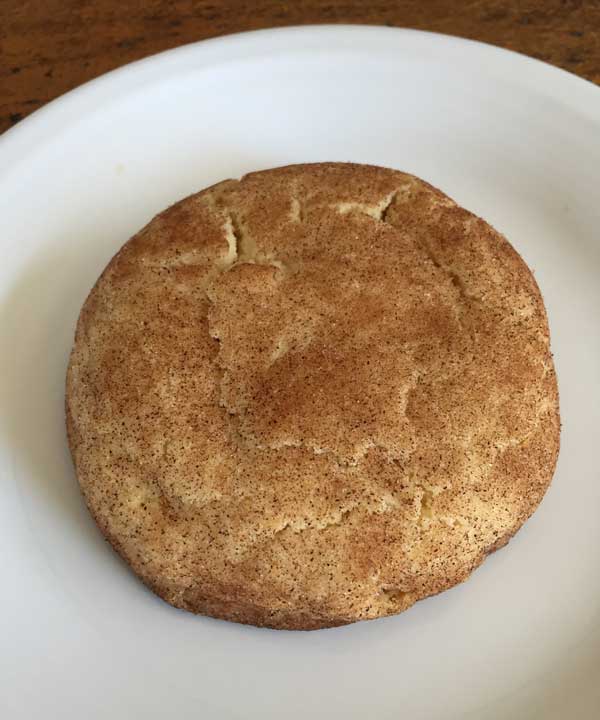 I hope you like the recipe. Tomorrow I'll post the Roasted Flour Chocolate Chip version.
A Few More Baking Notes
Update: I've updated the Roasted Snickerdoodles and they now call for 1 cup of un-roasted bread flour (140 grams) and 40 grams of roasted flour (weighed after roasting). Also, the cold butter and sugar are creamed in a stand mixer for 4 minutes. This should give you a dough that's fairly easy to shape into balls. After being chilled for 2 hours, the cookies should bake up nice and fat. About 25 minutes at 375 worked for me, but if you want a doughier cookie you can take the cookies out at 20 minutes.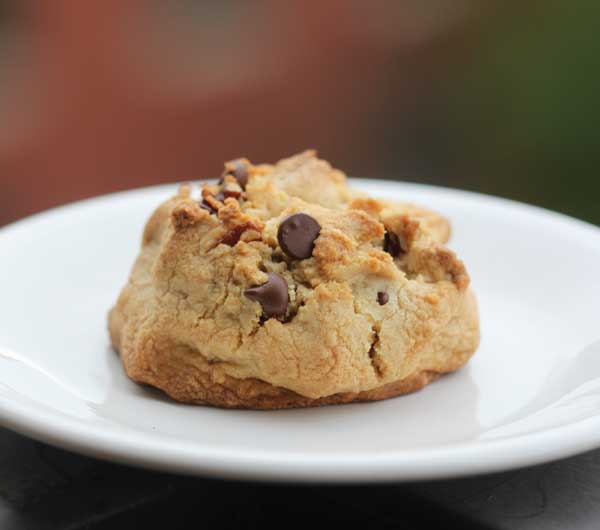 Recipe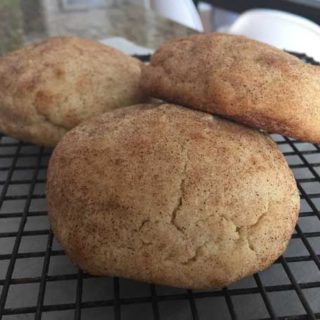 Roasted Flour Snickerdoodles
Roasted Flour Snickerdoodles are big, fat, round cookies made with flour that has been baked in the oven for 15 minutes.
Ingredients 
1

cup

bread flour

140 grams

⅓

cup

roasted all-purpose flour

40 grams

1

teaspoon

baking powder

½

teaspoon

salt

1

stick

unsalted butter

114 grams, softened

¾

cup

granulated sugar

150 grams

1

large egg

beaten

½

tablespoon

vanilla
Rolling Mixture
2

tablespoons

sugar

1

teaspoon

cinnamon
Instructions 
Roasted Flour

Preheat oven to 350 degrees F. Line a rimmed baking sheet with foil.

Spread about a cup or two (you will not use all of it for this recipe) of all-purpose flour across a foil lined rimmed baking sheet and bake it for 15 minutes. It should not get too brown, but it will be very fragrant and will have developed lumps. When flour is cool enough to handle, empty it into a large bowl and mash out any lumps You can also sift it and then mash out any remaining lumps if you need to. Let cool completely before using. Weigh out 40 grams (about ⅓ cup, but a scale is more accurate).

Cookies

In the bowl of a stand mixer using the paddle attachment, beat the butter until creamy. Add the sugar and beat for 4 minutes, scraping side of bowl often. Add the egg and vanilla and beat for one minute.

Whisk together the 1 cup of bread flour and the 40 grams of roasted flour, baking powder and salt. Add to the egg mixture and stir to make a soft dough. Shape the dough into 4 balls and chill the dough balls for 2 hours or until firm.

Preheat oven to 375 degrees F. Line a baking sheet with parchment paper.

Mix the sugar and the cinnamon put in a zipper bag. Put a dough balls in the bag and shake to coat.

Arrange the cookies a few inches apart on the baking sheet and put it in the oven.

Bake cookies at 375 for 20-25 minutes.

Allow cookies to cool for a few minutes on the baking sheet, then carefully transfer to a wire rack to finish cooling.

Wrap cookies individually and store in the freezer.