It's about time for a "favorite apple pie" update, so here it is -- Roasting Pan Apple Pie.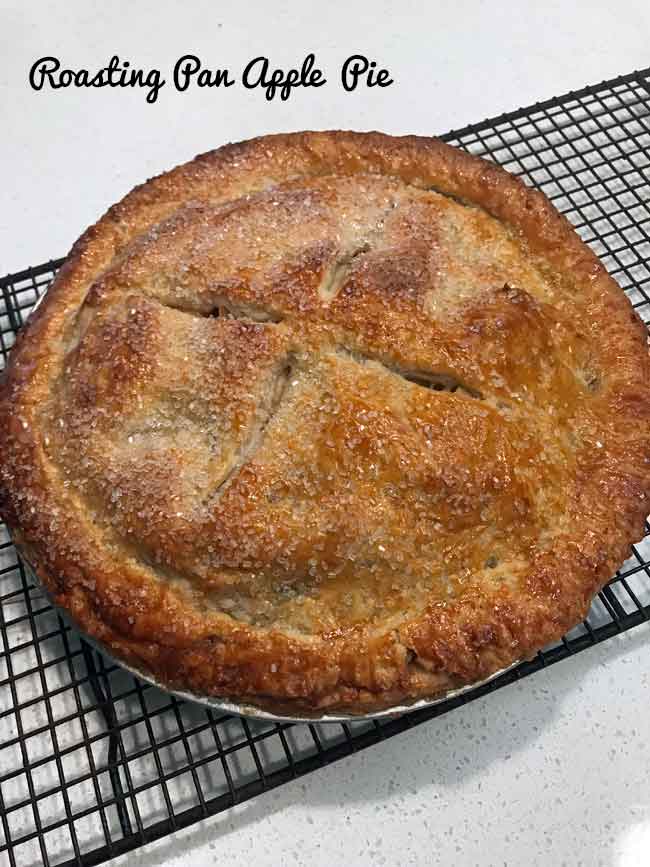 The name comes from the fact the apples are quickly broiled in a roasting pan, then all the other ingredients are mixed right in the same roasting pan.
I've already made this one three times this week, and Sue was kind enough to test it in her kitchen as well, so it's a pretty solid recipe if you're looking for a basic apple pie.
Roasting Pan Apple Pie Tips
Shallower Pie Pan -- I've been using metal pie pans from Dollar Tree lately. They are shallower than my usual Pyrex so the filling piles higher. Also, the crust seems to brown perfectly. Best of all, they are only $1 so you can give away whole pies and the recipient will have their own new pie pan.
Update on Dollar Tree Pie Pans: Beware of a bitter flavor! If you use the Dollar Tree pans, be sure not to run them through the dishwasher. I've made the mistake of doing that, and what happens is the pan imparts a bitter flavor onto whatever it comes in contact with. I am not sure why this happens, but am wondering if the dishwasher may remove some sort of protective coating. So if you are re-using these, be sure to wash by hand. For a good everyday reusable pan, I recommend a sturdy one such as a USA pan.
Buttery, flaky crust -- Use your favorite. The one below calls for mostly butter and a little shortening and is pretty reliable.
Apple Type -- Granny Smiths for the most part, plus a few fun sweeter apples like Opal, Fuji and/or Honeycrisp.
Filling -- Broiling the apples to soften and release juices keeps the pie from sinking so much under the top crust.  Plus the apples don't get too mushy, which is a problem with some cooked fillings.  For Roasting Pan Apple Pie you just put the apples in a roasting pan under the broiler for 6 to 8 minutes, then mix the apples and everything else all together in the roasting pan.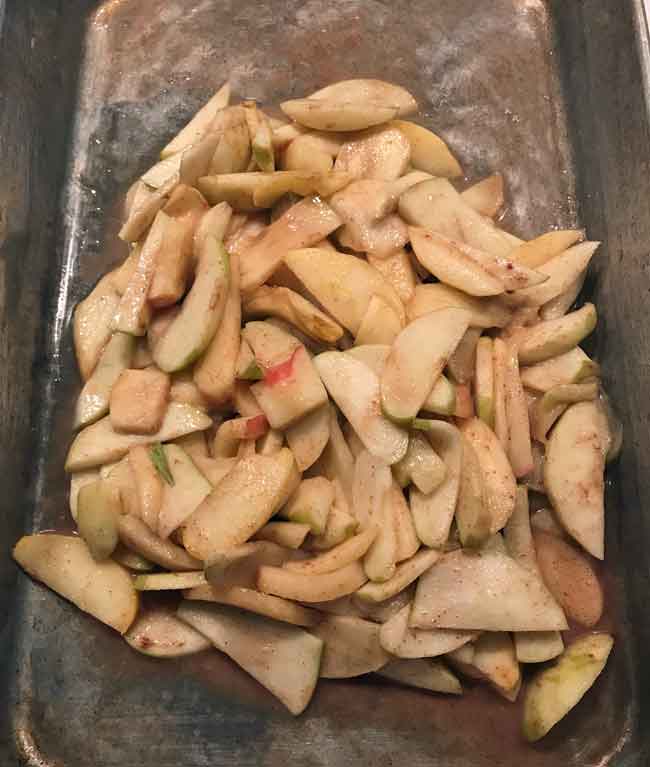 Flavor -- Just some cinnamon and a good deal of lemon juice works for me. I also use 2 tablespoons of butter to tie it all together.
Thicker -- There are more interesting thickeners, but all purpose flour is convenient and works just fine.
By the way, this is an offshoot of my old favorite, Broiled Apple Pie. The Broiled Apple Pie is also very good, but calls for a lot more sugar.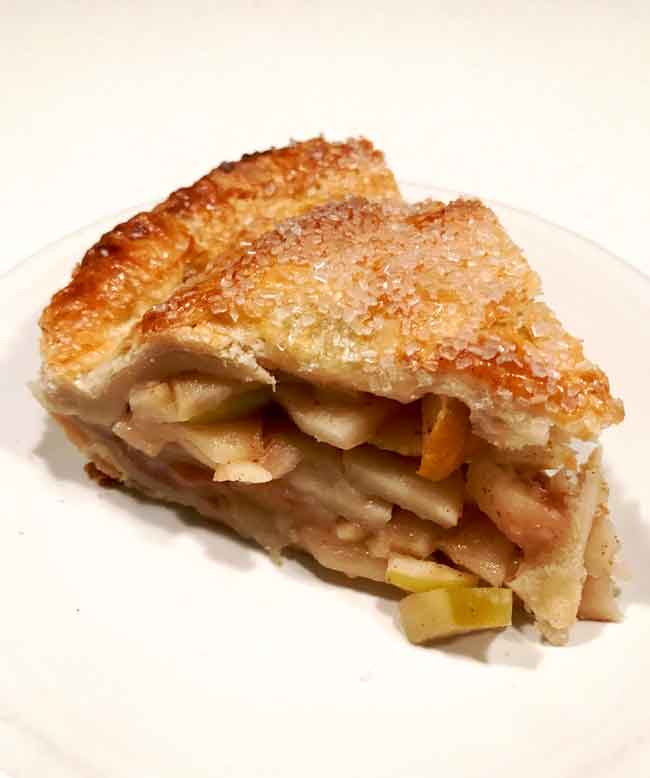 Recipe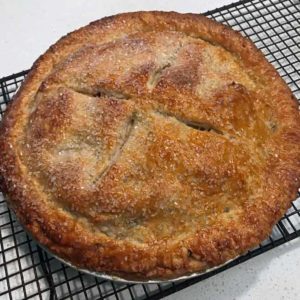 Roasting Pan Apple Pie
A basic all American apple pie perfect for Thanksgiving or anytime!
Ingredients 
Double Crust (Optional -- You can skip this and use refrigerated)
380

grams

flour plus more for work area

2 ¾ cup, I like using Bob's Pastry or White Lily

25

grams

sugar

2 tablespoons

¾

teaspoon

salt

170

grams

unsalted butter

1 ½ sticks, cut into chunks (6 oz)

48

grams

vegetable shortening

1.7 oz or 4 tablespoons

114

ml

ice cold water

½ cup
Pie Filling
8

cups

sliced apples

6 cups Granny, 2 cups your choice such as Fuji, Honeycrisp, Opal. Weight is a little over 2 pounds AFTER being cored and sliced.

25

grams

granulated sugar

2 tablespoons

50

grams

light brown sugar

¼ cup

¾

teaspoon

cinnamon

30

grams

flour

3 tablespoons

42

ml

fresh lemon juice

3 tablespoons

28

grams

salted butter

2 tablespoons

Egg wash

1 egg, lightly beaten with a little water or cream

Coarse sugar for garnish
Instructions 
Weigh out your flour and mix it with the sugar and salt. Put in the food processor.

Add chunks of butter and pulse just until mixture is coarse. Add cold water 2 tablespoons at a time and pulse until mixture holds together when you pinch it. Empty onto a pastry mat and push together into a big ball. Wrap tightly and chill until ready to use. While the crust is chilling, make the filling.
Apple Filling
Spread the apples in a large roasting pan and toss with 2 tablespoons of white sugar. Set roasting pan under broiler so that apples are about 6 to 7 inches underneath and broil for about 6 to 8 minutes or just until apples are softened and aromatic. NOTE: Check after 3 minutes! If your slices are thin, the apples might be softened sooner. The goal is just to soften not completely turn the apples to mush.

Remove from heat and stir in brown sugar, flour, cinnamon and lemon juice, then toss in the butter and stir until well mixed. Set the filling aside to cool while you roll out your crusts.

On a very well floured pastry mat, roll pie dough into a large circle and drape it over the sides of the pan. Press to fit.

Spoon apples from the apple filling into the pan, drizzling the liquid over the apples and pressing the apples down tightly.

Roll the second half of pie dough into a large circle and lay it over the apples. Press the top and bottom sections of pie dough together, trim, turn down edges and crimp. Brush with a little egg wash and sprinkle with coarse sugar.

Preheat oven to 400 degrees F. Place a foil lined rimmed baking sheet in the oven to heat the sheet.

Set the pie on the hot baking sheet and bake for 30 minutes at 400 degrees F. At this point, crust should be golden brown (though you can check earlier). Cover loosely with foil and bake for another 15 minutes for a total of 45 minutes.