Rabbit's Carrot Cake is an old recipe from The Fanny Farmer Cookbook. The last time I made it I changed it up a bit and made it as cupcakes. However, this week I needed something for a breakfast event and made it as a loaf. So technically it's carrot cake, but since it's in a loaf shape I'm calling it carrot bread. Sneaky, eh?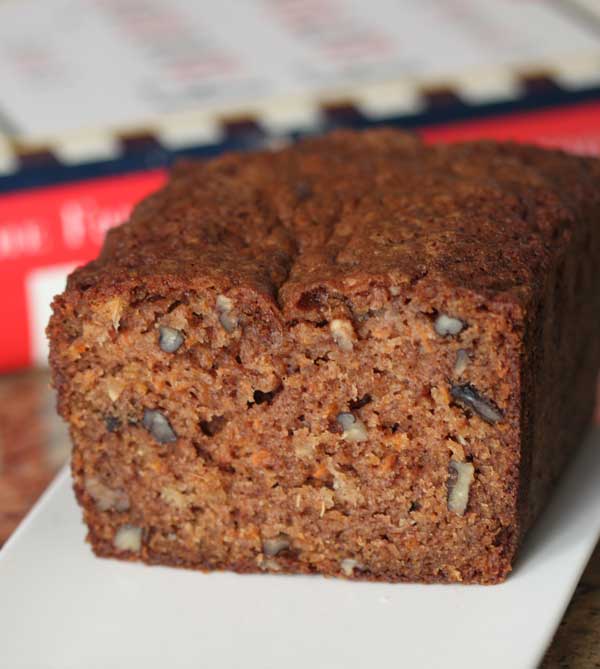 Rabbit's Carrot Cake Spices
Rabbit's Carrot Cake is loaded with spices, but they don't overwhelm the flavor. It's a fairly dark carrot cake to begin with, but since discovering that adding a teaspoon or two of cocoa powder to carrot cake makes it darker, I added a little cocoa powder and got a dark, not-too-sweet, moist carrot bread with a fairly tight crumb.
Loaf Pan Size
The original recipe says to make it in two 8 1/2 by 4 1/2 inch loaf pans, but when I attempted to divide the batter between two 8 1/2 by 4 1/2 inch loaf pans, it was only a few inches high in each pan. I suspect the original version is supposed to make two rectangular cakes (for cutting into squares) as opposed to two loaves (for slicing). Since I wanted more of a bread, I poured all of the batter into one pan (it still had at least an inch to climb) and adjusted the bake time accordingly.
After cooling completely and sitting overnight, the carrot cake sliced nicely and I was able to serve it as a bread. But now I need to make it as cake and frost it. I'll update with more photos when I do.
Recipe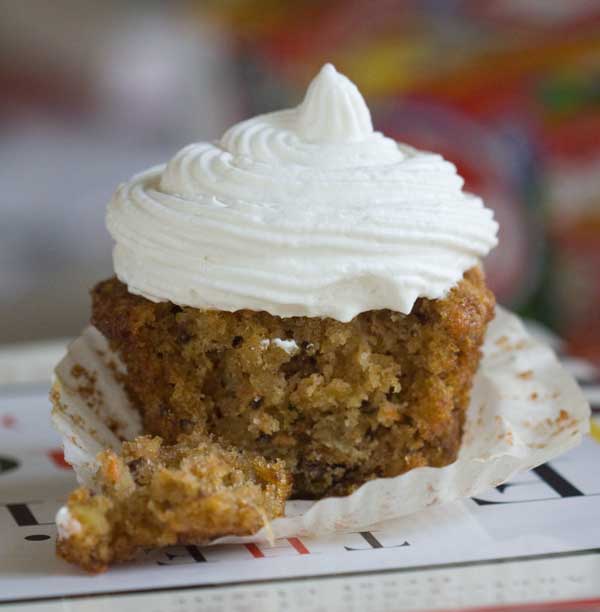 Rabbit's Carrot Cake Loaves
Rabbit's Carrot Cake is a dark, not-too-sweet, carrot cake disguised as carrot bread. If you add a cream cheese frosting it's rich enough for dessert, but served as is it's perfect for breakfast or brunch.
Ingredients 
1 1/2

cups

grated carrots

2

tablespoons

lemon juice

or use juice from the pineapple

1/2

cup

canned crushed pineapple

drained dry

1 1/2

cups

all-purpose flour

(200 grams)

1 1/4

cups

granulated sugar

1

teaspoon

baking powder

1

teaspoon

baking soda

3/4 to 1

teaspoon

salt **

1

teaspoon

cinnamon

1/2

teaspoon

allspice

1/2

teaspoon

nutmeg

2

teaspoons

unsweetened natural cocoa powder

3/4

cup

vegetable oil

3

large

eggs

1/2

teaspoon

vanilla extract

3/4

cup

chopped and toasted pecans
Instructions 
Preheat the oven to 350 degrees F. Grease and flour a 9×5 inch or an 8 1/2 by 4 1/2 inch loaf pan.

In a large bowl, toss the carrots with the lemon juice and stir in the pineapple. Set aside.

In a large mixing bowl, combine flour, sugar, baking powder, baking soda, salt, spices and cocoa. Whisk for about 3 minutes or until mixture is very thoroughly blended.

Pour oil into flour mixture and stir until fully blended. Add the eggs, one by one, stirring until blended. Stir in the vanilla, then stir in the carrot mixture. When well blended, go ahead and stir in the nuts.

Transfer batter to the loaf pan and bake for an hour, checking after 45 minutes and shielding top with foil. If you are baking two loaves (divided between two pans), the cakes should be ready in 45 minutes, but one loaf will take an hour. Internal temperature should be at least 205F.

Let cool for about 30 minutes in the pan, then carefully loosen and remove.

Let cool completely.
Notes
The original version calls for a teaspoon of salt. I used a teaspoon and everyone loved the cake. However, I think 3/4 teaspoon or a very scant teaspoon of salt would be even better.