The Perfect Sugar Cookies from Fine Cooking Magazine! This page used to have a link to the recipe, but alas Fine Cooking is no more. That's too bad because they had a great article on how to make perfect sugar cookies, the science behind sugar cookies and instructions for how to make chewy vs. crunchy. From the old notes, I can see that the cookies had corn syrup in them, which helped give them the distinctive texture. I'm going to try to track down the old recipe. In the meantime, here are some other suggestions. The ones I'm linking to are mainly cut-out types or ones that work well for decorating.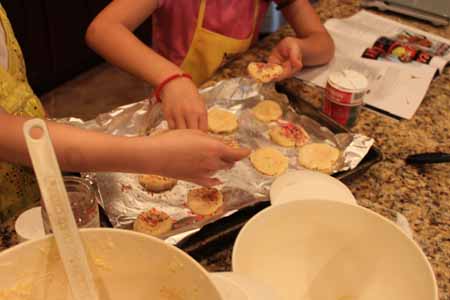 If you like having a lot of options, here's a direct link to the Sugar Cookies Category page.
But as mentioned, I want to link you to some good cut-outs, so here are some more specific recommendations.
In the Sugar Cookies category, you will see there is one post without a photo, and the post just links to Lisa's page where she posted Ethel's Sugar Cookies, an old one from Betty Crocker. You may want to just stop here and make Ethel's, based on Lisa's notes.
Lazy Mom's Sugar Cookies. These are cut-outs made with melted butter, therefore they are easy and don't require an electric mixer. I've always loved this recipe for its convenience.
Wondra Flour Sugar Cookie Cut-Outs -- Old me complicating things by using different flour. The dough was dry, but the cookies were fantastic!
Cookies on a Stick. Stick optional -- My most trusted recipe for thick and sturdy sugar cookies. Maybe one day I'll update that page.
Cream Cheese Sugar Cookie Cut-Outs -- Another one I've made multiple times (not lately).
The Rochester Gas and Electric Recipe is great if you like cookies with some bite to them. The recipe requires shortening. I sure wish they'd hurry up and develop a healthy shortening that works as well as old trans-fatty Crisco did. But Crisco is still good. I'm old now as I update this and I've tried a lot of shortening. Crisco really is the best as far as flavor goes.
Here's a recipe I never updated, but these coconut sugar cookie cut outs have an easy-to-work-with dough and a subtle coconut flavor.
Old Notes on The Perfect Sugar Cookies
The cookies live up to their name. The recipe gives you the option to make them chewy or crispy, and while I would have preferred crispy, the girls chose chewy so we went with that. In the end, all parties were pleased. While the corn syrup addition does make them chewy, they are still pretty crunchy around the edges. Also, the dough was very easy to work with -- not too sticky, not too dry. The girls are just learning the importance of making cookies a similar size and thickness, so having an easy to work with dough was important. My only complaint is that I sent all the cookies home with the girls and didn't save enough for us!
Best Flour for Sugar Cookies
By the way, lately I've found that different brands of flour really do work better for different types of baked goods. For crispy or sturdy cookies with some chomp to them, I buy King Arthur Unbleached All Purpose. Louise mentioned it has more protein, therefore more gluten, which may be why cookies made with King Arthur seem a little sturdier. Since King Arthur is a little more expensive, I call it my "cookie flour" and use it exclusively for cookies. F