Last weekend Fuzz and her friends asked if they could bake cookies. It was about an hour before dinner and not exactly the best time to start a baking session, but the girls were so enthusiastic and eager that I caved in. That, plus I suddenly had an excuse to make The Perfect Sugar Cookies from Fine Cooking Magazine!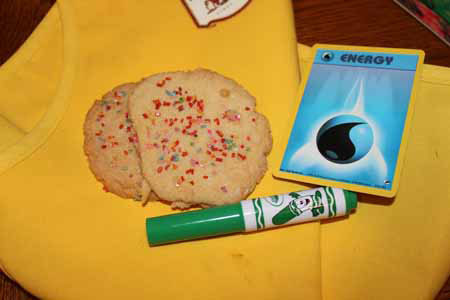 We didn't make any changes to the recipe so I'll link you directly to the article on the Science Behind the Perfect Sugar Cookie and the two recipe variations: Perfect Crunchy Sugar Cookies and Perfect Chewy Sugar Cookies.
What I will say is that the cookies lived up to their name. The recipe gives you the option to make them chewy or crispy, and while I would have preferred crispy, the girls chose chewy so we went with that. In the end, all parties were pleased. While the corn syrup addition did make them chewy, they were still nice and crunchy around the edges. And finally, the dough was very easy to work with — not too sticky, not too dry. The girls are just learning the importance of making cookies a similar size and thickness, so having an easy to work with dough was important. My only complaint is that I sent all the cookies home with the girls and didn't save enough for us!
By the way, I've been meaning to mention this but just haven't gotten around to it. Lately, I've found that different brands of flour really do work better for different types of baked good. For crispy or sturdy cookies with some chomp to them, I buy King Arthur Unbleached All Purpose. Louise mentioned it had more protein, therefore more gluten, which may be why cookies made with King Arthur seem a little sturdier — not tough, just well structured. Since King Arthur is a little more expensive, I call it my "cookie flour" and use it exclusively for cookies. For bread flour, my favorite it our store brand which is called "Baker's Scoop". Gold Medal also makes good bread flour, but I've noticed Baker's Scoop gives me really good results with leavened bread — tight crumbed and soft like commercial bread (but better). For all-around use, I almost always buy Gold Medal Unbleached All Purpose and for cakes, I use either Pillsbury's Best or Gold Medal Bleached, which yields a softer cake.
Okay, I guess I should have titled this post "Best Types of Flour" but then you might have missed out on the sugar cookies, so I'm glad I didn't.