Since the big, flat, crinkly New York Times chocolate chip cookies are all the rage, I thought I'd share one of my old recipes for big, chewy oatmeal cookies. It's a variation on Marion Cunningham's Cape Cod Oatmeal Cookies from The Fannie Farmer Cookbook. What's funny is the original recipe makes 70 cookies, and this version makes 10. Given that information you'd think these cookies would be outrageously large. However, they are a fairly reasonable size compared to what you'd buy at a bakery.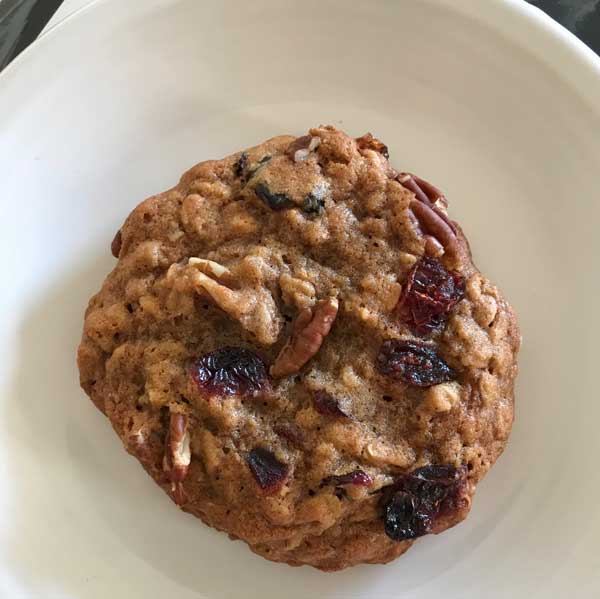 They fit perfectly into cookie sleeves, which is handy for bake sales. Of course the drawback is that the recipe only makes 10 cookies, so if you like the cookies you'll want to make the recipe twice rather than doubling. Actually, you can try doubling but I've never done it. I generally make 10 big balls of dough (like the one pictured below) and bake a couple at a time or as needed.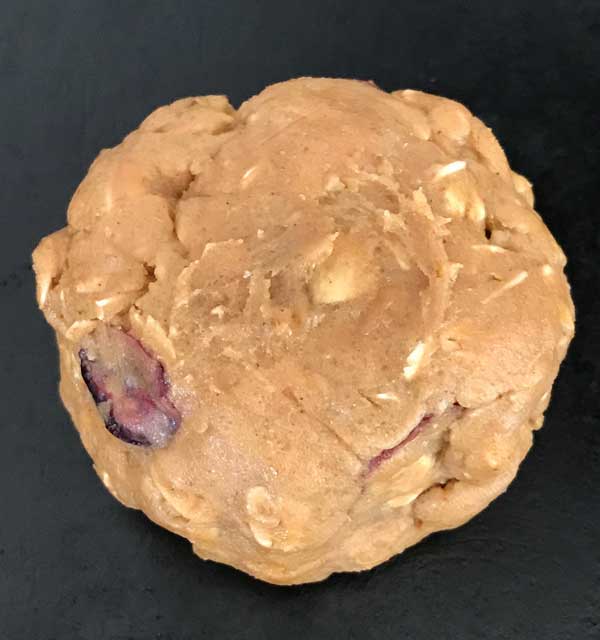 When made as large cookies, they are thick, chewy oatmeal cookies that are satisfying, but not too buttery or rich. They take well to lots of add-ins, so you may want to add even more raisins, cranberries and nuts than called for.  When made small, they're okay but not terribly exciting.  In my opinion these are better made large.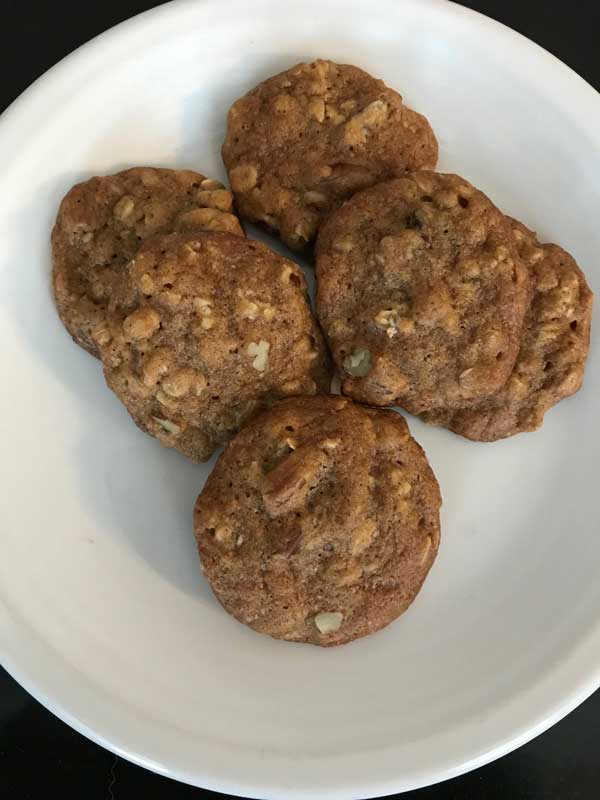 Recipe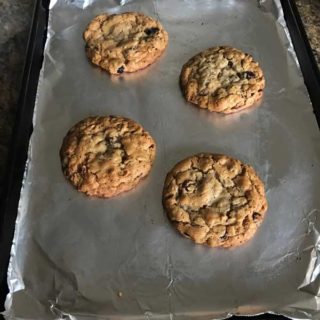 Big Chewy Oatmeal Cookies
Big, Chewy oatmeal cookies
Ingredients 
1

stick unsalted butter

114 grams

1

cup

granulated sugar

200 grams

1

tablespoon

molasses

1/2

teaspoon

vanilla extract

1

egg

1 1/2

cups

all purpose flour

200 grams*

1/2

teaspoon

salt

1/2

teaspoon

baking soda

1

teaspoon

cinnamon

3

tablespoons

milk

1 2/3

cup

old fashioned oats

1/2

cup

pecans -- toasted and coarsely chopped

1/2

cup

raisins or dried cranberries
Instructions 
Melt the butter in the microwave or in a saucepan. In a mixing bowl, whisk together hot melted butter and sugar, then mix in the molasses, vanilla and egg.

In a second bowl mix together flour, salt, baking soda and cinnamon. Stir flour mixture into sugar mixture until thoroughly combined.

Stir in milk, then stir in oats, pecans and raisins (or dried cranberries)

At this point the dough should be a bit soft. Put the bowl in the refrigerator and chill the dough just until it is firm enough to hold its shape when scooped (about 30 minutes).

Using a generous (heaping) 1/4 cup measure, scoop dough into 10 equal portions. Roll each portion into a ball and shape into a neat mound with a flat top. Place dough mounds in refrigerator and chill, covered, until ready to bake.

Preheat oven to 350 degrees F. Line a cookie sheet with parchment paper or nonstick foil.

Place 4 or 5 chilled dough mounds on a cookie sheet.

Bake for about 15 minutes or until cookies appear brown and set. Let cool on the baking sheet for about 5 minutes, then transfer to a wire rack and let cool completely.minutes. Transfer cookies to a rack and let them cool and crisp on rack.

Repeat with remaining cookies. The cookie get sturdier and sturdier the more they cool. The should be sturdy enough to be individually wrapped and propped up in an appealing manner. This one is not propped up, but it is individually wrapped.
Notes
If you don't have a scale, make sure to stir and aerate your flour before measuring. Do not pack the cup.