This recipe is from an old church cookbook that I've owned for about 10 years. The strange thing is, I never noticed this recipe until last week!  It's called Cape Town Brownies, and since finding the recipe I've made the brownies 3 times.  They are very good, and a lot of fun.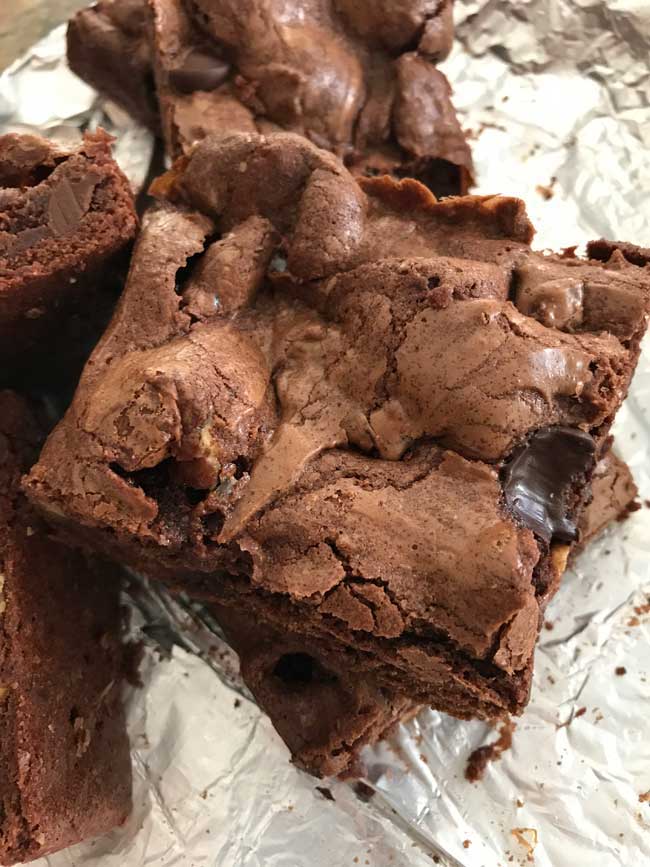 The recipe calls for two clever brownie making techniques including whipping the eggs and sugar and putting marshmallows in the batter so that they melt and give the brownies a chewy texture and little air pockets. In other words, unless you tell people or unless they spot a tiny bit of un-melted marshmallow, they probably won't realize there are marshmallows in the brownies.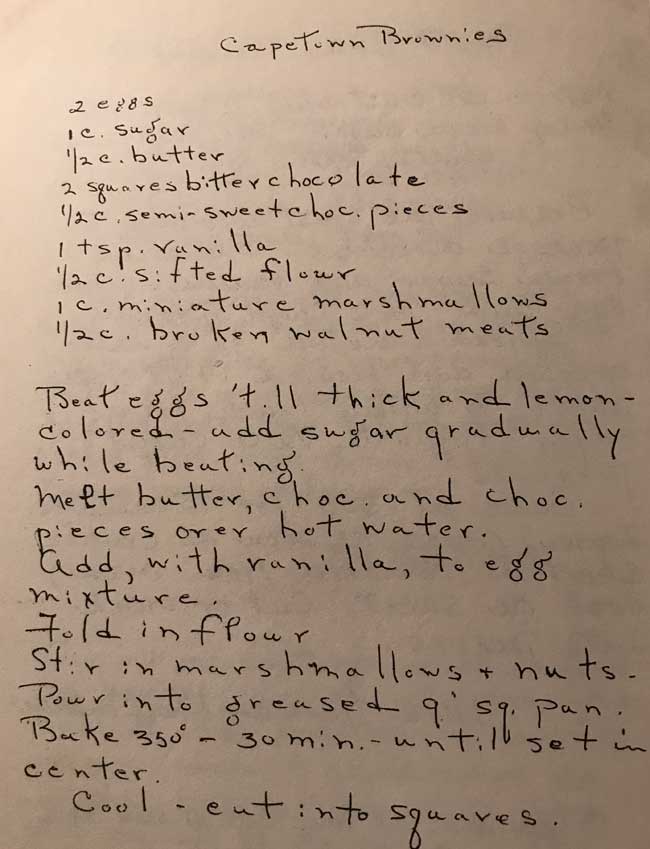 I learned the marshmallow trick years ago from this Corner Bakery copycat recipe, Melted Marshmallow Brownies. The Cape Town Brownies recipe is very similar, but calls for slightly more sugar and ½ cup of melted chocolate chips along with the whipping technique which makes brownies light (but not at all cake-y).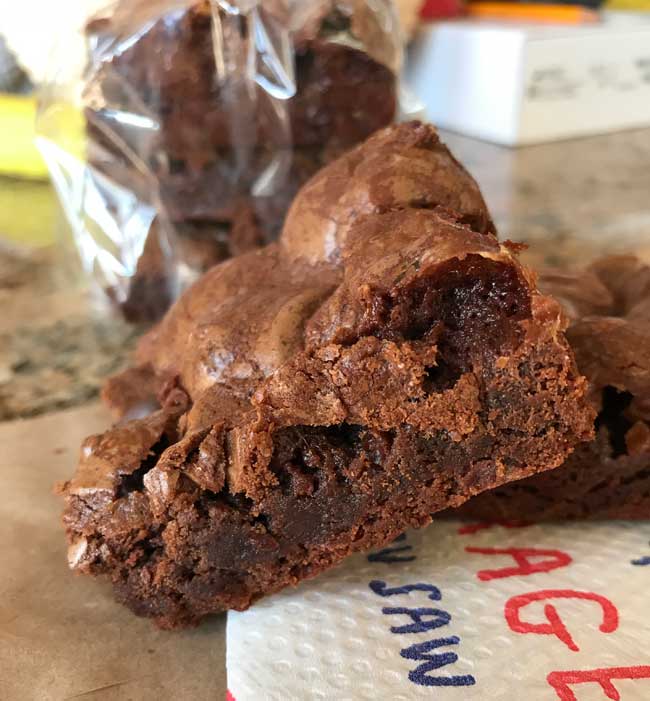 Cape Town Brownies are chewy and light textured, yet satisfyingly rich.  I just wish I knew the origin of the name. Maybe the author got the recipe in Cape Town?  Perhaps the brownies, with their scraggly tops, resemble a part of coastline in South Africa?  One day I'll find out, but until then I plan on trying many variations.  I've included a few notes on brands in the recipe.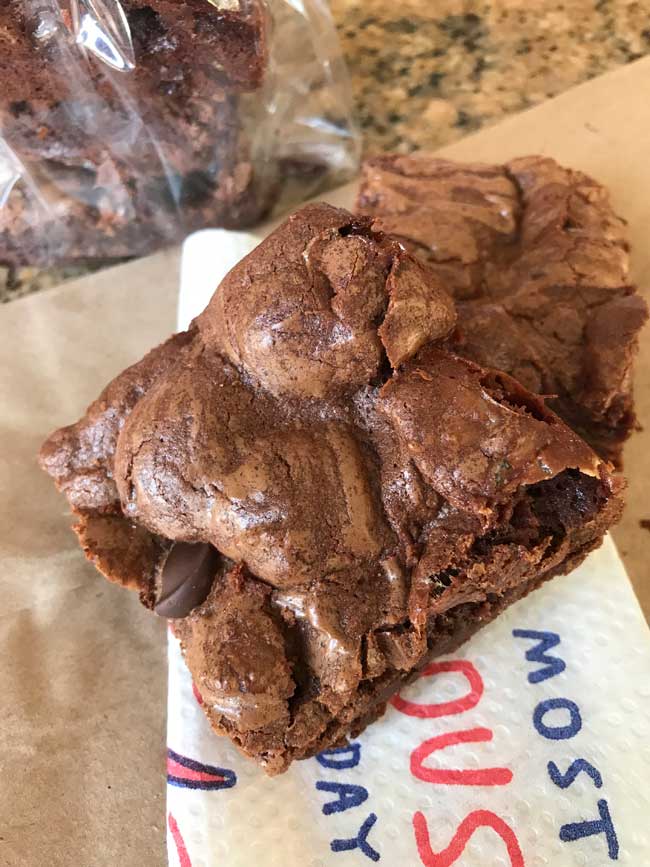 One last note. Because I was impatient and couldn't wait to taste these, I quick-cooled them with a water bath all three times. Here's a picture of the water bath, which is basically the 9 inch pan sitting my rimmed toaster oven tray. I usually try to bring the water bath up ⅔ of the sides, but I found that going just ½ way up the sides still quick cooled the brownies.
Origin of Cape Town Brownies
It's been years since I posted this recipe, and I just now learned where the name came from! Or at least I think I did. I was looking through a copy of The Texas Cookbook by Mary Faulk Koock, and there is a recipe called Camptown Brownies which is almost the same. So either on purpose or by accident, the person who wrote Cape Town Brownies changed the name! Then again, it's also possible they were originally called Cape Town Brownies and the baker who made them for Mary Faulk Koock changed the name.
Recipe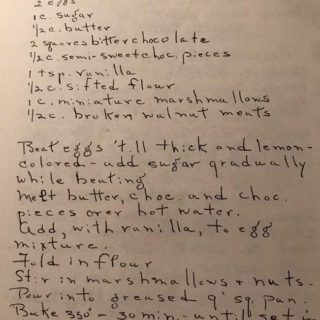 Cape Town Brownies
Based on a recipe from an old church cookbook, these brownies are light and chewy, yet rich and fudge-y at the same time.
Ingredients 
8

tablespoons

114 grams unsalted butter, cut into chunks

2

ounces/56 grams unsweetened chocolate

chopped (I used Ghirardelli 100%)

½

cup

84 grams bittersweet chocolate chips (again, Ghirardelli)

2

large eggs

95 grams

1

cup

granulated sugar

200 grams

¼

teaspoon

salt

1

teaspoon

vanilla extract

½

cup

sifted unbleached all-purpose flour

or just weigh 60 grams

½

cup

miniature marshmallows

½

cup

toasted pecans or walnuts

optional

½

cup

more chocolate chips or chocolate pieces
Instructions 
Preheat oven to 350 degrees F. Line a 9 inch square metal pan with nonstick foil.

Melt the butter in a large saucepan set over medium heat. Reduce heat to low, add chocolate and chocolate chips to partially melted butter; stir until smooth and completely melted. If you prefer, you can melt the butter and both chocolates together in the microwave. Let cool.

Meanwhile, in the bowl of a stand mixer fitted with a whisk attachment (or just using a handheld mixer), begin beating the eggs on medium-low. Gradually add the sugar, then increase mixer speed and continue beating on high until mixture is thick and pale.

Add the melted and cooled chocolate mixture, vanilla and salt. Stir until blended, then add flour and stir with a heavy duty scraper until smooth. Lastly, add the marshmallows and nuts. Make sure your batter is not so warm that it will melt the chips, then stir in the remaining ½ cup of chocolate chips.

Transfer mixture (it will be very thick) to the pan and spread evenly. Bake in a 350 degree oven for 25-30 minutes.

Remove from the oven and let cool completely or if desired, cool quickly in a water bath. To do this, put the 9 inch square pan in a larger pan and fill the larger pan with ice water so that it comes up about ⅔ of the way (or at least halfway) up the sides of the smaller pan.

Allow the brownies to cool completely, then lift from the pan and cut into squares.
Notes
For the unsweetened chocolate I used Ghirardelli 100%. For the ½ cup chips that get melted into the batter I used Ghirardelli Bittersweet (60%), and don't recommend going with anything sweeter such as 43% or semisweet. For the additional chips and chunks I chopped up a 60% bar and used more bittersweet chips in one of the batches, then used Guittard chips in another. Both were good. The brownies with walnuts and pecans were scragglier textured, while the brownies without nuts were slightly fudgier.