Next to Oreos, our favorite packaged cookies are leaf shaped maple sandwich cookies.  They are easier to find here in Chicago than they were in Austin, and as you can guess they're all over the place in Canada.  During our road trip, I counted at least three different brands at a Canadian grocery store called Loblaw's.  The brand we ended up buying was called Christie's, and I picked it because its logo reminded me of Nabisco.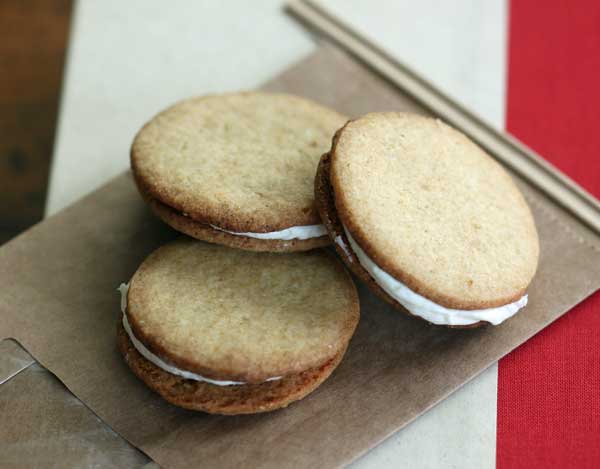 Christie's and Nabisco
Later, when I was bored and had nothing better to do, I googled Christie's and found out that Christie's red triangle actually preceded the Nabisco logo.  That is, when Christie became part of Nabisco, Nabisco kept the red triangle.  So there you go.  And that's the way-too-long intro to this recipe, which is for a homemade version of our beloved maple sandwich cookies.
Lazy Shaping Technqiues
I used one of my old recipes for the maple sandwich cookies, but was too lazy to go to the storage room and dig out my leaf shaped cutter, and made them with a 2 inch circle cutter. For my second batch, I made little holes in half of the cookies so that the cream filling would peek through. Another thing I did differently was instead of rolling the dough and cutting out ⅛ inch thick circles, I just pressed individual balls of dough onto the parchment lined baking sheet then stuck a cutter in each ball of dough to make circles. It worked just fine and was less of a hassle because I didn't have to chill the dough to prevent sticking or add extra flour.
Egg Free Cookies
This recipe is egg free, but not vegan due to the butter. I think you could easily convert it to vegan by using non-hydrogenated shortening such as Nutiva (my current favorite!).
Recipe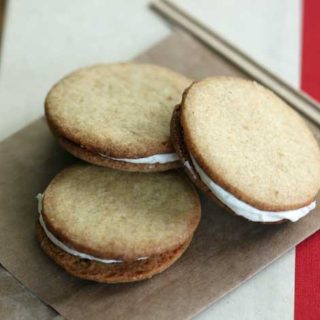 Maple Sandwich Cookies
Maple Sandwich Cookies are made without any eggs. For a non-dairy version, substitute Nutiva shortening for the butter. For the maple flavoring, I used Watkins.
Ingredients 
Cookies
2 ⅓

cups

all-purpose flour

2

teaspoon

baking powder

½

teaspoon

salt

1

cup

unsalted butter, room temperature

(230 grams)

½

cup

very firmly packed brown sugar

(100 grams)

6

tablespoons

pure maple syrup

1

teaspoon

maple flavoring
Filling
4

tablespoons

unsalted butter, room temperature

(56 grams)

1

cup

confectioners' sugar

2

tablespoons

pure maple syrup

Pinch

of salt
Instructions 
Mix together the flour, baking powder and salt and set aside.

In a mixing bowl, using a handheld electric mixer, beat the butter and sugar until light and fluffy. Beat in the maple syrup and maple flavoring until combined.

Add the flour and stir until you have a thick dough.

Preheat the oven to 375ºF. Line two baking sheets with parchment paper.

At this point you can roll the dough a little over ⅛ inch thick on a floured surface and cut circles the traditional way or you can use the method I like. Scoop up rounded teaspoonfuls of dough and arrange them 2 ½ inches apart on parchment lined baking sheets. Press them down flat so that they are ⅛ inch "not-so-perfect" circles -- make sure they are a little over 2 inches in diameter. Now take a 2 inch round cutter and press it into your imperfect circle. Trim so that you have a perfect circle. Repeat with each round of dough.

Bake one sheet at a time for 8 to 10 minutes, or just until the cookies start to brown around the edges. Let cool on the sheets for a few minutes, then transfer to a wire rack to cool completely.

Make the filling: Beat the butter with a handheld electric mixer until creamy.

Add the confectioners' sugar, maple syrup, and salt and beat until smooth.

Spread the underside of half of the cookies with the filling, then cap with remaining cookies.
Notes
The yield will vary depending on how thick your roll or cut your dough and whether or not your cookie cutter is really 2 inches. You'll get a few more cookies if you use a cutter that is 1 ¾ inches.