If you're on the hunt for holiday cookie recipes, here are a few recommendations. I chose them based on past reviews, reliability, and how well they'd work on a holiday cookie tray. If you have more suggestions, let me know!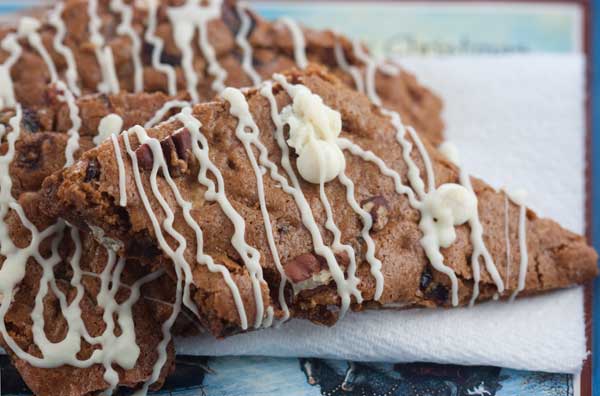 First on the list is Ginger Cookie Bark. There was a period a few years ago where I was creating all kinds of cookie bark, and this ginger version was a favorite. You can break it up into different size pieces so people who don't want to eat a full cookie won't feel guilty taking a small piece.
Next on the list are Hot Cocoa Cookies. I first made these cookies for the sole purpose of using up hot cocoa, but they turned out to be a big hit, and friends asked for the recipe. These would be perfect for a cookie tray, but they'd also be a nice accompaniment to a gift of gourmet hot cocoa. You could put the cookies in an empty mug, put a few envelopes of cocoa on the side, then wrap it all up. Maybe a teacher gift?
This year I'm putting Cranberry White Chip Cookies on the list. These are just white chip cookies jazzed up with dried cranberries and crystallized ginger to make them more interesting on a holiday cookie tray.
Now these don't scream "holiday!", but I have a few friends who love peanut butter, so I'll have to make a batch of the Peanut Butter and Jelly Cookies from Jennifer McHenry's cookbook. Combined with the jelly, these cookies are excellent. A certain friend has been requesting them for months. She's due for some!
Texas has been on my mind lately, so I think I'll bake up some Texas Pecan Chewies. If you've ever had the Chocolate Pecan Chewies from Central Market, you will find these are similar.
As much as I love Texas pecans, I've developed a fondness for macadamia nuts and have been using them a lot in what I now call Edward's White Chocolate Macadamia Nut Cookies They're named after one of my new friends here in Chicago, and I make them with a blend of butter and Nutiva shortening instead of Crisco. It gives them a slightly yellow hue and very faint coconut flavor.
Another potential holiday cookie is Roger's Dad's Shortbread. The recipe is from an old neighbor in Texas who makes it every year. This shortbread is really easy because the butter is melted (no creaming required), and the rice flour makes the cookies very light textured.
More like a candy than a cookie, I think Cookie Dough Truffles will go on the list this year. I keep forgetting about them! I've made a few different variations and this one's my favorite because the truffles aren't overly sweet. They're made with condensed milk so there is no raw egg.
Another fun one might be Oreo Truffles. This is another good recipe I always forget about.
Melted Marshmallow Brownies These aren't exactly holiday-ish, but when it not a good time to make brownies? My daughter loves going to Corner Bakery and she thinks these are as good (if not better!) than the ones they sell. The marshmallows in the batter melt and make the brownies chewy.