Like so many of my favorite recipes, Chocolate Angel Pie comes from a book of clippings collected by mother and grandmother. I don't recall either of them ever making this pie, but they both loved anything with meringue and nuts (like the Luby's Butternut Brownie Pie) so it makes sense they'd save this one. It's similar to French Silk Pie, but a bit lighter and with more varied textures.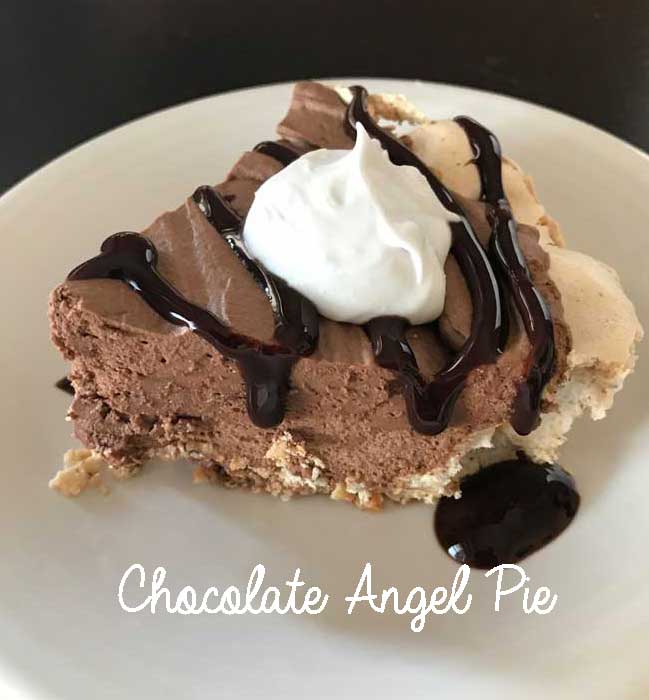 Chocolate Angel Pie Crust
The crust makes this pie special. It's a flaky sweet meringue flecked with toasted nuts. This particular recipe is for an 8 inch pie pan and calls for 2 egg whites. If you can't find a small enough pie pan you can just double the crust and use as much as you need to cover the sides.
Here's a picture of what the meringue crust (which is more of a nest) looked like before I put it in the oven. I didn't double or scale up the recipe at all and a small disposable pie pan worked fine.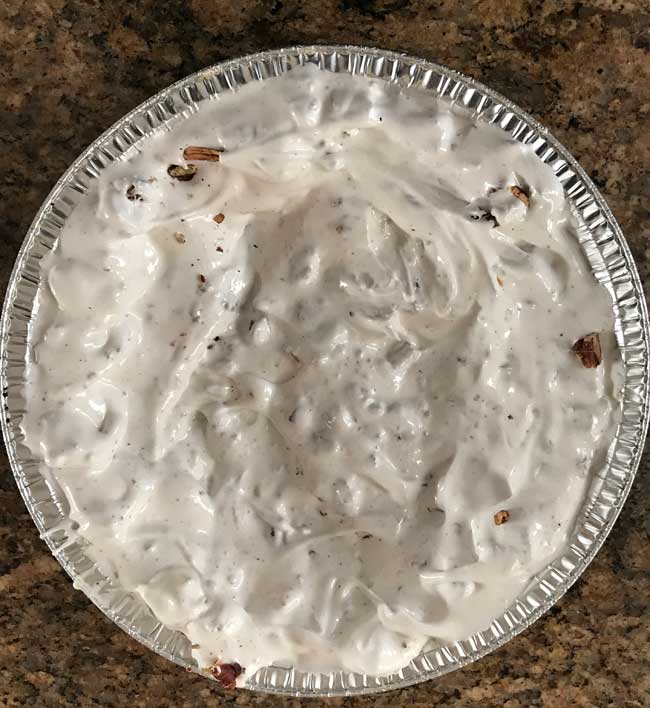 Types of Chocolate and Cream
The recipe is pretty easy. Feel free to mix and match the chocolate. This original calls for German's Sweet Chocolate, which is still readily available and usually purchased for German Chocolate Cake. Trader Joe's Dark works just fine. The recipe also calls for either 1 cup of cream, whipped or 1 cup of non-dairy whipped topping.  That's a little confusing because 1 cup of heavy cream whips into about 2 cups of whipped cream which would be more than 1 cup of already whipped topping. In the end, I don't think it matters much. I whipped a full 8 oz carton of cream, added 2 tablespoons of confectioners' sugar and folded it in with the chocolate.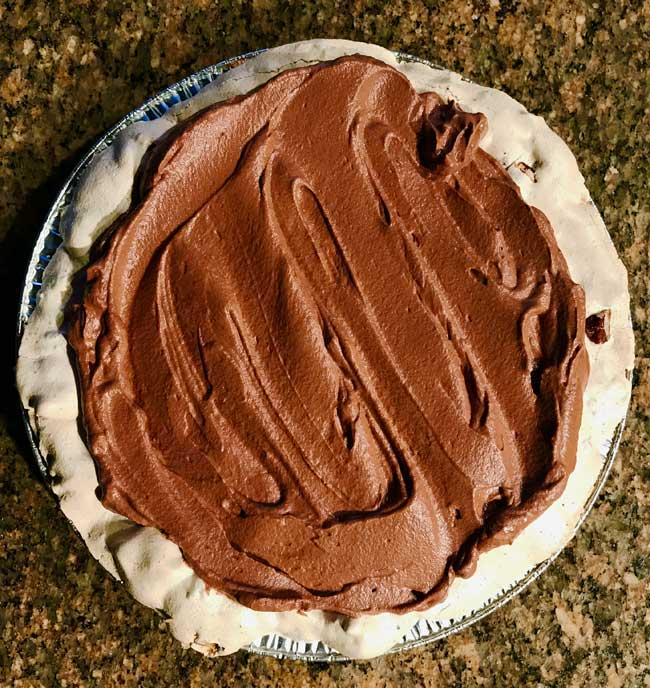 Next time I make this I'm going to skip the pie pan and just make round nests of meringue on parchment, then put a big dollop of filling in the center of each and garnish with more cream and berries.
Recipe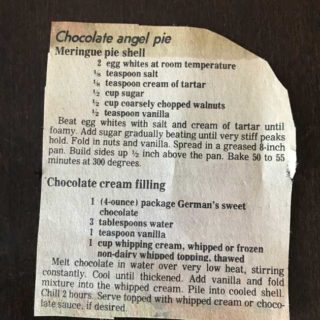 Chocolate Angel Pie
An old recipe for a chocolate cream pie with a crust made of pecan or walnut filled meringue.
Ingredients 
2

large

egg whites

⅛

teaspoon

cream of tartar

⅛

teaspoon

salt

½

cup

granulated sugar

(100 grams)

½

teaspoon

vanilla extract

½

cup

toasted pecans

or walnuts -- or leave them out
Filling
4

oz

chopped German's Sweet or semisweet or dark chocolate

I used TJ's Dark

3

tablespoons

water

1

cup

heavy whipping cream

2

tablespoons

confectioners' sugar

Garnish: Extra sweetened whipped cream or fresh fruit or chocolate syrup
Instructions 
Preheat the oven to 300 degrees F. Grease an 8 inch pie tin. The smallest I could find was a disposable aluminum tin which worked perfectly.

In a large mixing bowl using an electric mixer, beat the egg whites, cream of tartar and salt until foamy. With the mixer going, gradually add the sugar and continue beating until stiff peaks form. Beat in the vanilla, then fold in the pecans or whatever nut you are using.

Spread the meringue mixture over the pie plate and up the edges, building up the sides the best you can. Set it on a baking sheet and bake at 300 for about 50 minutes.

When meringue shell is ready, prepare the filling. Combine the chopped chocolate and water in a microwave safe bowl and heat on high for 30 seconds. Stir well and repeat until mixture is creamy and smooth. Allow the chocolate to cool.

Whip the 1 cup of heavy cream and beat in the sugar and vanilla. Fold the chocolate in with the cream.

Spread the chocolate mixture in the meringue shell. Chill for two hours.

Top with sweetened whipped cream or chocolate syrup if desired.