Happy Martin Luther King Day! To celebrate, I've been making some of our favorite Southern foods, including Angel Food Cake.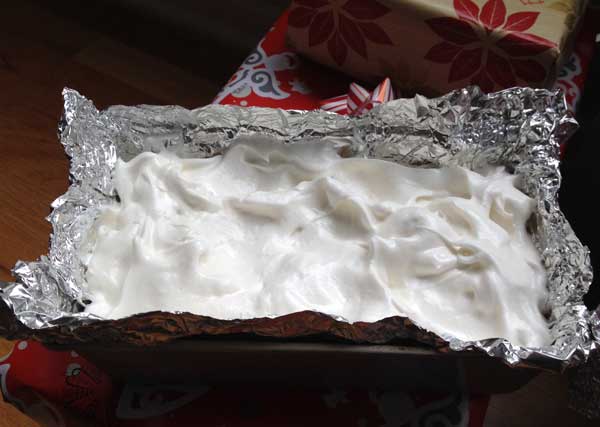 We love Angel Food Cake, but I don't make it often enough. Part of the reason is I never know what to do with the 12 leftover egg yolks, and the other part is that I can never find my angel food cake pan – the one with the removable bottom and legs. To solve the problem, I decided to try baking it in loaves.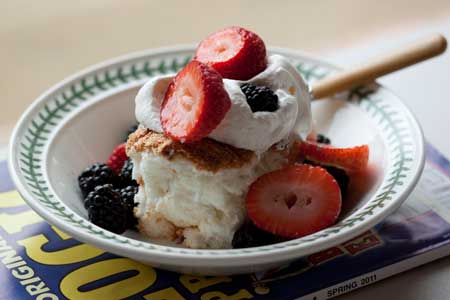 First, I made a couple of versions using small 3×5 inch loaf pans. The first recipe got thrown out because it was too eggy, while the second version was just right. In fact, it was so good that both loaves were gone in a day, and while I like cakes to disappear quickly, that was a little too quickly.
So for the next cake, I doubled the mini-cake recipe and used a regular 9×5 inch loaf pan. Perfect! Of course it would have been better if I'd lined my pan with foil. The cake would not come out, which is why angel food cake pans have removable bottoms. We were able to lift one serving at a time out of the pan, but next time I'd line the pan with foil and peel it off, which is what I did with the very tiny loaves I'd made previously.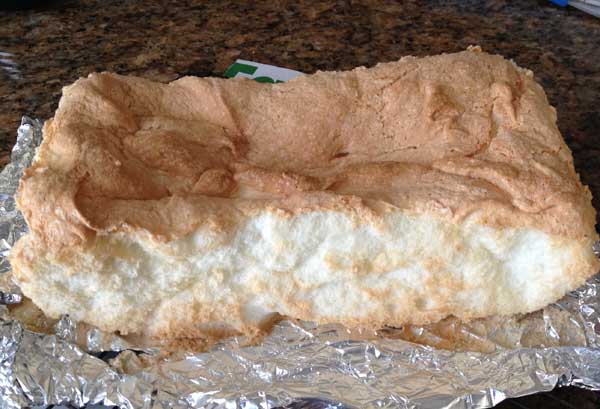 Here's the recipe. It's a scaled down version of a recipe which has a higher proportion of flour and seems a little less egg-y than others. The cake is still very much angel food cake, but it's denser and has more structure to it. And while I did cool the cake upside down in the loaf pan by balancing the edges on two bowls, I think it would have been fine cooled right side up.
Update:  I've since made this multiple times and have added a few more pictures.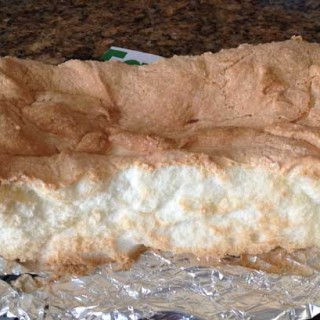 Loaf Pan Angel Food Cake
Easy recipe for angel food cake baked in a 9x5 inch metal loaf pan
Ingredients 
3/4

cup

plus 2 tablespoons granulated sugar

6.1 oz/171 grams

1/4

teaspoon

salt

1/2

cup

cake flour plus 1 tablespoon

2.2 oz/60 grams

6

large egg whites at room temperature

3/4

teaspoon

cream of tartar

1/2

teaspoon

vanilla extract
Instructions 
Preheat oven to 350 degrees F. Line a 9x5 inch loaf pan with regular foil. Do not use non-stick.

In a food processor or small coffee grinder, grind the sugar until it is very fine. Mix half of your ground sugar in a small bowl with the flour and salt. Set aside.

In a large metal bowl, beat the egg whites with an electric mixer until foamy. When foamy, add the cream of tartar and beat until medium peaks form. Slowly beat in the sugar. Beat in the vanilla. With a large scraper, fold the flour mixture in in four parts.

Carefully spoon mixture into the ungreased loaf and and bake for 35 minutes. Test with a wooden skewer or pick. Let the loaf pan cool, then carefully lift from pan and peel away the foil. Also, you can try cooling it upside down for nostalgia's sake, but this cake is fairly sturdy and has enough flour so that it shouldn't need to be cooled upside down. It's not the lightest angel food cake, but it's really good.
I always line the cake with foil and I use a loaf pan that is around 9×5 — just slightly larger.