I've made plenty of marshmallow brownies, but they've always involved scattering the marshmallows on top a few minutes before removing the brownies from the oven — a step prevents them from melting into the brownies and disappearing.  But these melted marshmallow brownies are a little different. Here, you stir in the marshmallows into the brownie batter before it goes into the oven. The idea is that the marshmallows melt into the brownies leaving behind little air pockets and a chewy top. It's another way to make a crusty brownie.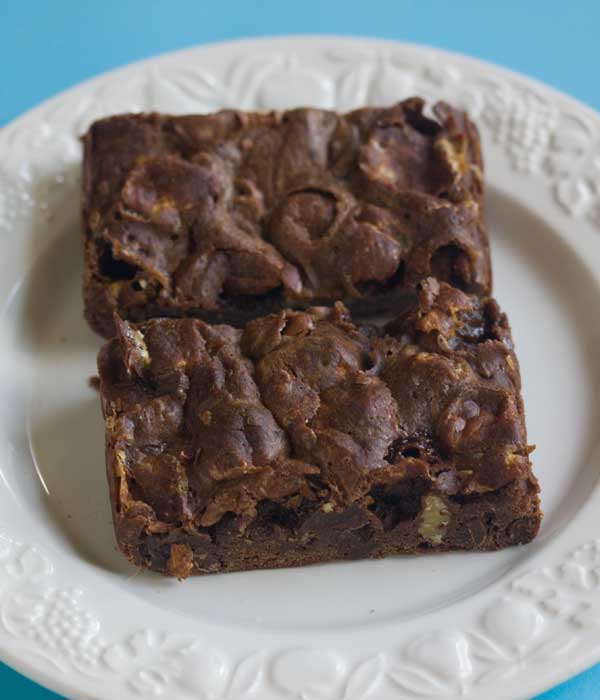 I learned about this kind of brownie while reading a baking board. Someone on the board noted that a certain bakery in Chicago used the melted marshmallow technique to make their brownies chewy. After finding a few different recipes that involved adding marshmallows early on in the batter, I settled on this one, which had only 1 review, but sounded good and not too sweet like some of the others I'd seen. I modified it slightly by making a half version and baking the brownies in an 8 inch square metal pan. As I put the brownies in the oven, I was pretty skeptical as to whether all those marshmallows would disappear, but after 28 minutes in the oven they (pretty much) did. Now it was obvious that marshmallows used to be there, given the lumpy, bumpy, scraggly topped cake, but they certainly did melt and the brownies had a wonderful chewy top.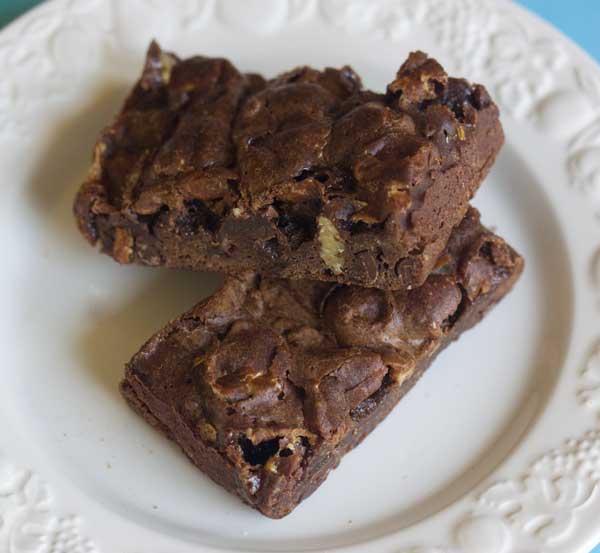 After sampling these over a period of a couple of days, I can tell you that this recipe is definitely worth making.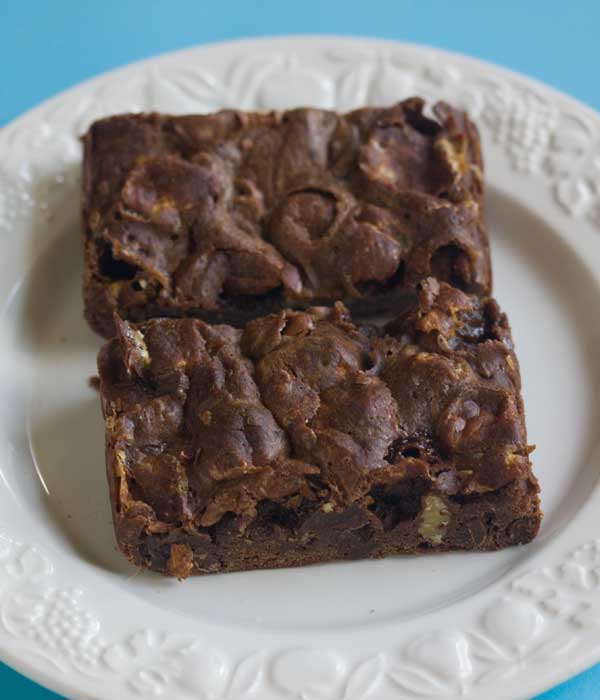 Melted Marshmallow Brownies
Melted Marshmallow Brownies
Ingredients 
8

tablespoons

4 ounces unsalted butter, cut up

2

ounces

unsweetened chocolate

chopped

1/2

cup

granulated sugar

1/4

cup

light brown sugar

1/4

teaspoon

salt

2

large eggs

slightly cold

1/2

cup

all-purpose flour

1

cup

dark or semisweet chocolate chips

1

cup

miniature marshmallows

1/2

cup

toasted pecans
Instructions 
Preheat oven to 350 degrees F and line an 8 inch square metal pan with foil or parchment paper.

Melt the butter in a large (3 quart) heavy saucepan set over medium heat. Reduce heat to low, add chocolate and stir until smooth. If you are using a metal saucepan and butter is very hot, you can remove the saucepan from the heat and then add the chocolate, letting it melt over residual heat. Remove from heat when melted.

With a large rubber spatula or wooden spoon, stir both sugars and salt into the chocolate mixture. Stir in the eggs one at a time. Add the flour and stir until well mixed.

Fold in the chocolate chips, marshmallows and pecans.

Pour the batter into the prepared pan and spread it evenly.

Bake for 28 to 30 minutes, or until a skewer inserted in the center comes out moist but clean.

Let cool in the pan on a cooling rack for about 30 minutes, then transfer to the refrigerator and chill for a few hours.

When brownies are very firm and cold, lift from the pan and cut into squares.