The inspiration for Small Batch Matzo Crunch comes from a Girl Scout cookie creation called Trefoils Toffee, where you lay Girl Scout shortbread cookies on a tray, pour a 2 minute microwave caramel sauce over them, then top with chocolate and nuts. This is the matzo version, and we make it all the time.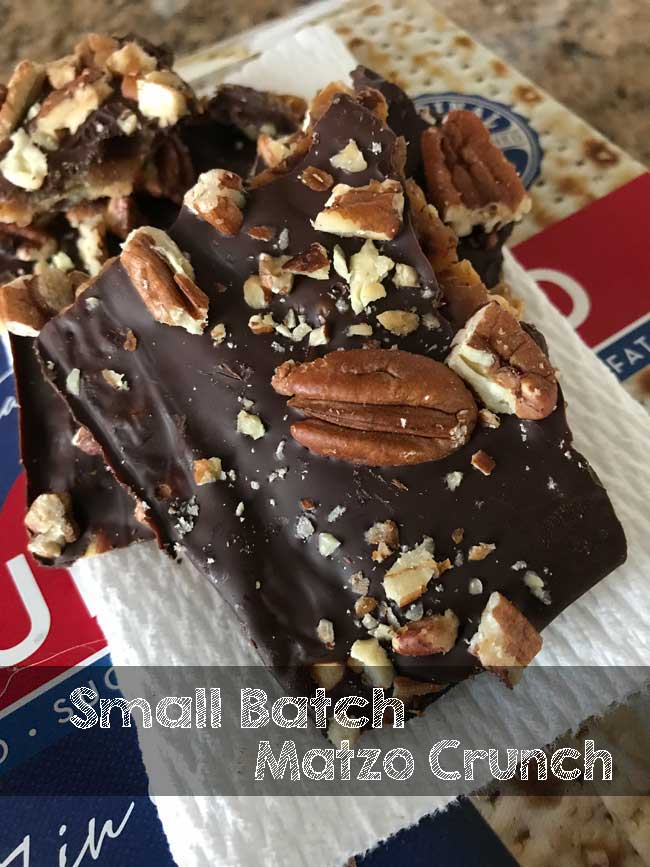 For Small Batch Matzo Crunch, we use matzo. You can certainly substitute Saltines if you need to. I like using matzo because a) we always have it around and b) a 7 inch sheet of matzo fits perfectly in an 8 inch square pan.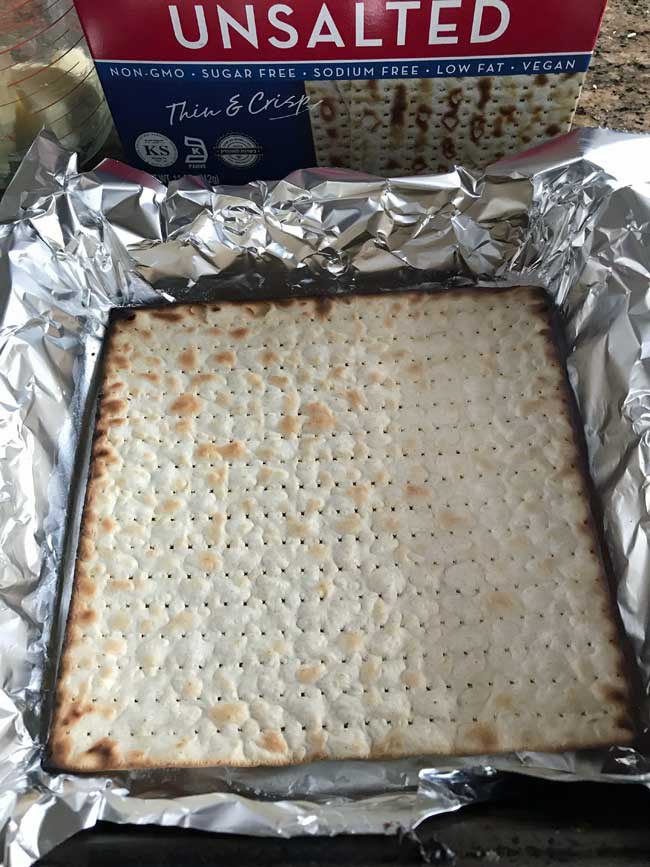 Small Batch Matzo Crunch Caramel
The caramel topping calls for only ¼ cup salted butter and ¼ cup of brown sugar and is prepared in the microwave. Personally, I never have much luck making caramel type things in the microwave, but this one never lets me down. Nothing burns or boils over and the topping hardens up nicely. Here's what it looks like straight from the oven. For this batch I used Ghirardelli Bittersweet Chips.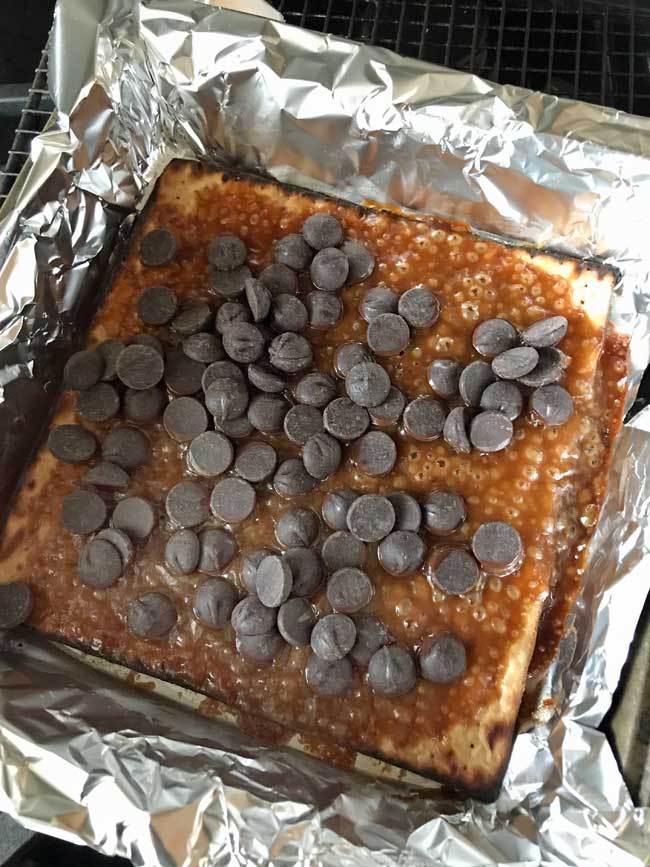 I've made Small Batch Matzo Crunch dozens of time since posting, and now my daughter makes it as well. We always vary the brands of chocolate and types of toppings. My daughter likes putting pretzel on top rather than nuts. It's fun to be creative with the toppings because anything goes, really.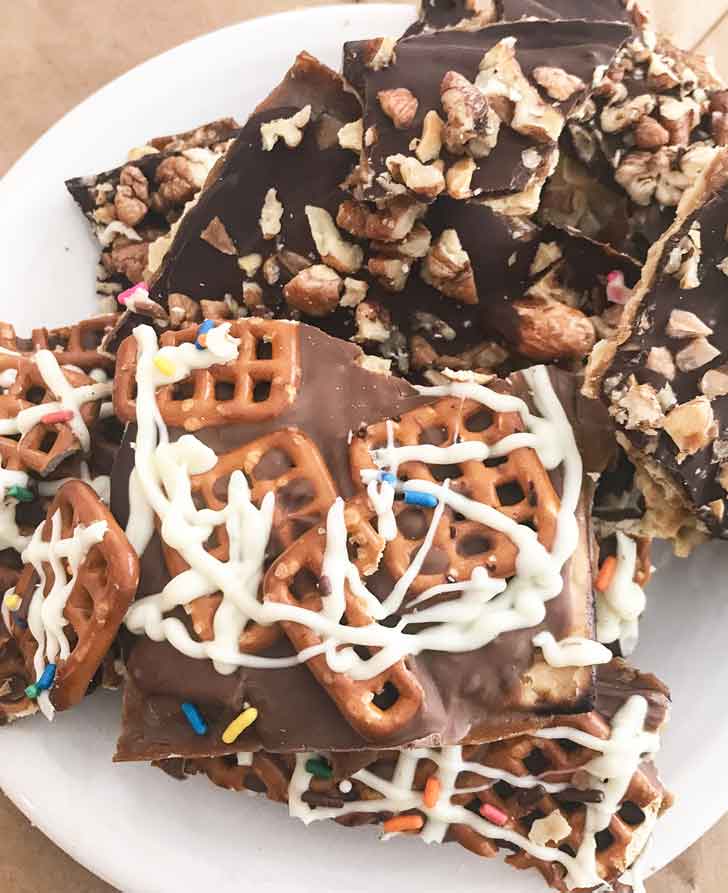 No Matzo?
If you don't have any matzo, you can substitute Saltines or Ritz crackers. I just made a batch of the Ritz version today using 25 crackers. They work very well, but they will brown quicker so you have to check at 8 minutes and definitely not bake over 10.
Microwaves and Timing
I just made a batch in a new microwave and the microwave time for the butter and sugar mixture was ready to pour after only 1 minute (2 30-second invervals) of microwaving. I could tell because it had lightened and pulled away from the sides of the glass measuring cup. So if your sugar mixture boils rapidly during its microwave time and is pulling away from the sides of the cup, you can pour it after the first minute (not counting the first 30 seconds of butter only).
Recipe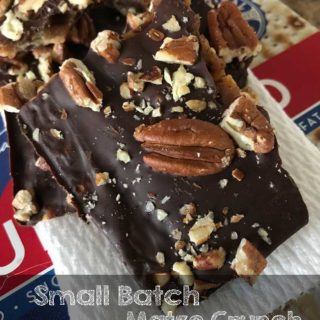 Quick Small Batch Matzo Crunch
Quick Small Batch Matzo Crunch is made in an 8 inch square pan.
Ingredients 
1

sheet

Matzo (7 inch sheet)

¼

cup

salted butter

(56 grams)

¼

cup

packed light brown sugar

(50 grams)

½

cup

semisweet or bittersweet chocolate chips

½

cup

chopped pecans

toasted
Instructions 
Preheat oven to 350°. Line an 8-inch square metal pan with nonstick foil or line with regular foil and grease foil with some extra butter (or cooking spray).

Set the sheet of matzo in the pan.

Put the butter in a microwave-safe 2 cup measure (I use a Pyrex liquid measuring cup) and heat the butter for 30 seconds or until it is partially melted. Add the brown sugar and stir until smooth.

Put mixture in microwave and microwave for 1-2 minutes, stirring every 30 seconds (important!). Microwave times may vary. If the mixture lightens and pulls away from the side of the cup after the second round of 30 second heating, you can skip the second minute. Pour over the matzo.

Bake at 350 for 10 minutes or until caramel is very hot and bubbly. Remove from oven and let cool on a wire rack very briefly -- just about 3 minutes or until caramel settles down.

Sprinkle chocolate chips evenly over hot caramel. Set a flat pan on top of the square pan to help hold in the heat. Let stand 5 minutes to soften chips, then spread softened chocolate chips over caramel. Sprinkle nuts over the top.

Refrigerate until chocolate and caramel have hardened, about 1 hour. Break or cut bark.

Note: To toast nuts, bake in a shallow pan in a 350° oven for 5-10 minutes or cook in a skillet over low heat until lightly browned, stirring occasionally.