Passover Chocolate Chunk Bars is a recipe that was originally recommended to me by Karen. Karen's version is originally from A Treasury of Jewish Holiday Baking by Marcy Goldman. That version uses an 8×10 inch pan, but Karen uses a 9 inch square pan, which is about the same size and makes a pretty hearty bar.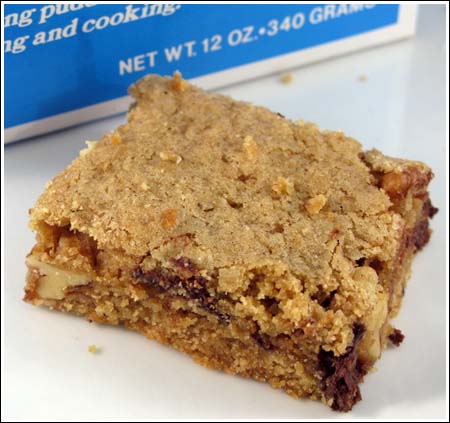 As usual, I decided to try a smaller batch. Karen mentioned the bars didn't brown much, so I used dark brown sugar instead of light. The results were great! The bars are easy to cut and hold together well, even though they have a sandy texture from the starch and matzo cake meal. If you can't find matzo cake meal, you can grind regular matzo meal in a coffee grinder, which is what I did.
Passover Chocolate Chunk Bars
8 tablespoons unsalted butter, softened
3/4 cups dark brown sugar
2 tablespoons granulated sugar
1 large egg
1/8 teaspoon salt
1 teaspoons vanilla extract
1/2 cup matzo cake meal
1/2 cup potato starch
3 ounces dark chocolate, cut into chunks
1/2 cup walnuts, toasted and chopped.
Preheat oven to 350 degrees F and line an 8 inch square metal pan with parchment paper, non-stick, or greased foil.
Cream butter with both sugars in a large mixing bowl. Mix in egg, salt and vanilla. Stir in matzo cake meal and potato starch; then add chopped chocolate and toasted nuts and stir until well mixed.
Spread in pan (wetting hands slightly will help make this easier) and bake 25 minutes at 350, until set – be careful not to overbake. The bars will appear done around the edges, but should look kind of moist in the center. They will set up more as they cool.
Let cool completely on a rack, then cut into 12 bars.