This awesome recipe for Peanut Butter Fudge Brownies is based on one from Dorie Greenspan.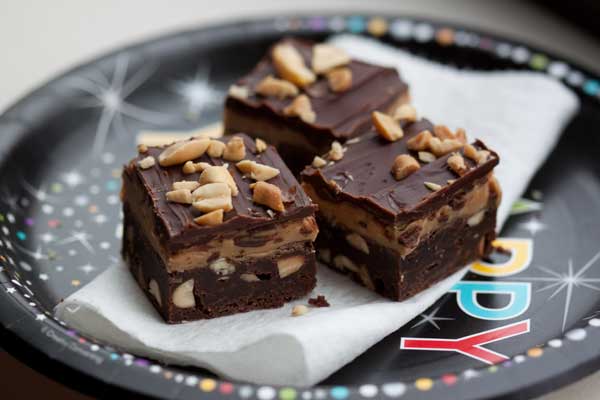 The original version is baked in a 9×13 inch pan, but I halved it and baked the brownies in an 8 inch square pan. I also upped the ratio of chocolate to butter in the ganache and omitted the nutmeg.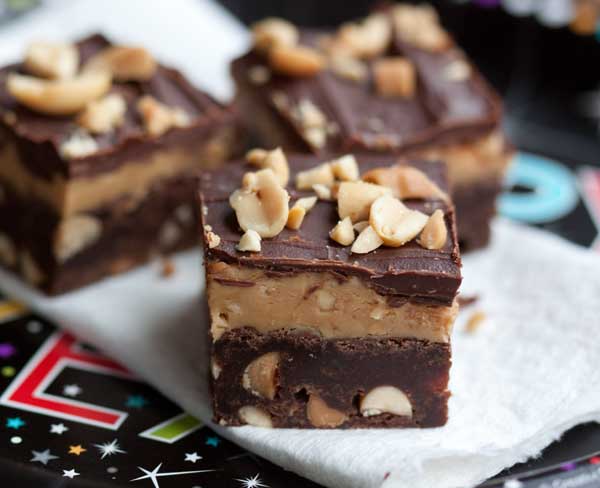 As you can tell from the photos, I've been baking these for a long time! Here's an old photo. These days I cut them into smaller squares as in the pictures above.
Peanut Butter Fudge Brownies
Peanut Butter Fudge Brownies with Salted Peanuts
Ingredients
Brownies
6 tablespoons unsalted butter, room temp
3 1/2 ounces bittersweet or semisweet chocolate, chopped
1 1/2 ounces unsweetened chocolate, chopped
3/4 cup sugar
3/4 teaspoons vanilla extract
1/8 teaspoon salt
2 large eggs
1/2 cup all-purpose flour
1/2 cup roasted salted peanuts, coarsely chopped
Frosting
1/2 cup chunky peanut butter
2 tablespoons unsalted butter, room temperature
6 tablespoons powdered sugar
1/16 teaspoon salt (tiny, tiny pinch)
1/2 tablespoon whole milk
1/2 teaspoon vanilla extract
Ganache
5 ounces bittersweet or semisweet chocolate, chopped
2 tablespoons butter, unsalted
Instructions
Preheat oven to 325°F. Line an 8 inch baking pan with nonstick foil.
Place butter and both chocolates in a 3 quart saucepan. Set over medium-low heat and stir until melted and smooth. Whisk in sugar, vanilla and salt, then add eggs, one at a time, stirring just until mixed. Add flour and stir until blended, then stir in nuts.
Spread in prepared pan and bake until tester inserted into center comes out with moist crumbs attached, about 25 minutes. Place pan on rack and let cool.
Frosting: Using an electric mixer, beat the peanut butter and the 2 tablespoons of butter in medium bowl to blend. Beat in powdered sugar and salt, then milk and vanilla. Spread frosting over brownies and chill for about an hour to set frosting (this makes spreading the chocolate ganache easier).
Ganache: Place chocolate and the 2 tablespoons of butter in a small microwave-safe bowl or 2 cup Pyrex measuring cup. Heat on high 30 seconds. Stir and repeat until smooth. Drop ganache all over frosting; spread to cover. Chill until set, about 1 1/2 hours.
Using foil as aid, transfer brownie cake to work surface; cut into squares. Bring to room temperature; serve.