Making homemade bagels is a lot of fun, and over the years I've tried so many different recipes including ones with barley malt syrup, non-diastatic malt powder, super-high gluten flour, long fermentations -- you name it.  It's fun testing tricks of the trade, but at the end of the day it seems my favorite bagels are made with a pretty basic recipe that doesn't call for any hard-to-find ingredients.  Originally from Good Housekeeping, this recipe is easy if you have a stand mixer with a dough hook.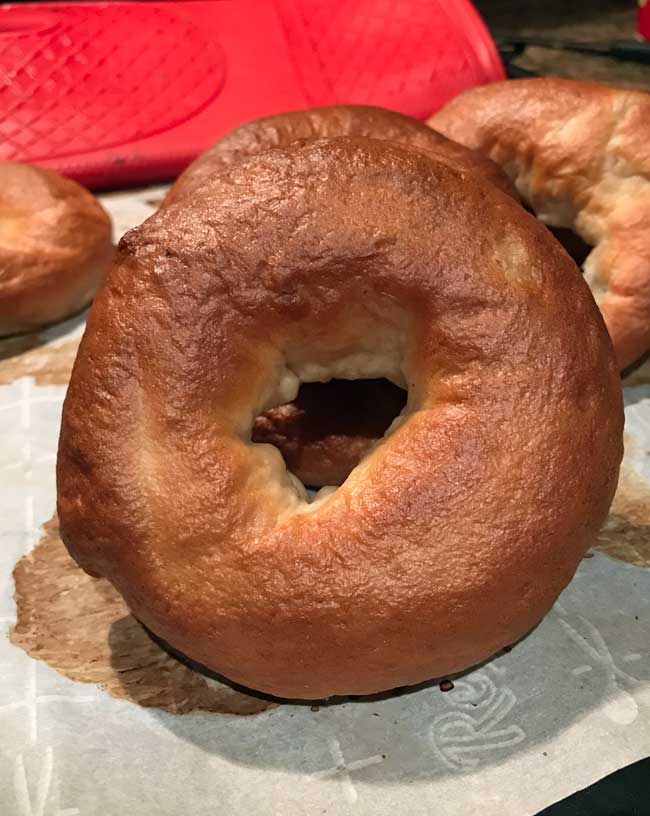 Our family loves these bagels, and even though they aren't exactly "authentic New York style", they're still chewy and flavorful and perfect for topping with cream cheese, lox, peanut butter or whatever you like. The trick to making these is, as with most yeast breads, getting the flour to liquid ratio just right.  The dough needs to be pretty stiff and should go from something like the first photo to the second.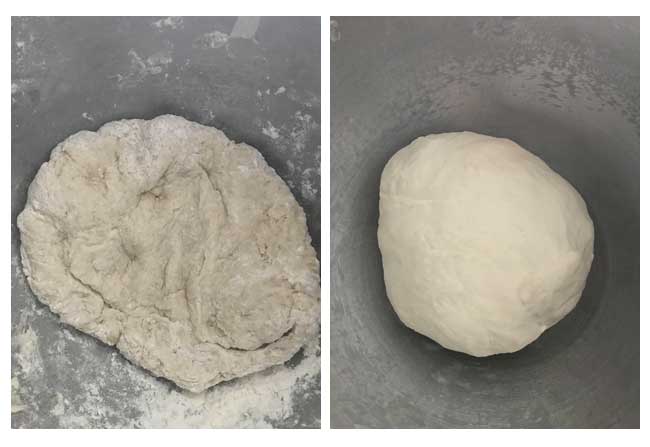 Shaping bagels also takes some practice. Some bakers like to make snakes and attach the ends to make loops, but I like to make balls and punch holes in the middle. You can use whatever method feels comfortable to you. If the dough is just right, you shouldn't need any oil or flour to prevent sticking.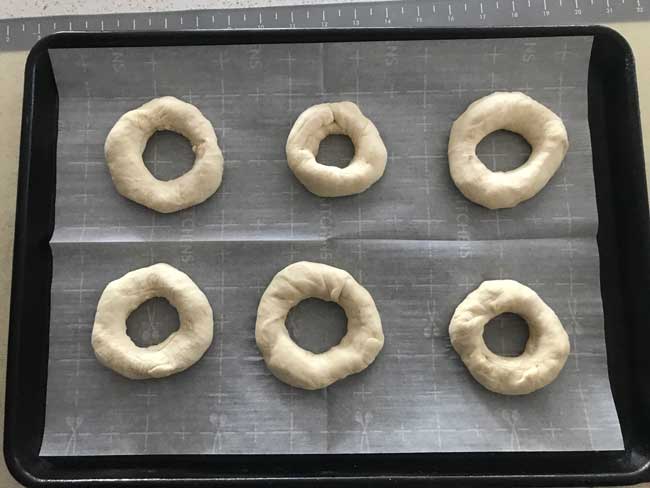 Honey and Molasses Boil -- No Baking Soda
Another reason these are my favorite bagels is because the boiling water bagel bath calls for a tablespoon each of honey and molasses rather than a lot of baking soda. For some reason I find the honey and molasses a little more convenient (and maybe slightly better tasting) than the baking soda.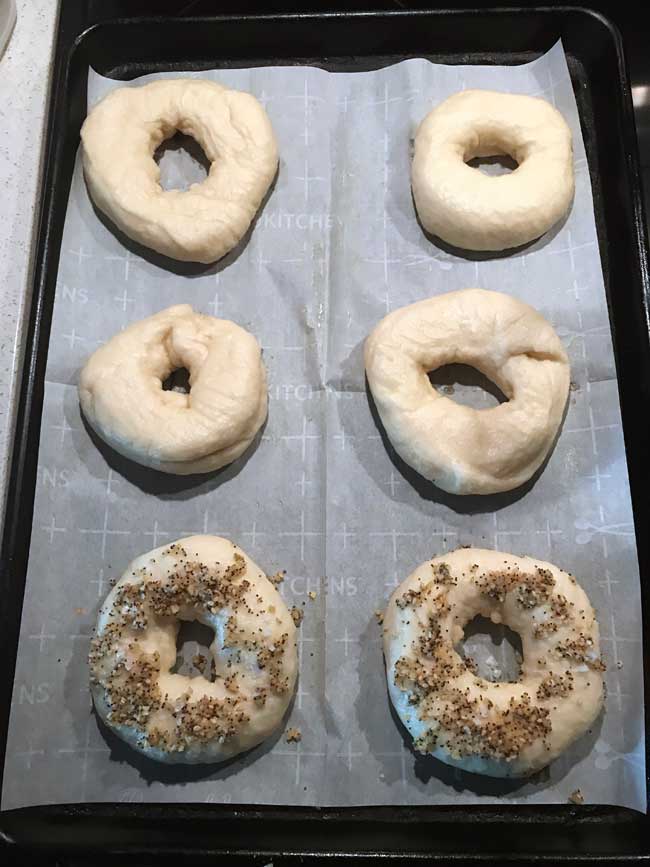 To store the bagels, just put them in a freezer bag and freeze.
Favorite Bagels Update
I still like this recipe, but I recently made a batch of King Arthur's A Dozen Simple Bagels recipe and thought they were a little bit better.  I halved their recipe, but used the molasses and honey water bath as below.  The only downside to the KA recipe is you have to start it a day ahead by mixing some flour, water and yeast and letting it sit overnight.
Recipe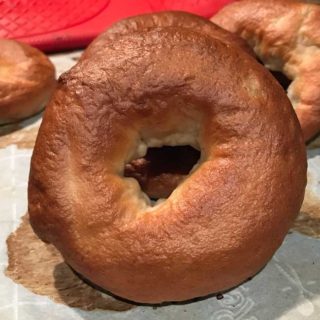 Favorite Bagels
These bagels can be made with regular yeast packets or Rapid Rise (instant yeast). I almost always use instant, so the instructions are for instant. If using regular yeast, dissolve it in the water and increase the rise times. In the past I've always made 6 bagels, but a friend complained that they were too small, so feel free to make 4!
Ingredients 
2 to 2 ½

cups

bread flour

250-330 grams -- I use the weight, volume is approximate

1 ½

teaspoons

salt

1

tablespoon

plus 1 teaspoon of sugar

½

packet instant yeast

1 ⅛ teaspoon

½

cup

plus 2 tablespoons

5 oz very hot tap water

2

tablespoons

milk
Boiling Solution
12

cups

water

1

tablespoon

honey

1

tablespoon

mild molasses
Instructions 
Put 250 grams of the flour (2 cups) in the bowl of a stand mixer bowl with the salt, sugar and yeast. Stir well, then add add all 5 oz of hot water and 2 tablespoons of milk. Stir by hand to make a soft dough, then add remaining flour 1 tablespoon a time as kneaded until dough is stiff enough to knead.

Attach dough hook and let the machine knead the dough until it is smooth and elastic. It should not be sticky, but rather stiff enough to leave the sides of the bowl as the machine kneads it.

Once the dough is smooth and elastic (5 to 8 minutes depending on your mixer), you can simply cover the bowl with plastic or if you prefer, transfer the bowl to a second lightly greased bowl.

Allow dough to rise for about 45 minutes or until doubled in bulk.

Punch down the dough and divide it into either 4 or 6 sections. Shape each section into a ball, then poke your finger through the center and twirl the dough around your finger to form a loop with a hole about 2 inches in diameter. The holes will shrink as the bagels are boiled and baked, so at this point the holes should seem quite large.

Set the bagels on a baking sheet lined with parchment paper and cover with a greased sheet of plastic wrap. Let rise for about 25 minutes.

Preheat the oven to 450°F.

Bring 12 cups of water to a boil and add 1 generous tablespoon of honey and 1 tablespoon of molasses. Reduce heat to a simmer. Add as many bagels as will fit to the water and simmer for 2 minutes, turning halfway through.

Drain with a slotted spoon (or spatula) and return to the parchment lined baking sheet.

Bake the bagels for 20 minutes or until they are golden brown and the internal temperature measures at least 205.

Banana Nut Variation: Use only ½ cup water total and also omit the 2 T. of milk. Increase sugar to 1 ½ tablespoons total, reduce salt to 1 teaspoon and use 4 oz/114 grams mashed very ripe bananas. During the end of the kneading process, throw in ⅓ cup walnut pieces.
Notes
Toppings: For an everything bagel, mix a few tablespoons of minced garlic, dried onion flakes, poppy seeds and sesame seeds in a small bowl. Add enough water to cover, then let the mixture sit for a few minutes and soften. Mixture will be quite wet, but this keeps it from burning.
Another option is to use Trader Joe's or Badia brand (I'm sure there are others) Everything Bagel seasoning.  Just brush the boiled bagels with a little beaten egg and sprinkle with the seasoning.