For years I'd heard of a magical dough made of two ingredients that could be transformed into everything from bagels to pizza crust. And what might you ask are those two ingredients? Greek yogurt (of course) and self-rising flour. And it's true. With just 2 cups of self-rising flour and 1 cup of Greek yogurt, you can make bagels from start to finish in about 45 minutes. The question is, are they bagels or abominations?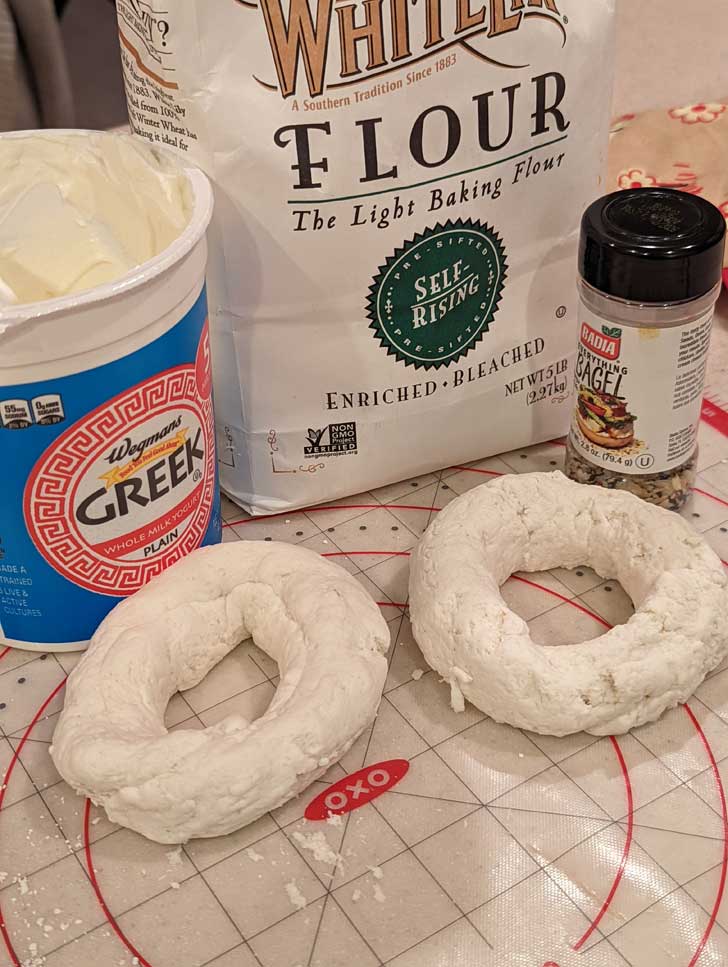 There was an ice storm yesterday and we couldn't go out, so I decided to try the miracle bagel dough. To be honest, I would have stayed in and tried this even if it was sunny, but the weather was a great excuse. That, plus I'm trying to use up the Greek yogurt I bought for Greek Yogurt Brownies. So, bagels!
But Are They Really Two-Ingredient Bagels?
The catch here is they're not really two ingredient bagels. The Two-Ingredient Bagels name is appealing, but counting the egg white wash and the bagel seasoning, they should be called Four Ingredient Bagels. Actually, Five Ingredient Bagels if you count the water. And then my husband noted that if you break down every ingredient in the bagel seasoning and the self-rising flour then it's something like fourteen ingredients! But since you can make these with just the yogurt and self-rising flour we'll stick with Two-Ingredient Bagels or better yet Two-Ingredient Dough Bagels.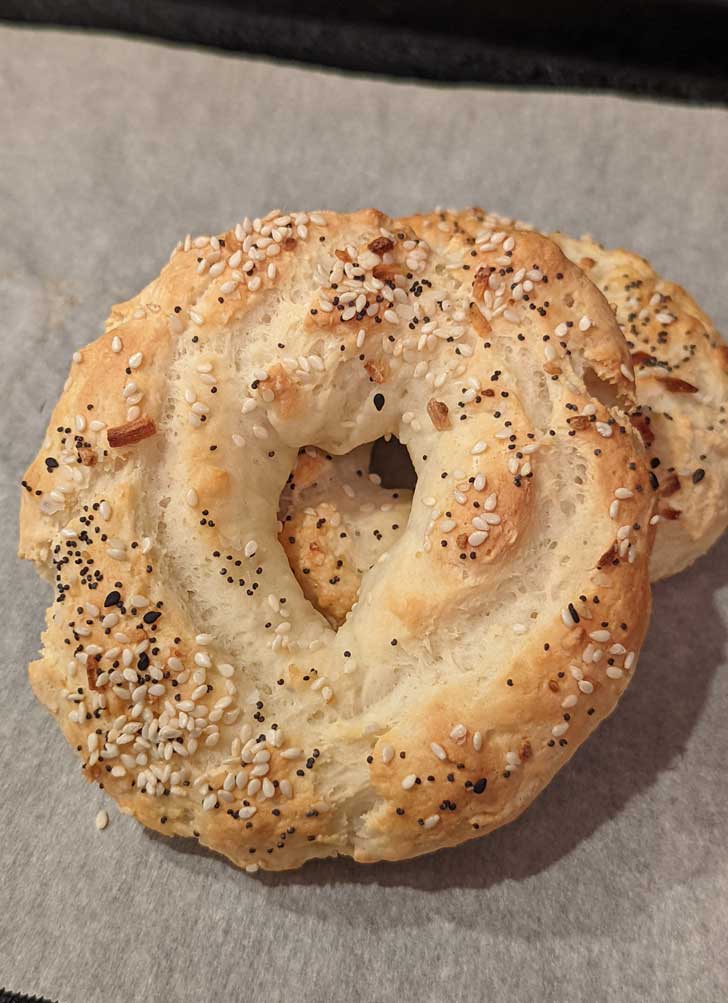 Greek Yogurt and Self-Rising Flour
So are the bagels any good? I didn't think I'd be saying this at first, but they are! Obviously they are not regular bagels, as they don't have yeast or extreme chewiness or a glossy crust. They look like bagels, but the texture is not exactly the same. But it's not bad. What they really have going for them is a lovely sour flavor from the yogurt. Sprinkling Everything Bagel seasoning on top also helps. So they're not true bagels, but they're a tasty vehicle for cream cheese or just about anything else.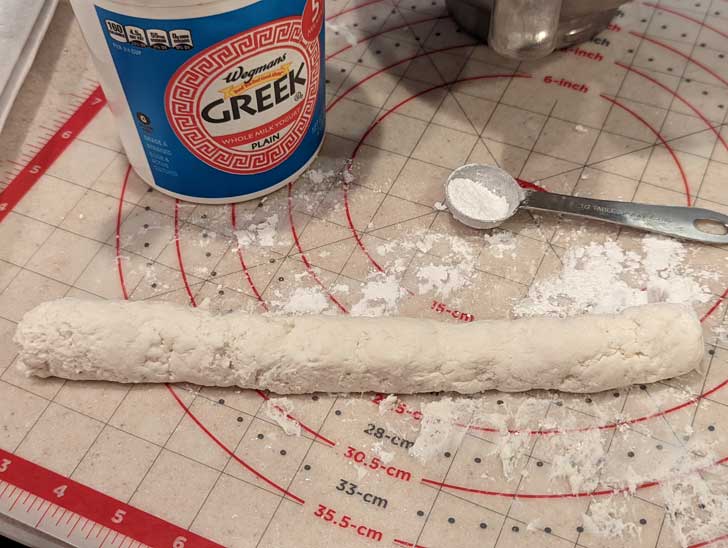 I recommend making these if you have the two ingredients and want something tasty to put cream cheese on, these are worth a try. If you are skeptical, you can you can mix together 56 grams of yogurt with 60 grams of self-rising flour and make yourself one big non-bagel. It's also worth noting that each bagel has somewhere around 250 calories, which seems reasonable for a for bagels of this size. I think mine weighed somewhere around 3 ½ oz or 100 grams after baking. Also, the texture is such that you can remove the inside and leave a hollow crust for sandwiches. I think this recipe has roots in Weight Watchers' culture, so maybe people were doing that.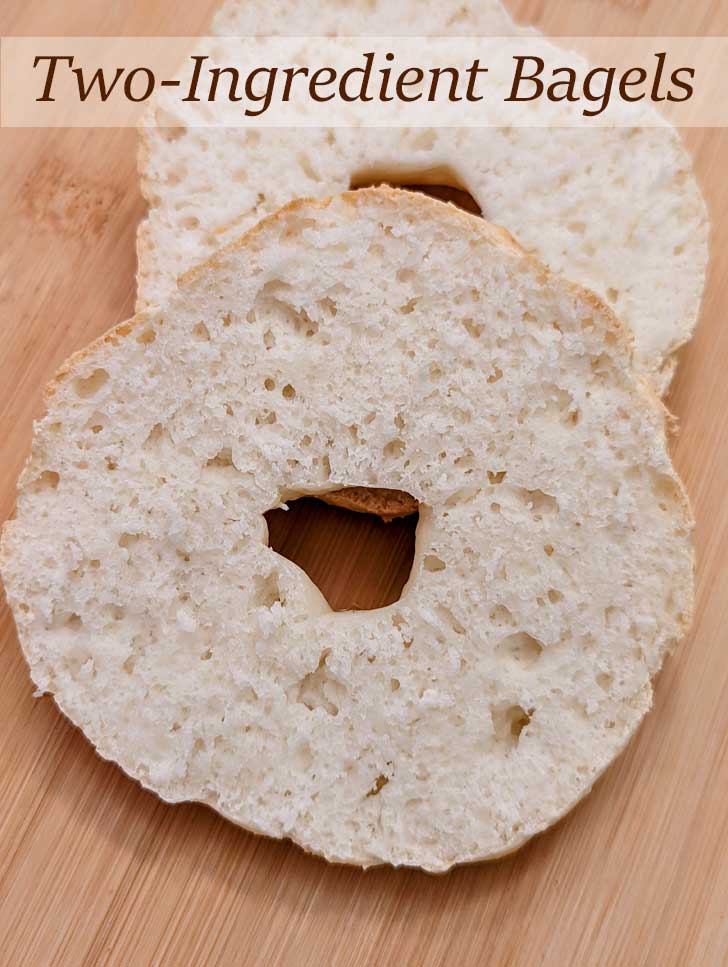 Recipe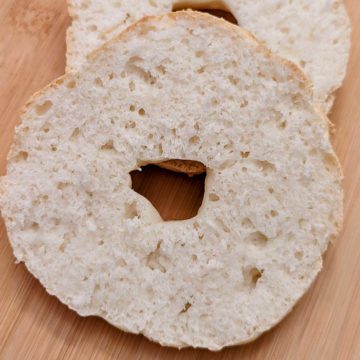 Two Ingredient Bagels
Bagel impostors made with self-rising flour and Greek yogurt.
Ingredients 
1

cup

whole milk Greek yogurt (5%)

(230 grams)

2

cups

self-rising flour**

(240 grams) -- may need a little more or less
Optional Egg White and Seasoning
Bit of egg white

Splash of water

Everything Bagel seasoning (or your favorite seeds)
Instructions 
Preheat oven to 375 degrees F. Adjust rack so it's near the top. Top third is probably okay, but I put the rack a little higher than that.

Line a baking sheet with a sheet of parchment paper.

Put the yogurt in a large mixing bowl. A stand mixer bowl works well, but is not required.

Add the flour and stir by hand or with the paddle to make a thick, slightly sticky, dough. Add more yogurt and/or flour as needed to make a cohesive dough.

Put the dough ball on a pastry mat. Use extra flour at your discretion. If your dough is on the dry side, you might want to start without it. I don't think there's really a wrong way to do this.

Knead it about 10 times. Divide into 4 equal parts. Roll the parts into 8 or 9 inch ropes and bring the ropes together to form circles. Pinch ends together and do your best to make them look like actual bagels. Alternatively, you can shape the dough into balls, stick your finger through the middle and shape the bagels that way. Just don't try twirling the dough around your finger because the dough will break and maybe go flying across the counter.

Put the bagels on the parchment lined sheet. Mix together the egg white and water (if using). Brush over the bagels and sprinkle with Everything Bagel seasoning (if using)

Put the bagels in the oven and bake at 375 degrees F. for 25 minutes.
Notes
Brands may vary in weight.  I used White Lily.  For volume, use a light hand and spoon the flour into the cup.