I usually make pretzels with water or beer, but this week I tried a recipe for pretzels with milk. It's not exactly a new idea to use milk in pretzel dough, but I've always been pleased with my usual pretzel recipes and haven't experimented much. I wish I'd tried this recipe sooner because the dough is so easy to work with. In fact, I had so much fun playing with it I made the pretzels multiple ways -- as shiny pretzels made with dairy milk and as vegan pretzels with oat milk.
Jump to Recipe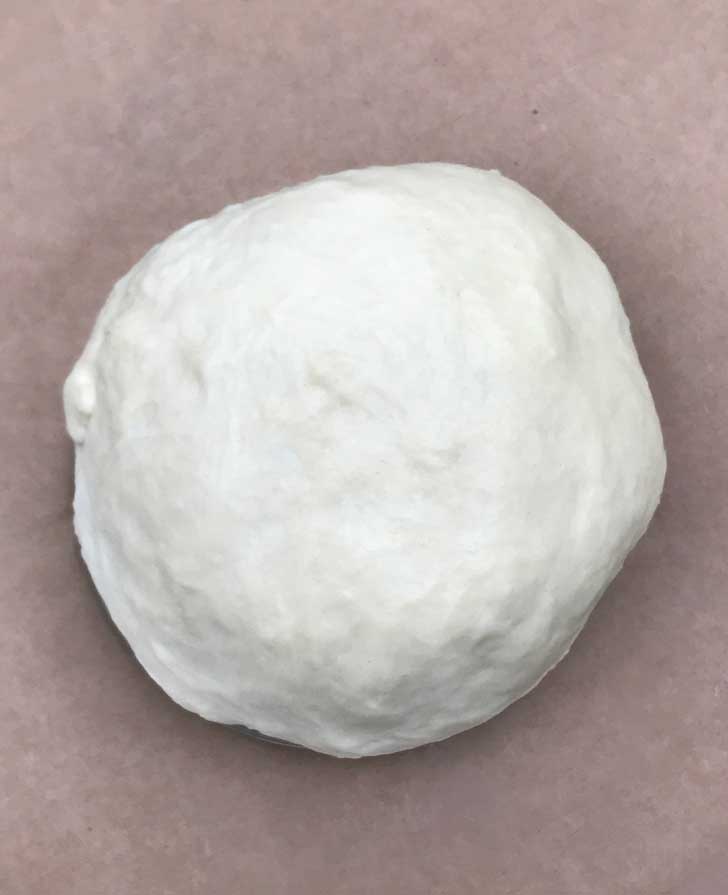 Easy to Work With Dough
The dough is not sticky at all and doesn't fall apart when rolled into long strands. It's also versatile in that it can me made with regular milk, but also plant milk. I've been making most of my batches of dough with regular dairy milk and butter, but the dough pictured above was made with oat milk and vegan butter. The vegan pretzels were just as good as the dairy pretzels. Another bonus is that the dough can be kneaded by hand. I personally prefer using a stand mixer and dough hook, but if that's not an option or you just like hand-kneading your dough, this is a good recipe.
Shiny Pretzels
Since I was making so many batches of pretzels, I did an informal test to see if there was any difference in brushing the pretzels with whole egg, egg white or egg yolk only. Here's some dough brushed with yolk only.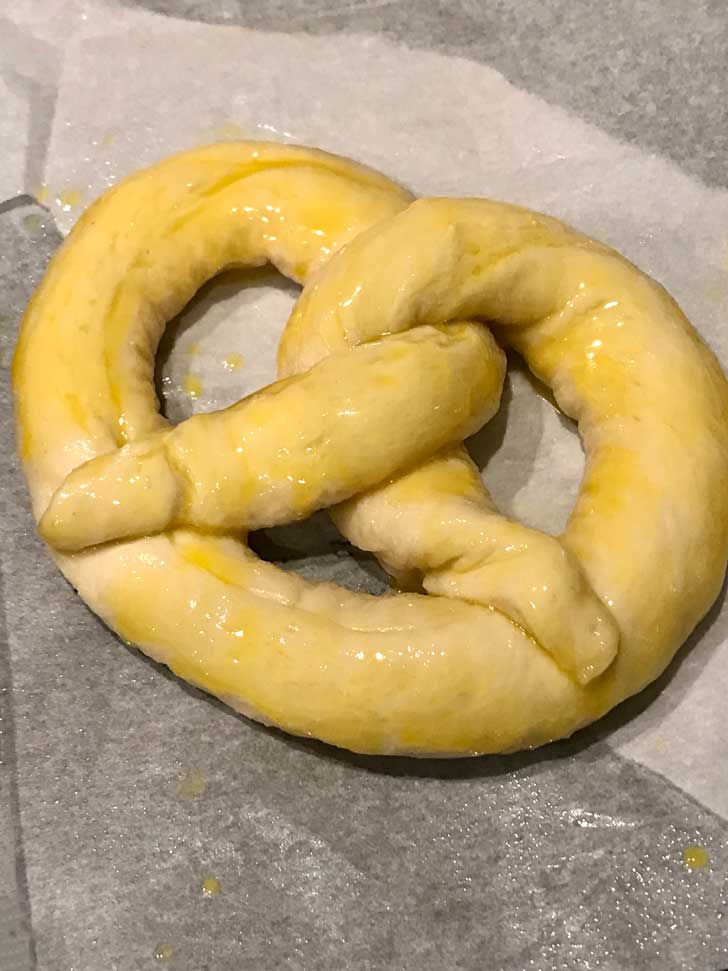 The yolk only pretzels were the shiniest while the white only pretzels were less so. For the vegan pretzels (the batch with the oat milk and vegan butter), I brushed the pretzel dough with melted vegan butter. Those pretzels had almost a donut quality to them.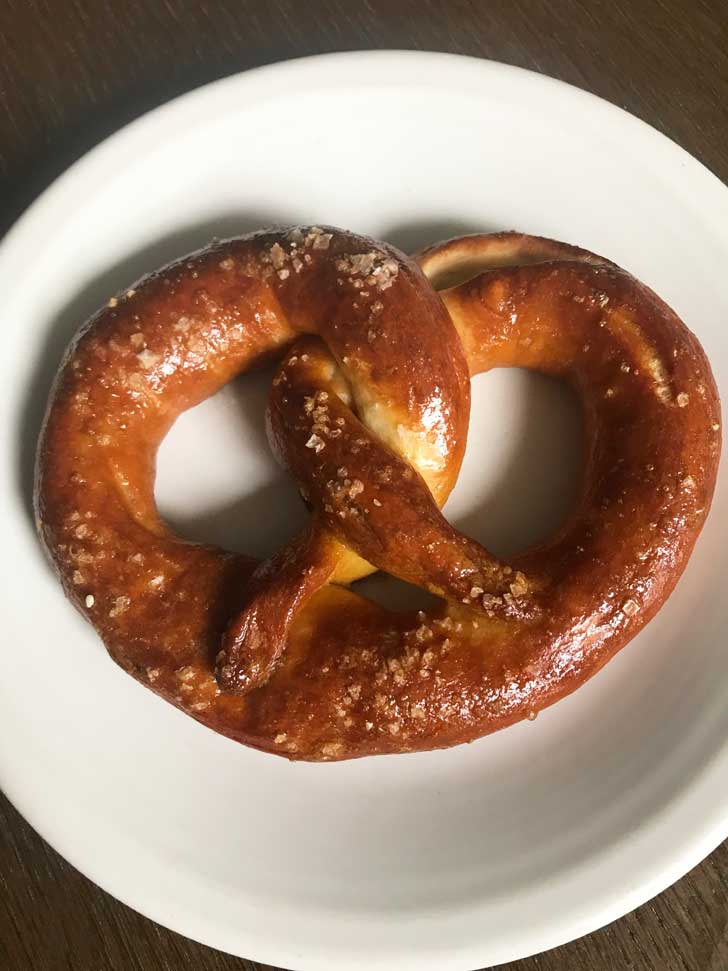 After making two full batches, I tried making a half batch of 4. That worked too, so if you are new to pretzel making and just want to try your hand at a small batch, just halve everything, but keep the baking soda/water mixture the same.
Pretzel Ingredient List
Milk -- Any milk should work. I've tested with whole milk and oat milk.
Yeast -- I use SAF fast rising yeast, and I proof it in the milk. If you'd rather not proof the fast rising yeast, you can mix it with the dry ingredients and heat the milk to between 120 and 125.
Sugar -- A mix of granulated and brown for a little extra flavor. Feel free to use use one or the other.
Bread Flour -- King Arthur brand bread flour.
Kosher Salt -- Morton Brand. I don't typically bake with Diamond Crystals, but if you do bake with Diamond you might need more.
Butter -- Unsalted. I've tested with regular unsalted butter and Trader Joe's brand vegan butter. If using vegan butter or any type of salted butter, reduce salt in the recipe to ¾ teaspoon.
Salt on the Pretzel -- I don't have any pretzel salt and haven't had time to order any so I've been using Maldon or Everything Bagel seasoning. You can order pretzel salt here. Another trick is to buy the cheapest box of frozen pretzels (Dollar Tree) and use only the salt, but then you're stuck with the frozen pretzels.
Recipe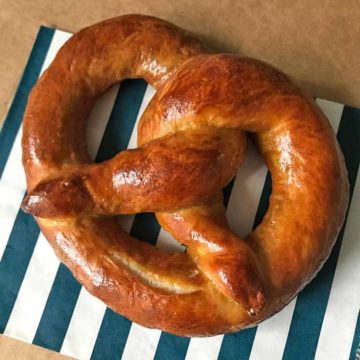 Pretzels Made With Milk
Dough is super easy to work with.
Ingredients 
1

cup

milk (I've tested with dairy milk and oat milk)

(230 grams/8 oz)

2 ¼

teaspoons

instant yeast (SAF)

1 ½

tablespoon

granulated sugar

(18 grams)

1 ½

tablespoons

brown sugar

(18 grams)

3

cups

bread flour, measure by weighing

(390 grams)

1

teaspoon

kosher salt (scant or you can use ¾ if desired)

4

tablespoons

melted unsalted butter
Boiling Solution
6

cups

water

⅓

cup

baking soda

egg yolk

Pretzel salt or Maldon sea salt
Instructions 
In a microwave-safe measuring cup, heat the milk for about 30 seconds. Insert a thermometer and make sure it's between 110 and 115 degrees F. Pour milk into the bowl of a stand mixer. Add the yeast and stir, then let stand for about 5 minutes or until mixture starts to bubble (and you are sure the yeast is active).

To the yeast mixture, add the sugar, 3 cups (390 grams in this case) of flour, salt and melted butter. Stir the best you can by hand, then transfer to the stand mixer and begin mixing with the dough hook. Let the dough hook mix it until it seems well blended, then continue kneading with the dough hook until the dough is smooth and elastic. It should not be sticky at all, nor too dry. If you feel like it's sticky add a little more flour, but if it's dry add a few teaspoons of water.

Cover the bowl with plastic wrap and let sit in warm spot in the kitchen until doubled (45 minutes to an hour).

Preheat the oven to 450 degrees F. Line two sheet pans with parchment paper and spray with cooking spray (or rub with a little vegetable oil)

Bring the water and the baking soda to a boil in a large pot while you shape the pretzels.

Turn the dough out onto a pastry mat and roll it into a rectangle that's about 16 inches by 8 inches. Using a pizza cutter, cut 8 equal size strips. Working one strip at a time, use your finger tips to roll the strip into a long (24 inch) tube. If the dough seems to be at all dry or cracking, slick it with a little oil or butter as you roll. Make a U-shape with the rope, holding the ends of the rope, cross them over each other, twist (I don't always twist), then bring down and press onto the bottom of the U in order to form the shape of a pretzel. Place onto the parchment-lined half sheet pans.

Place the pretzels into the boiling water (as many as you can fit, for me it's usually two) and boil for about 30 seconds. You don't have to turn them, just make sure that some of the water is covering the top sides. Remove them from the water using a large flat slotted spatula, letting excess moisture drain off. Return to the half sheet pan, brush the top of each pretzel with the beaten egg yolk (shiny) or beaten egg (less shiny) or just white (least shiny) and sprinkle with your choice of salt or Everything Bagel seasoning.

Bake until dark golden brown in color, approximately 12 to 14 minutes. Transfer to a cooling rack for at least 5 minutes before serving.
Notes
I've been using 1 scant teaspoon of Morton kosher.  If you want a less salty dough, you can decrease to ¾ teaspoon.  If you use salted butter or vegan butter, definitely decrease to ¾ teaspoon.