I'm probably the last baker on the block to try this buttermilk glazed carrot cake, but now that I have I can attest that it is very good, and I'll most likely make it again despite my initial skepticism towards a carrot cake with both a glaze and a frosting. Originally from Southern Living, this is a 9x13 inch carrot cake recipe that starts out like "the usual" carrot cake, but calls for an extra step of pouring a glaze over it that sinks in as it cools. As you can guess, this makes the cake extra moist -- though not mushy, which was my concern.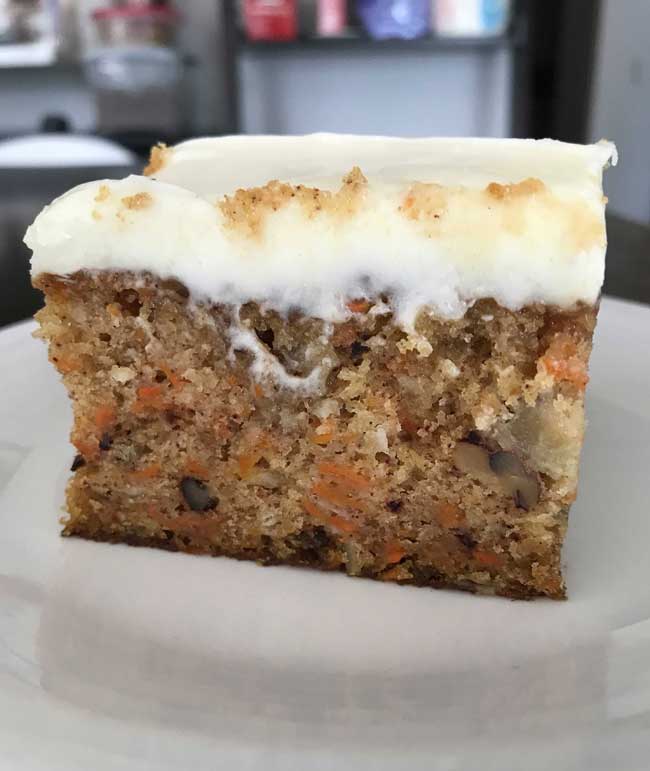 The cake calls for common carrot cake measures -- 2 cups flour, 2 cups sugar etc. and only ¾ cup of oil. Then while the cake bakes, you boil a mixture of sugar, baking soda, buttermilk, corn syrup and butter until it turns a golden brown. This golden brown buttermilk glaze is poured over the cake adding extra moisture plus extra flavor from the butter and buttermilk.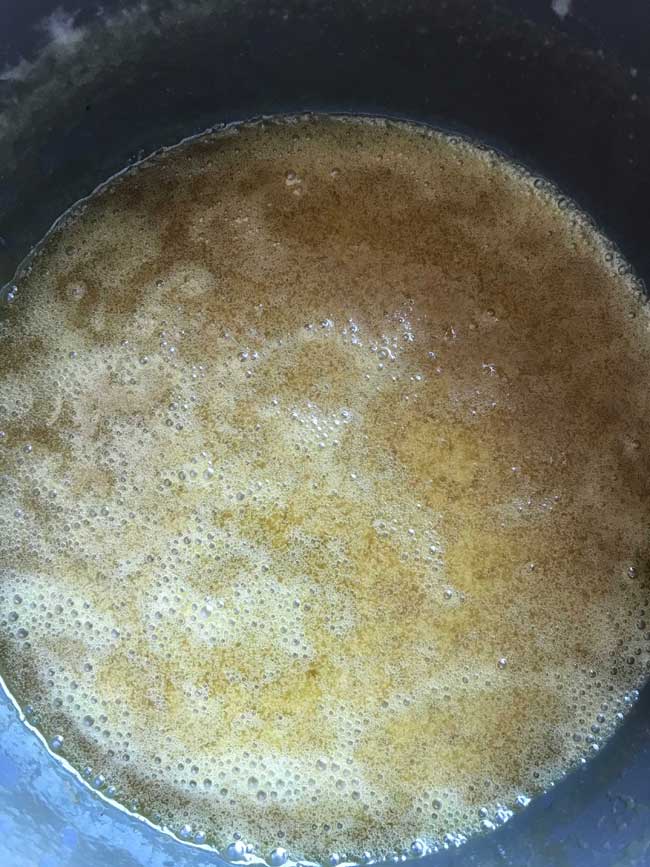 The baking soda is an interesting addition to the glaze.  It makes it soft and foamy as it boils, and I suppose it helps it turn brown.  Make sure to boil the syrup until it turns brown to help boil away the baking soda flavor.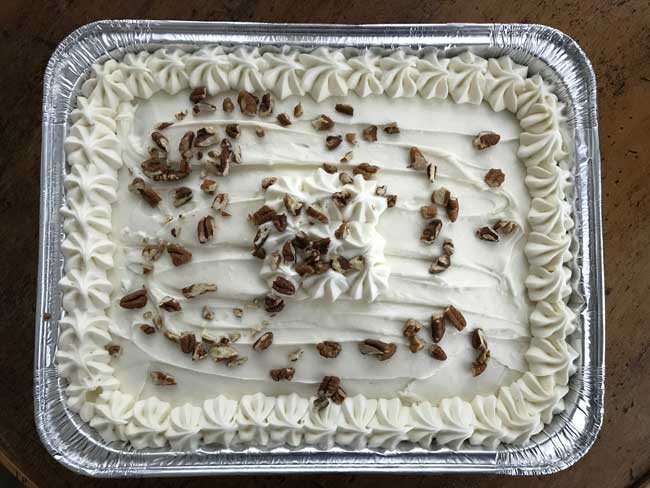 It's also important to give the cake about a day to rest before frosting.  Several people who made the original recipe said the cake was a little too soft on day 1, but fabulous on day 2.  I've only tried it on day 2 so I'll take their word for it.
Recipe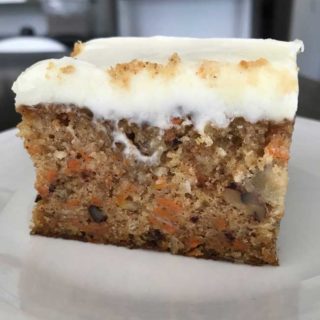 9x13 Inch Carrot Cake with Buttermilk Glaze
9x13 Inch Carrot Cake with Buttermilk Glaze
Ingredients 
2

cups

all-purpose flour

270 grams

2

teaspoons

baking soda

½

teaspoon

salt

2

teaspoons

ground cinnamon

3

large eggs

2

cups

sugar

380 grams

¾

cup

vegetable oil

¾

cup

buttermilk

2

teaspoons

vanilla extract

2

cups

grated carrots

280 grams

8

ounce

can crushed pineapple

drained

3 ½

ounces

sweetened flaked coconut

1

cup

chopped pecans

toasted before chopping
Buttermilk Glaze
1

cup

sugar

200 grams

1 ½

teaspoons

baking soda

½

cup

buttermilk

½

cup

butter

unsalted

¼

teaspoon

salt

omit if using salted butter

1

tablespoon

light corn syrup

1

teaspoon

vanilla extract
Cream Cheese Icing
1 ½

sticks

6 oz unsalted butter, softened

16

ounces

powdered sugar

sifted

11

ounces

package cream cheese

room temp

1 ½

teaspoons

vanilla extract
Instructions 
Preheat oven to 350 degrees F. If you haven't toasted your pecans, toast them for about 8 minutes and set aside to cool.

Grease a 9x13 inch pan.

Stir together flour, baking soda, salt and cinnamon and set aside.

In a mixing bowl, using an electric mixer, beat eggs and sugar for about 2 minutes or until thick and yellow. Gradually add the vegetable oil, then add the vanilla.

Stir in the buttermilk until well blended

Add flour mixture, beating at low speed until blended.

Fold in carrots, pineapple, coconut and pecans.

Pour batter into pan and bake at 350 degrees f for 42 minutes total, covering loosely with foil after the first 30 minutes..

Remove from oven. Make the buttermilk glaze (you can start while the cake it finishing baking).

Buttermilk Glaze: Bring sugar, baking soda, buttermilk, butter and corn syrup to a boil over medium heat (I use a 3 ½ quart saucepan). Boil, stirring almost constantly, for 4 minutes or until mixture darkens to a golden brown.

Remove from heat, let cool slightly, then stir in vanilla. Pour glaze over the cake.

Allow the cake to cool for several hours, then cover with plastic wrap and refrigerate overnight.

The next day, make the cream cheese frosting.

Cream Cheese Frosting: Beat first cream cheese and butter at medium speed with an electric mixer until smooth. Gradually add powdered sugar, beating at low speed until light and fluffy.

Stir in vanilla. Frost the cake and use any remaining frosting to pipe a border.