Six Layer Carrot Cake is from Noteworthy, a Collection of Recipe from the Ravinia Festival. I found the book in our condo building's library where someone had donated it.  So special thanks to the mystery book-giver, and I can assure you it's found a good home.  I've already made two things out of Noteworthy — something called Judges Artichoke Fettuccini and this Six Layer Carrot Cake.  I don't have much to say about the fettuccini, but I have a lot to say about the carrot cake.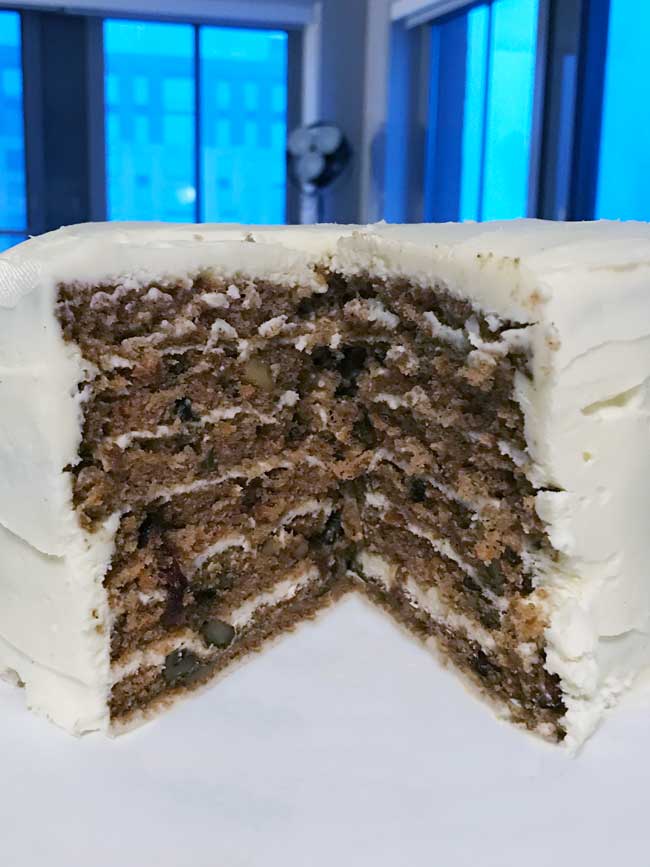 Three 8-Inch Layers Split to Make Six
As mentioned, it's six layers. The layers are made by splitting 3 8-inch layers, so the cake is tall but still a fairly modest size cake.  It's also very rich, so the slices can be cut very thin to feed more people.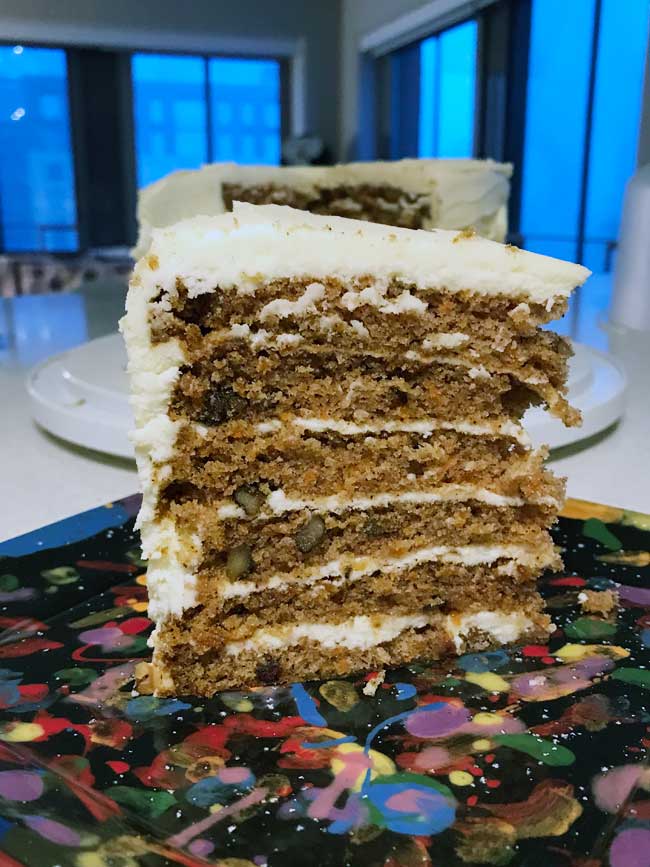 Six Layer Carrot Cake Mixing Technique
The mixing technique is also a little different from that of most carrot cake recipes in that it calls for for beating the eggs and sugar until thick and lemon colored and gradually adding the oil. This technique emulsifies the egg mixture, which as I read in Cook's Illustrated, keeps the oil in tiny bits so that it disperses throughout the cake rather than sinking to the bottom causing sogginess. It really seems to have worked because this cake wasn't at all soggy.
Cream Cheese Frosting
The only issue was that I ran out of frosting before the cake was fully frosted and had to make another half batch. I don't think I was overly generous with the frosting, but I did leave out the pineapple. Maybe that had something to do with it. I've included the frosting recipe with "scale up" amounts in parenthesis in case you want to make 1 1/2 times the batch.
Great Frosting!
The frosting is great! It has more butter than most cream cheese frostings so it is very rich, but it's not too sweet. It also seems to hold up at room temperature better than the more cream cheese heavy frostings. I always refrigerate or freeze cream cheese frosted cakes, but I left a few pieces of this cake out and was pleased to see the frosting did not break down.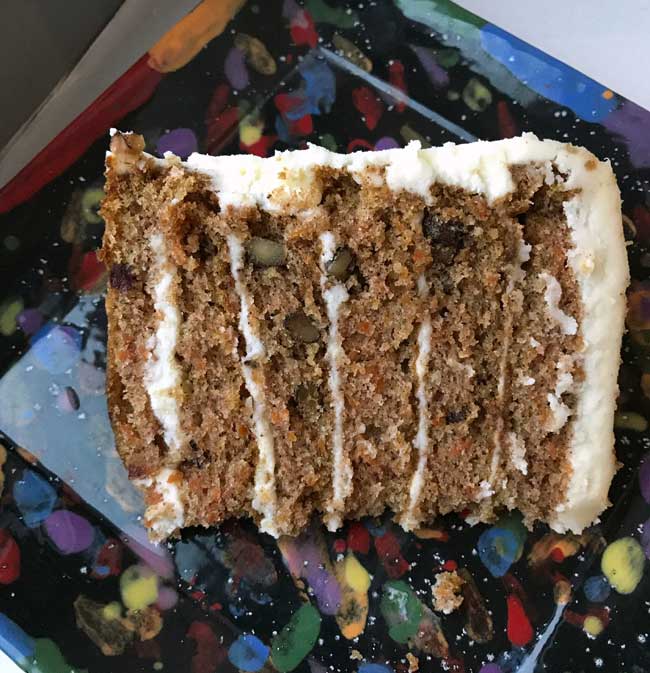 Overall this was a very good carrot cake. I'm looking forward to making it again once we finish this one, which will take a while.  The 8-inch layers weren't difficult to slice, but just for fun I might try making it in a 13×18 inch pan, cutting it into four quarters and stacking.  I'll post the results here when I try it.
Update: Size Version
Here's the cake baked in a half sheet pan and layered. I divided it into 4 rectangles and stacked.  I'm glad I tried it, but it was easier to just make the 3 layers in 8 inch pans and split them to make six.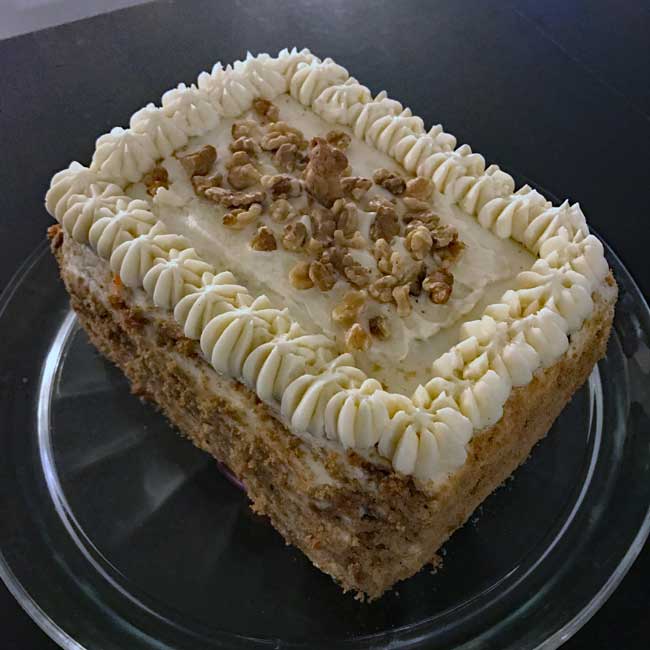 This cake, no matter how many layers, would make a great ice cream cake because the oil keeps the cake from freezing rock solid.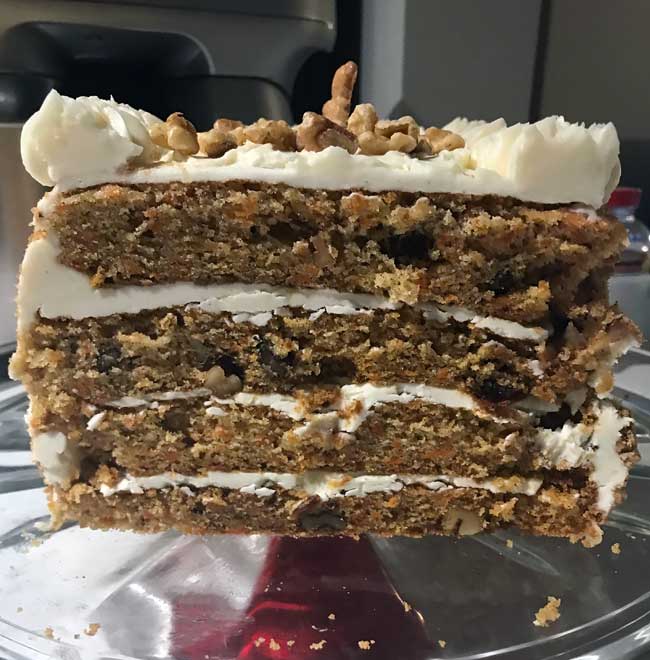 Recipe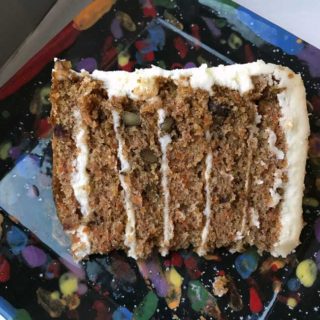 Six Layer Carrot Cake
Six Layer Carrot Cake made in three 8-inch pan.
Ingredients 
2

cups

unbleached all-purpose flour

270 grams

2

teaspoons

baking powder

2

teaspoons

baking soda

1

teaspoon

salt

2

teaspoons

cinnamon

4

large eggs

1 1/2

cups

sugar

285 grams

1 1/2

cups

vegetable oil

12 oz

3

cups

grated carrots

300 grams

1/2

cup

raisins or dried cranberries

optional

1/2

cup

chopped pecans and/or walnuts
Frosting
11

oz

cream cheese

(or 16 oz, softened)

6

oz

unsalted butter

(or 9 oz, softened

2

cups

confectioners' sugar

(or 3 cups)

1 1/2

cups

well drained crushed pineapple

I omitted

1 ½

teaspoons

vanilla
Instructions 
Preheat oven to 350 degrees F. Grease and flour three 8-inch round cake pans. If you want you can put rounds of parchment on the bottom of each pan and grease the parchment.

In a large bowl, whisk together the flour, baking powder, baking soda, salt and cinnamon, making sure all ingredients are very evenly distributed. This is very important because unevenly distributed baking soda has been known to cause carrots to turn green.

In the bowl of a stand mixer using the whisk attachment, beat the eggs on medium, increasing slightly to medium high. When eggs are frothy, gradually add the sugar and continue beating until light and lemon color. With the mixer going, gradually add the oil letting it trickle down the side.

Remove the bowl from the stand and with a heavy duty scraper (or your favorite mixing spoon) stir in the flour mixture until it is evenly blended. Once flour is incorporated, stir in the carrots, raisins (if using) and nuts.

Divide the batter among the pans. Each pan should get a little over a pound of batter.

Bake the cakes for about 30 minutes, allow them to cool for 10 minutes in pan, then carefully loosen and turn from pans to cool completely.

Prepare the frosting. In the bowl of a stand mixer beat the room temperature butter and cream cheese until fluffy. Add the confectioners' sugar and beat until creamy, then beat in the vanilla. If desired, add 1 ½ cups of pineapple.

When cake has cooled completely, cut each layer horizontally so that you have six layers. Frost and fill with the cream cheese frosting, then chill cake for about an hour before serving.