I'm experimenting with keto recipes this week.  The family does not approve, but they know they can't stop me and are good naturedly helping taste test.  The three of us agree that these Keto Chocolate Pecan Cookies are very good.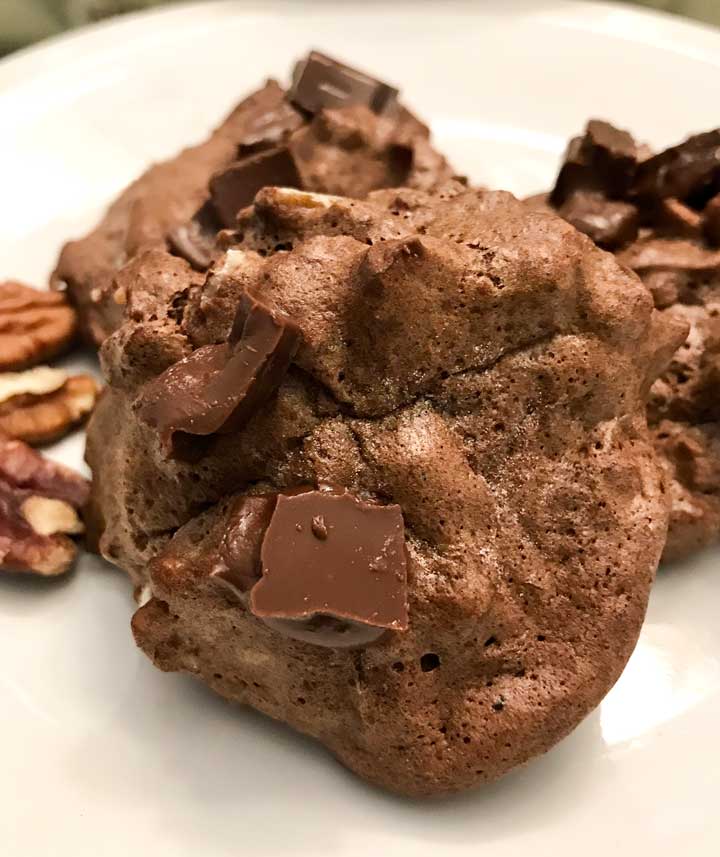 At first, the goal was to make a keto version of cookies like the flourless chocolate pecan cookies from Central Market and Whole Foods.  I don't know if they sell them anymore, but back when I lived in Austin they were quite popular. The Keto Chocolate Pecan Cookies turned out different from the Central Market cookies, but good in their own way — especially if you really appreciate nuts. I put pecans in the title, but they are equally as good with walnuts.
Texture and Flavor
In the process of trying to make the cookies keto-friendly by using Swerve sweetener, I found that the Swerve soaked up more moisture than confectioners' sugar and that the ratios of egg white to everything else changed dramatically from the original non-keto recipe. For crispier cookies I had to use more Swerve. But since Swerve has that mouth-cooling effect, I wanted to use as little as possible. Less Swerve meant less crispiness, so the cookies are softer, but taste better. I've heard adding a couple of drops of Stevia neutralizes the cooling effect of the Swerve and will test that in the future. Maybe one day there will be a really good tasting sugar substitute.
Chocolate Chips and Other Ingredients
Along with the Swerve, the other ingredients are just cocoa powder, salt, pecans and vanilla. Regular or sugar free chocolate chips are optional. Ingredient shot! I hope someone out there appreciates the $40 vanilla next to the Aldi cocoa powder. The optional chocolate chunks or chips are not in the photo.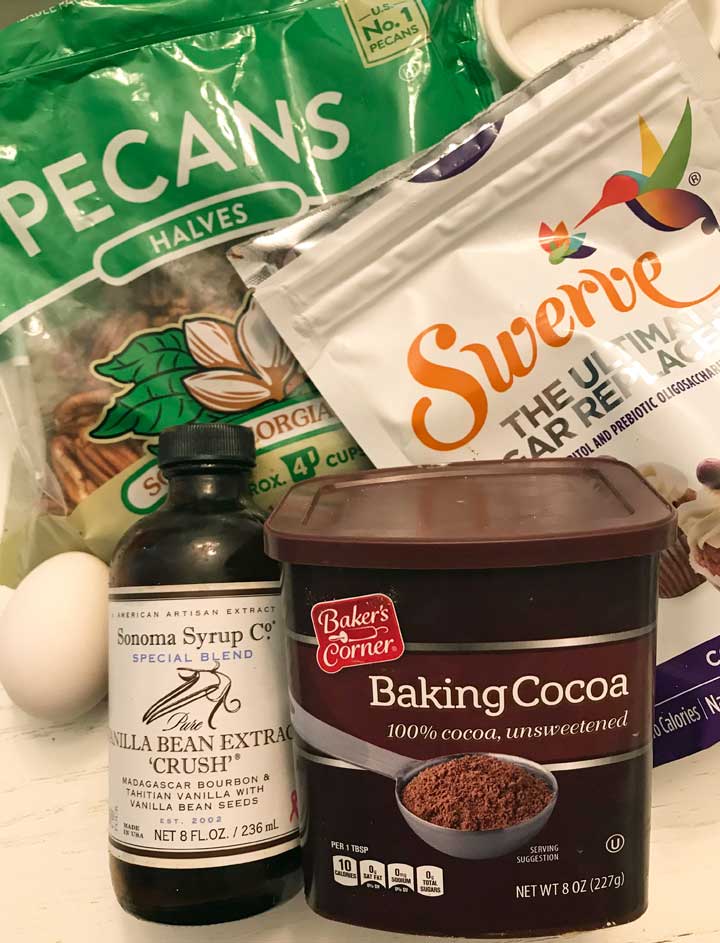 Natural vs. Dutch and With/Without Nuts
If you bake a lot you know that natural and Dutch process cocoa can yield vastly different results depending on the recipe. I tested this recipe with both kinds and they work equally well, though the Dutch process weighs a tiny bit more and the cookies aren't quite as tall. While I was testing the two different types of cocoa, I tried leaving out the nuts and using only chocolate chips (Lily's). It worked! So you can also make these nut-free if need be. The ones below are topped with sea salt, and I recommend not doing that.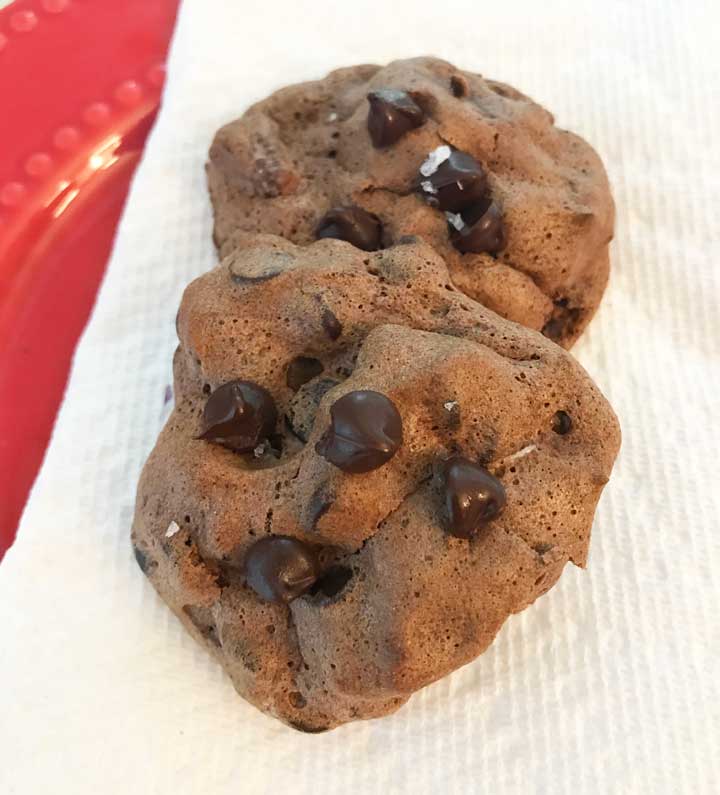 I don't have a ton of Keto recipes and still don't know much about it, so if you dare to try the recipe let me know what you think.  It halves well if you want to test with just 4 or 6 cookies. Also, if you are wondering what to do with the two leftover egg yolks, here's a recipe called Crème Brûlée for Two which uses just two egg yolks, cream, vanilla and sugar. I haven't made it with a sugar substitute yet, but I'm pretty sure it could easily be converted to keto.
Recipe
Keto Chocolate Pecan Cookies
An easy recipe for sugar free chocolate pecan cookies.
Ingredients 
1/4

cup

Swerve Confectioners

32 grams

2

tablespoon

unsweetened natural cocoa powder

10 grams

1

pinch

salt

2

large egg whites

60-65 grams

1/4

teaspoon

vanilla

1 1/3

cup

toasted and finely chopped pecans 130 grams

Ghirardelli Bittersweet or Lily's Chocolate Chips

Depends on how much sugar you can handle
Instructions 
Toast the pecans first. Spread on a baking sheet and bake at 375 for about 6 to 8 minutes. Let them cool while you prepare the rest of the cookies.

Reduce oven heat to 350 degrees F. Line a large baking sheet with parchment paper.

Stir Swerve Confectioners', cocoa powder, and salt together in a small bowl or large cup.

Place egg whites in clean metal or glass mixing bowl. With an electric mixer, beat the whites until stiff peaks start to form. With the mixer going, gradually add the cocoa mixture, allowing whatever doesn't blend in to stick to the walls.

With a rubber scraper, scrape any cocoa mixture that has collected on the wall of the bowl into the batter and add the vanilla. Stir in the 1 cup of the pecans, then add the remaining pecans if you feel you need more. At this point you can also add chocolate chips, or wait and stick them on the hot cookies.

Scoop the batter by heaping tablespoonfuls onto the parchment lined baking sheet, spacing about 2 ½ inches apart. It shouldn't be runny, but if it is a little runny just do your best to keep it in circles. The cookies should still puff. You should get 8 to 12.

Bake at 350 for about 10-12 minutes or until the cookies are puffy and set.

Let the cookies rest on the parchment for about 10 minutes. Carefully remove cookies and let cool completely on a wire rack.

Store cookies in an airtight container for the first day, then store in the freezer.