I hadn't planned on trying another recipe for Tahini Chocolate Chip Cookies, but I've been doing some Israeli cooking lately (shout out to Michael Solomonov and Danielle Oron) and have extra tahini on hand --- Soom, of course! I'd used it before in chocolate chip cookies in a recipe where it stood in for butter. Today's version uses both butter and tahini.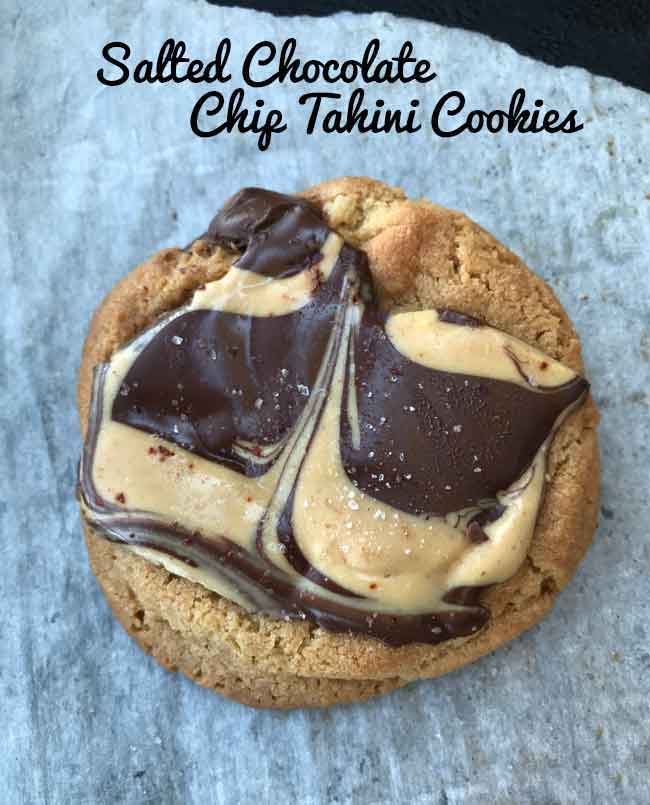 Originally from Modern Israeli Cooking: 100 New Recipes for Traditional Classics by Danielle Oron, the cookies call for ½ cup butter and ½ cup tahini plus less flour and sugar than usual chocolate chip cookies. The high ratio of butter and tahini gives you cookies with a hint of tahini flavor and a lovely texture similar to a light and sandy peanut butter cookie or maybe a cookie made with shortening. The centers are soft and the edges are a bit crunchy.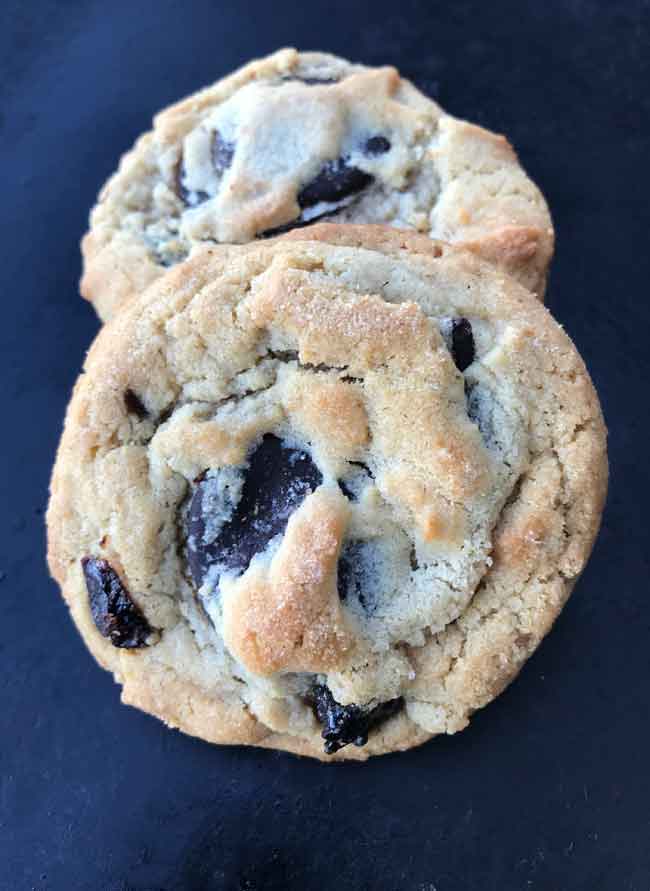 Oron's original Salted Tahini Chocolate Chip Cookie calls for 1 cup white sugar and uses a mix of baking soda and baking powder. I used David Lebovitz's version with half brown and half regular sugar and baking soda instead of the baking powder/baking soda combo. Just for fun, I took the recipe a step further and plopped a piece of Chocolate Tahini Bark (minus the Aleppo) on top of the cookies when they came out of the oven.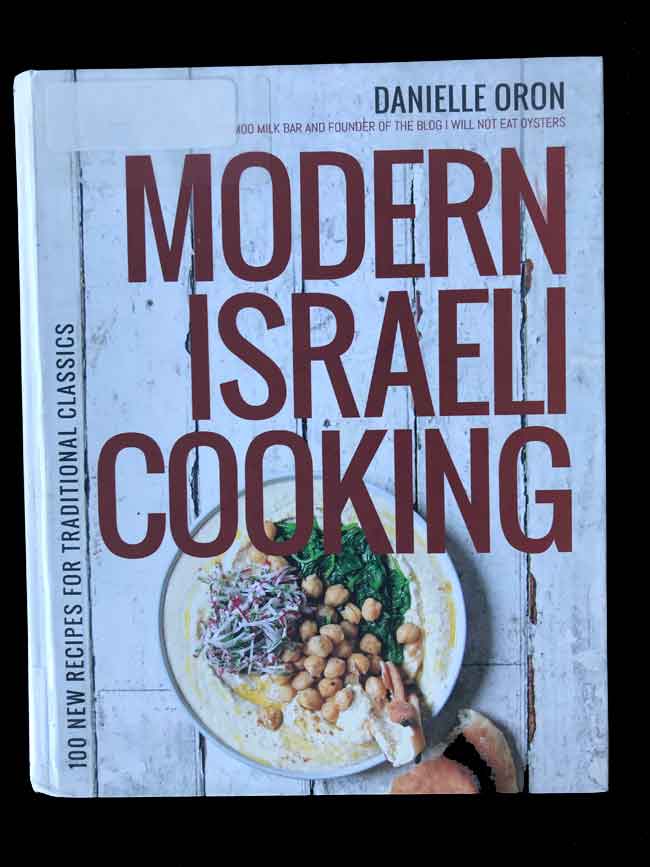 Here's the recipe. I'm looking forward to making this one again, which is not something I thought I'd say about Tahini Chocolate Chip Cookies.
Recipe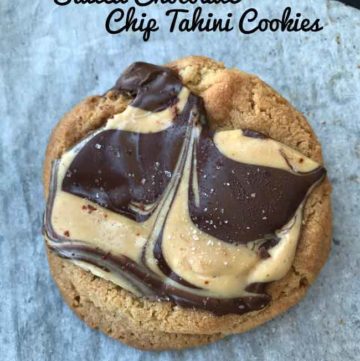 Salted Chocolate Chip Tahini Cookies
Chocolate chip cookies made with a mixture of butter and tahini.
Ingredients 
8

tablespoons

unsalted butter, at room temperature

114 grams

½

cup

tahini

well stirred (I used 120 grams of Soom)

½

cup

granulated sugar

100 grams

½

cup

packed light brown sugar

90 grams

1

large egg

at room temperature

1

large egg yolk

1

teaspoon

vanilla extract

150

grams

all-purpose flour

This is about 1 cup plus 2 T.

¾

teaspoon

baking soda

1

teaspoon

kosher or sea salt

2

cups

bittersweet chocolate chips

flaky sea salt
Instructions 
Beat together the butter, tahini, and both sugars, scraping down side of bowl.

Add the egg, yolk and vanilla and beat until incorporated.

Beat in the baking soda and salt, then stir in the flour until incorporated. If you prefer to mix the dry ingredients together beforehand, that's fine too, but I had great results just mixing everything in one bowl.

Stir in the chocolate.

Portion the cookies into balls with a medium size cookie scoop and chill the portioned balls for about an hour or until ready to bake.

Preheat the oven to 325ºF (180ºC). Line two baking sheets with parchment appers.

Arrange the cookies on the baking sheets and bake one sheet at a time for about 14 minutes.

Alternatively, you can bake the cookies at 375 for 12 minutes for slightly crunchier cookies. Ovens may vary, but I kind of liked the 375 version the best.

Remove from the oven, sprinkle cookies with a bit of flaky sea salt, and let the cookies cool on the baking sheet.