Yesterday I tried a new recipe for Subway Copycat Cookies.  It was from Subway UK/Ireland who put it on their Facebook page with a video showing how to make it.  This particular Subway cookie recipe mimics their Double Chocolate Chip Cookies, a flavor I wasn't very familiar with because when I go to Subway I buy their Chocolate Chip or White Chip Macadamia.  So before baking the copycats I picked up an actual Subway Double Chocolate Chip Cookie for comparison.  The cookie in the photo below is the actual Subway cookie.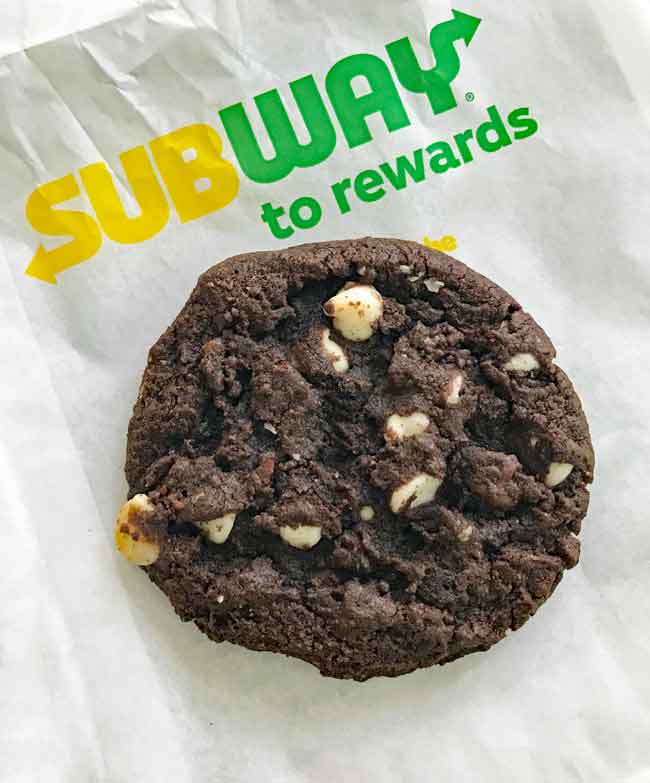 And the cookie below on the left is the copycat made with a clone Subway Double Chocolate Chip Cookies recipe.  So yes!  The two cookies are pretty close.
The flavor of the copycat is dead-on, and the texture is similar but not identical.  The Subway cookie is flatter, denser and has what I call a "bend-y" texture where if you hold it by its edge, it will slowly bend and break -- and that's hours after baking.  Usually homemade cookies have this texture right out of the oven, but eventually firm up.  Texture differences aside, the cookies are still alike with the Subway Copycat Cookies tasting fresher.
One last note:  The Subway directions are very specific about how you should mix.  They suggest using a wooden spoon and creaming by hand, which is pretty simple since this is a relatively small batch recipe.  If you ignore that and use a mixer, you'll get beautifully rounded cookies (below left) that are lighter and have crispy edges.  But since the point is to get the soft, flat, almost bendable cookies, it's better to just mix by hand.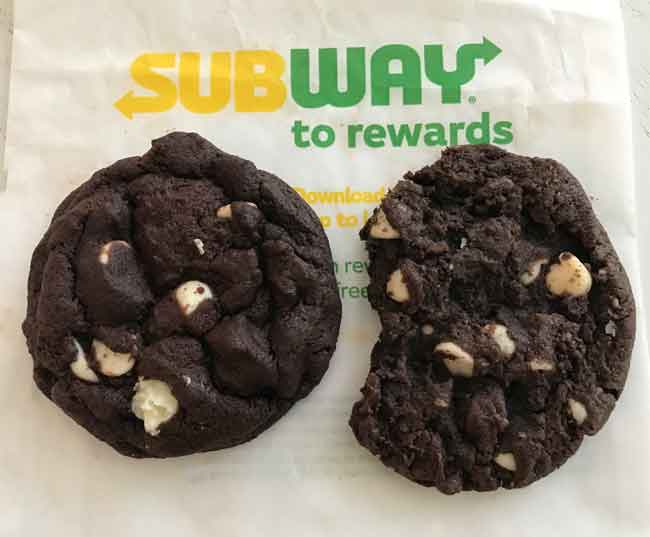 Update: New photo with chilled dough. For flat cookies, remove pan from oven after 11 minutes. Bang gently on counter to deflate, then bake another 30 seconds to 1 minutes.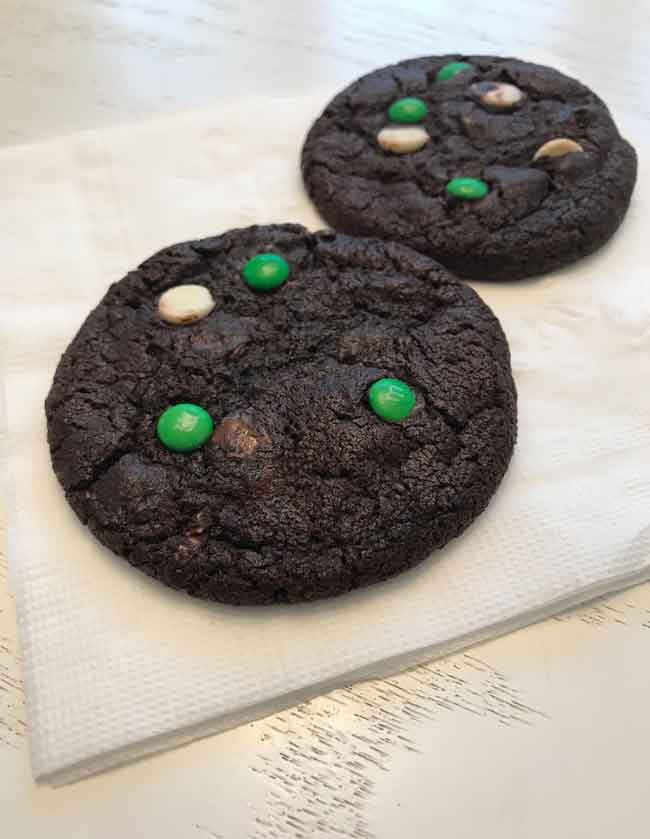 Now if only I could clone the Subway Caramel Apple Cookie. Oh my goodness! I bought one the other day and was surprised at how good it was. Whatever flavoring they use for the apple and caramel is delicious.
Gluten-Free Subway Cookies
Another update! I finally got around to testing these with a gluten-free 1:1 flour blend, specifically, Thomas Keller's Cup4Cup. It worked perfectly, though I did find it helpful to reduce the heat to 325 degrees F and add 10 more grams of flour. I will add a note to the recipe card.
A Spice Cookie
If you're looking for an easy chewy spice cookie to go with this one, try the Giant Chewy Molasses Cookies.
Some More Fun Copycats
Recipe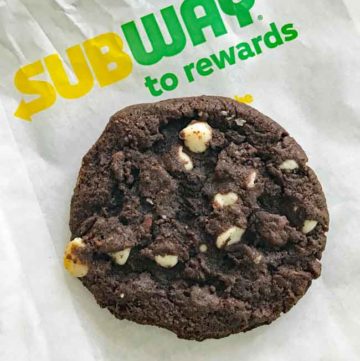 Subway Copycat Cookies
Double Chocolate Cookies that are supposed to be like the ones from Subway.
Ingredients 
125

g

salted butter

softened (9 tablespoons)

100

g

light brown sugar

½ cup

75

g

granulated sugar

¼ cup plus 2 tablespoons

1

tsp

vanilla extract

1

medium or large

medium egg

45 grams beaten egg (can use up to 52 grams)

150

g

all-purpose flour (or a gluten-free 1:1 blend)

1 cup plus about 2 tablespoons

40

g

cocoa powder, Dutch**

1 ½

teaspoons

baking soda

¼

teaspoon

of salt

optional – definitely use if butter is unsalted

100

g

white chocolate chips

or chopped white chocolate

200

g

milk chocolate chips

or chopped chocolate
Instructions 
Preheat the oven to 175°C (or 350 degrees F). Line 2 large baking trays with baking parchment.

In a large bowl, combine the butter and sugars. Using a wooden spoon, cream the mixture until light and fluffy, for about 3 minutes.

Lightly beat the egg and vanilla together in a small bowl or custard cup. Add to the butter mixture a little at a time, stirring until well combined. If you are using large eggs, don't blend the vanilla with the egg. Add the vanilla straight to the batter and only use 42 to 45 grams of the egg.

Mix together the flour, cocoa powder, baking soda and salt until very well combined and there are no lumps. If necessary, sift. Add to the butter mixture and stir to make a soft dough. Stir in all the chips (or chunks)

Using an ice cream scoop or cookie scoop or spoon, divide the mixture into 16 balls. Subway cookies weigh 1.6 oz, so you may want to weigh. Roll into balls and place onto the lined baking trays, spaced at least 2 ½ inches apart.

Bake for 10-12 minutes until well spread and just set on the surface. The cookies will still be quite soft, but will firm up as they cool. Leave on the tray for 5 minutes, then carefully transfer to a cooling rack to cool completely. Store cookies in an airtight container for up to 7 days.
Notes
I've tested the gluten-free version with Thomas Keller's 1:1 multipurpose gluten-free flour blend.  Best results were when I added an extra 10 grams of flour and reduced the heat to 325 degrees f.  With other gluten-free 1:1 blends such as King Arthur and Bob's, you may not need to reduce the heat.  Keller's blend has a little milk powder in it, so things made with it tend to brown a little quicker.
For the cocoa powder, I've been testing with Dutch.  Natural should work too, but it may affect how the cookies rise, as it is acidic.