You might not expect a low carb bread recipe on Cookie Madness, but I have to share this one because I make it at least once a week and love it. I consider this bread keto-friendly. It is low in carbohydrates, high in protein and has a light and springy texture. It's good for sandwiches, but really good toasted with peanut butter. Compared to Aldi keto bread (my other favorite), it's a little sweeter and chewier. As of now, it's my best low carb bread recipe for a number of reasons.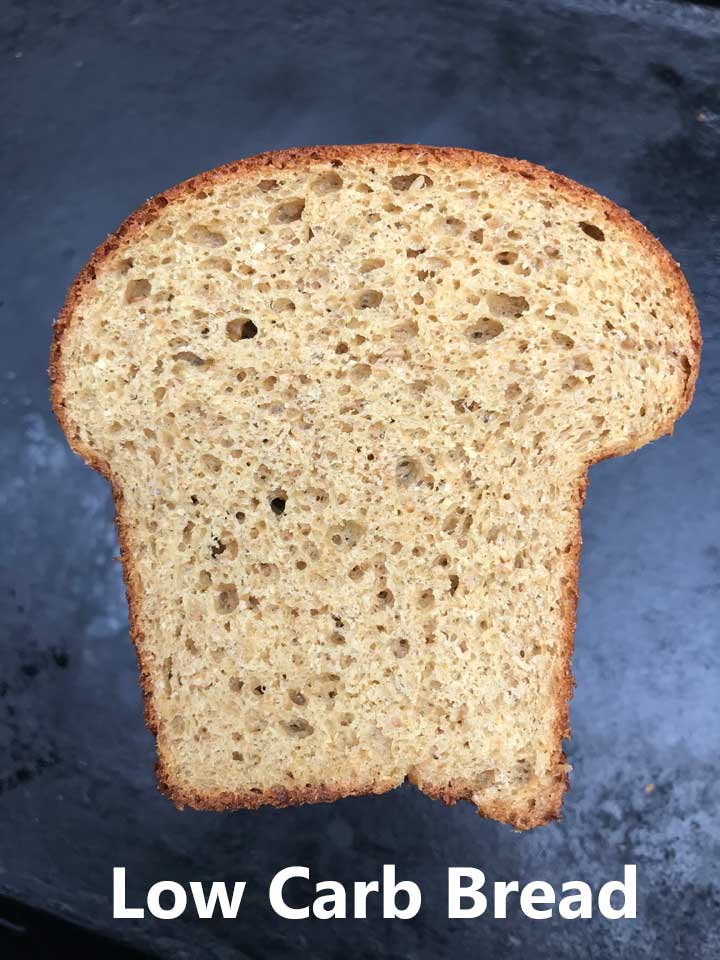 The recipe is based on Diedre's recipe, which is famous on YouTube and has been adapted by keto bakers around the world. I like it because I'm not keto and this isn't as high in fat as other true keto breads. There is some fat from the flaxseed and butter (or oil), but the bread calls for vital wheat gluten, oat fiber and psyllium, which are all high in fiber and lower in calories. When I calculate the ingredients in on-line nutrition calculators, this one is lower in calories oz per oz.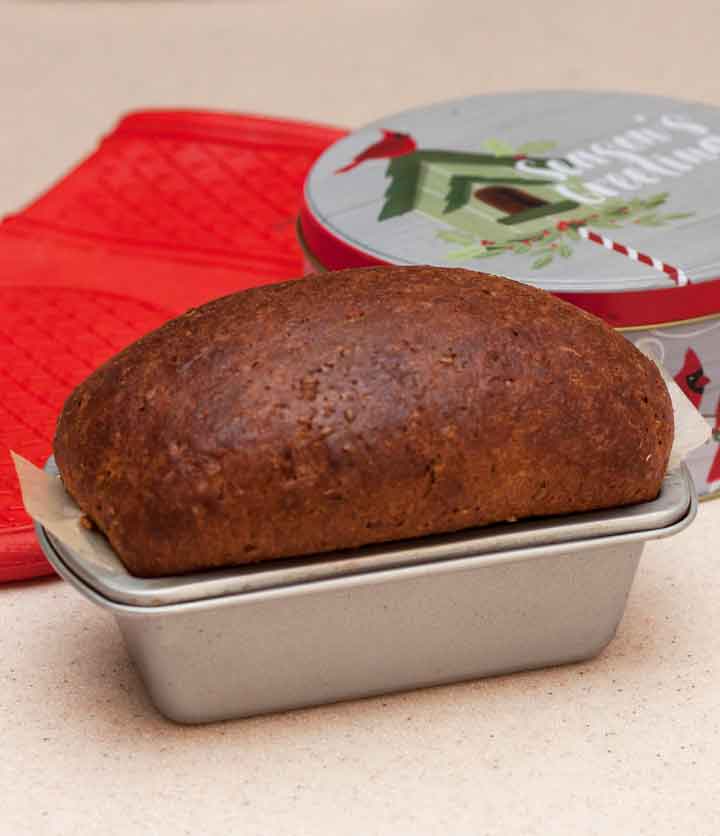 Loaf Pan Sizes
The recipe can be made as an 8 ½ by 4 ½ inch loaf or as two smaller loaves (I often use this one, which is 5.75x3). I prefer the smaller loaves. The bread rises so high, that even the small loaves gives you slices big enough for pieces of toast or cute lunch size sandwiches. But if you need big hearty slices the regular size loaf pan is the way to go.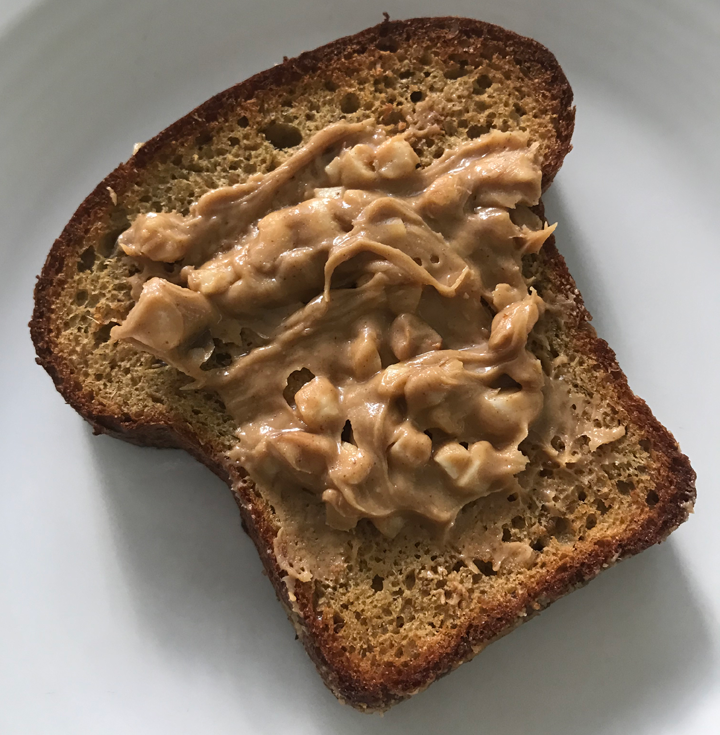 The only downside to this bread is you'll need to load up on some interesting ingredients. Before making my first loaf, I drove around town to different stores looking for each thing. You can do this if you enjoy scavenger hunts, but the easiest thing is just to order the ingredients and let them come to you. You will almost certainly have to order the oat fiber because it's almost impossible to find at stores. Or least around here. But hopefully you'll like the bread and end up using the ingredients over and over.
Low Carb Bread Ingredient Info
Allulose Sweetener -- I use Wholesome Sweeteners brand located in the baking aisle of local grocery stores. If your store doesn't carry it, you can find it on Amazon. It is great in bread and muffins or anything that is supposed to be soft and cake-like.
Golden Flax Meal -- Pretty easy to find. I use Bob's. Sometimes I use dark.
Oat Fiber -- You may have to order this. It's not oat bran and it's not oat flour. It is crucial for the recipe and adds bulk without calories.
Vital Wheat Gluten -- I've tested with both Bob's Red Mill and Anthony's brand. Whole Foods usually has Bob's and Anthony's is available on Amazon.
Psyllium Husks -- I buy them at Sprouts. If you don't have a Sprouts you can buy psyllium at Whole Foods or on Amazon. It seems to be getting more popular.
Active Dry Yeast -- I use regular active dry yeast rather than quick rising, and I do proof it in water.
Honey or Allulose -- I mix honey, allulose with the yeast/water mixture to help feed the yeast and ensure the yeast is active.
Eggs -- Add bulk and protein. For best results, bring the egg to room temperature.
One Rise and Cold Oven Start
One nice thing about this bread is the dough goes straight from the stand mixer to the loaf pan. You will let it rise directly in the loaf pan for one hour, put it in a cold oven, set the temp to 350 and start the oven. For some breads, and I guess this is one of them, the cold oven start gives you a springier loaf. This is because the top doesn't crust over as quick and the gases within the loaf can easily push it upwards. Here's a picture of the dough right after being mixed and put in the pan and after sitting for one hour.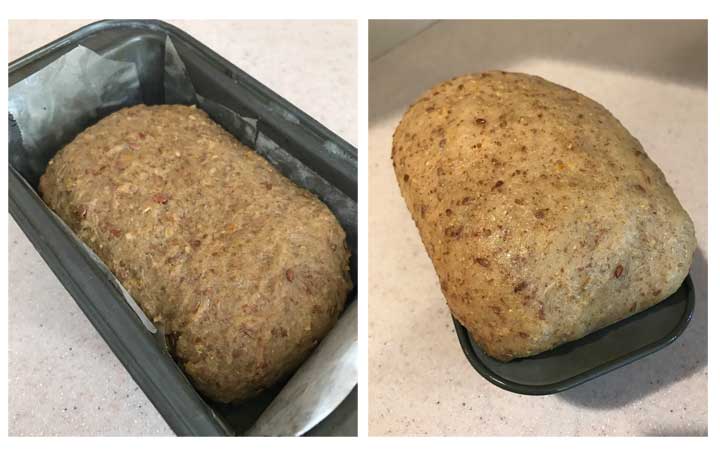 Recipe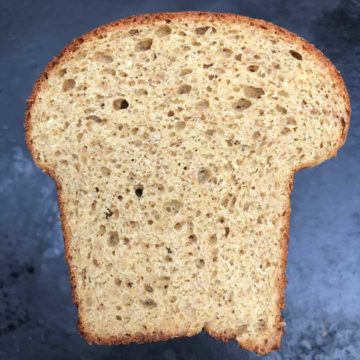 Low Carb Bread
A great tasting bread with more protein and fewer carbohydrates.
Ingredients 
1

cup

water, warm

240 ml

1

tablespoon

active dry yeast

1

teaspoon

honey, sugar, allulose or inulin

**

2

large

eggs

4

tablespoons

allulose

45 grams (or use 2 tablespoons Swerve)**

½

cup

oat fiber

60 grams

1¼

cup

vital wheat gluten

150 grams

⅔

cup

golden flax meal

70 grams

1

tablespoon

psyllium husk powder

8 grams

1

teaspoon

salt

2

tablespoons

butter, softened to almost melted

28 grams (or 1 ½ tablespoons olive oil)
Instructions 
Combine the 1 cup of water with yeast and honey (or allulose). Stir well and set aside to proof.

In the bowl of a stand mixer, beat the eggs with the whisk attachment for about a minute or until fluffy.

To the bowl with the eggs, add dry ingredients and the softened butter. Give the mixture a stir, then pour in the water/yeast mixture.

Stir by hand to make a soft dough. Attach dough hook and put bowl back on stand.

Knead for about 5 minutes or until the dough feels smooth and has some elasticity to it.

Grease an 8 ½ by 4 ½ inch loaf pan or two 3x6 inch loaf pans if making mini loaves. Press the dough into the pan, cover loosely with greased plastic wrap and set in a warm place to rise for 1 to 1 ½ hours. It should rise up about 1 inch over the pan (in the middle).

After your bread dough has risen, set it in a cold oven. Turn the heat to 350 degrees F and Set timer for 30 minutes. If you have an oven that preheats quickly your bread may be done. If your oven is slower to preheat, you'll need to add on another 10 minutes. To test to make sure the bread is done, poke a thermometer in it and make sure it's around or over 200 degrees F.
Notes
This bread can be sweetened with any low carb sweetener.  Allulose is my sweetener of choice for this one because it helps make the bread fluffy and it doesn't have an aftertaste.