Welcome to another day of 2020, the year when everyone learned what sourdough discard was. Or at least some of us. Either way, one of yesterday's true highlights was getting rid of a full cup of discard by making Sourdough Discard Scones.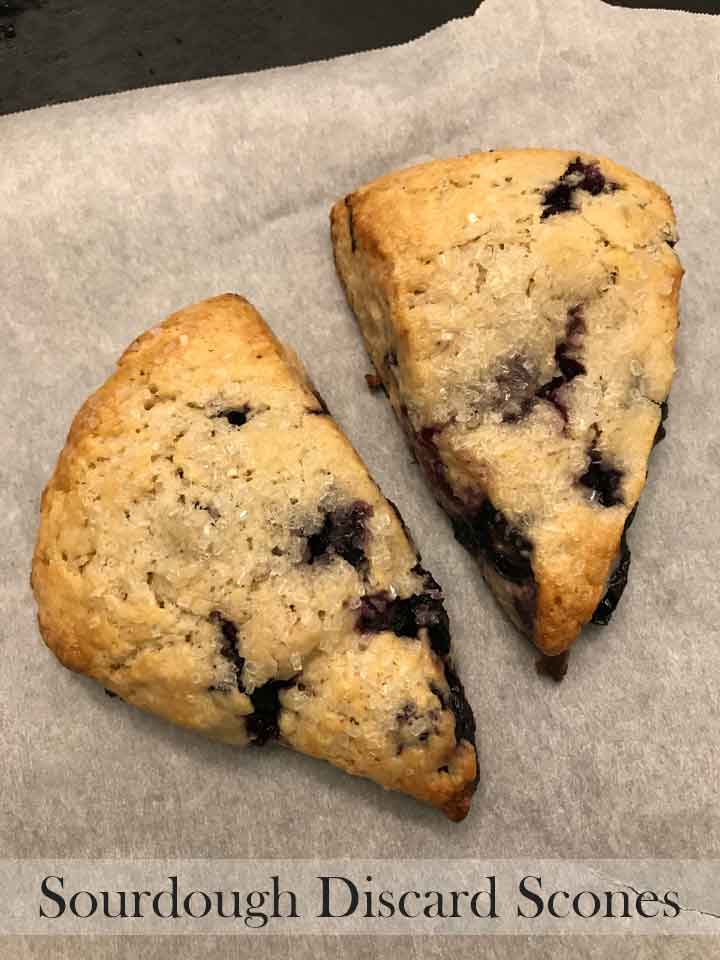 The recipe is from a magazine called Bake from Scratch. I followed it pretty closely, but started with ¼ cup of cream rather than ½, because if there's anything to know about scone making it's that the amount of liquid is a suggestion. It turns out ¼ cup was all that was needed. I also skipped using a food processor and just added the butter my usual way, which is to shred it cold from the stick.
The scones have a very distinct sourdough flavor.  If you like cream cheese, this is a fantastic dough to use for berries and cream cheese scones. Just add small chunks of very firm, cold, cream cheese along with the berries when you are folding them in. The cream cheese stays in the dough as little chunks.
If you want to freeze your Sourdough Discard Scones, you can freeze them baked or freeze the dough triangles. Baking from frozen, the time should jump to about 22 minutes.
If you are still looking for a good starter, again -- I recommend the one on Serious Eats.
Recipe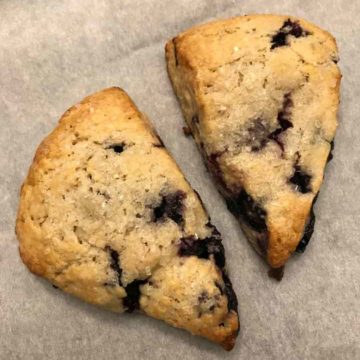 Sourdough Discard Scones
This is a good recipe for using up sourdough discard.
Ingredients 
1½

cups

all-purpose flour

190 grams

3

tablespoons

granulated sugar

35 grams

1

tablespoon

baking powder

½

teaspoon

salt

5

tablespoons

unsalted butter

70 grams, from a cold stick

1

cup

sourdough starter discard

220-280 grams**

¼

cup

heavy whipping cream

plus more as needed (60 grams)

Mix ins such as frozen blueberries

nuts, chocolate chips and small chunks of cold cream cheese
Instructions 
Preheat oven to 425°F. Line a baking sheet with parchment paper.

Put the flour, sugar, baking powder, and salt in a large mixing bowl and stir very well so that everything is evenly distributed. Using a flat grater, grate butter into the mixture and toss gently so that mixture is crumbly and butter is evenly dispersed throughout.

Make a well in the center of the flour mixture and pour in 1 cup (275 grams) of sourdough discard. Pour ¼ cup of cream on top of the discard, then stir to mix. If it feels extremely dry, add more cream as needed. Dough should be pretty floury at this point and not overly wet, but it should hold together.

Turn onto a pastry mat and knead gently to make a dough. You may or may not need to flour the surface or mat quite yet. Press flour mixture into a big rectangle and use a flat spatula or a bench scraper to fold it into thirds. Press down again and repeat, folding into thirds so that loose flour or butter is pulled in by the dough. Do this three times or until everything is cohesive. If you need to add more cream, add a little. If you need more flour, put some on the mat.

Pat into one large rectangle and sprinkle your add-ins over the rectangle. If you want to do two flavors, divide the dough in half and put different flavors on each half. Fold the dough again into thirds, covering the add-ins.

Shape and pat dough into an 8-inch circle, about 1 inch thick. Cut into 8 wedges and put on the parchment lined baking pan. Brush top of scones with cream and sprinkle with sparkly sugar. Bake for 15 to 18 minutes or until scones are lightly browned around the edges. Note: It may take up to 24 minutes depending on your oven, size of scones and temperature of the batter. Just start checking at 15 minutes and bake longer as needed.
Notes
The weight of the discard is going to vary depending on how active it is.  You can use 1 cup or start with a weight of around 220 and add more as needed (up to 280).  
This scone dough freezes well.  Just make and shape as directed, then freeze the individual triangles.  Put the frozen scones a baking sheet and bake from frozen.  Bake time should be around 18 minutes.