Chocolate Covered Graham Crackers are the unsung heroes of the coffee bar. Well, maybe not "heroes" but they've saved the day on occasions when I've wanted a little something chocolaty with my coffee, but not too sweet and not a candy. Inevitably, I'll bite into one and think how great it would be with a little more chocolate and that I should make some really awesome homemade chocolate covered graham crackers. And then I forget about them again.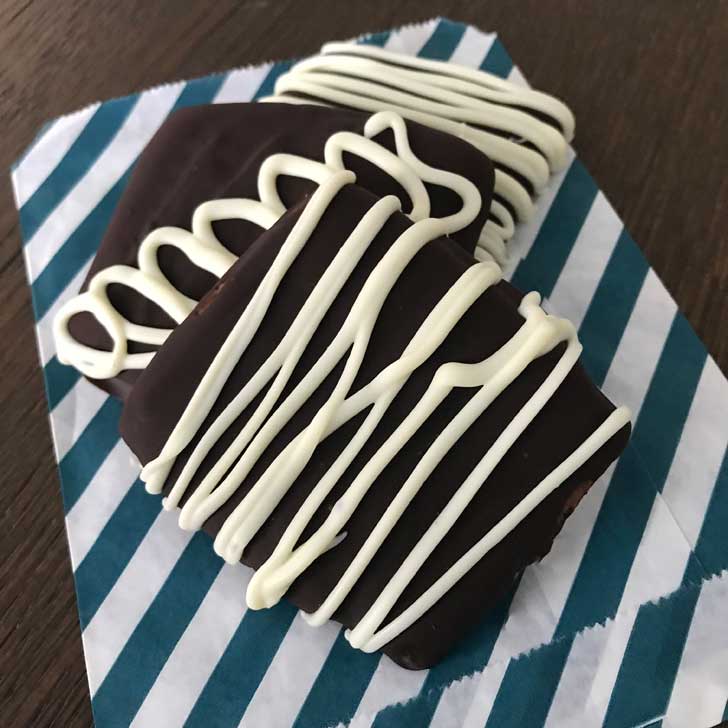 Not any more! 2021 is the year of more chocolate covered graham crackers! They're just such a fun cookie on every level. First, you get to toy with the cracker part getting the right texture and flavor. Next you get to pick your chocolate (I used a big dark Trader Joe's bar for this one) and then you get to decorate, but in a non-fussy and non-fine-motor-skills-requiring way. So as my daughter would say "these are everything".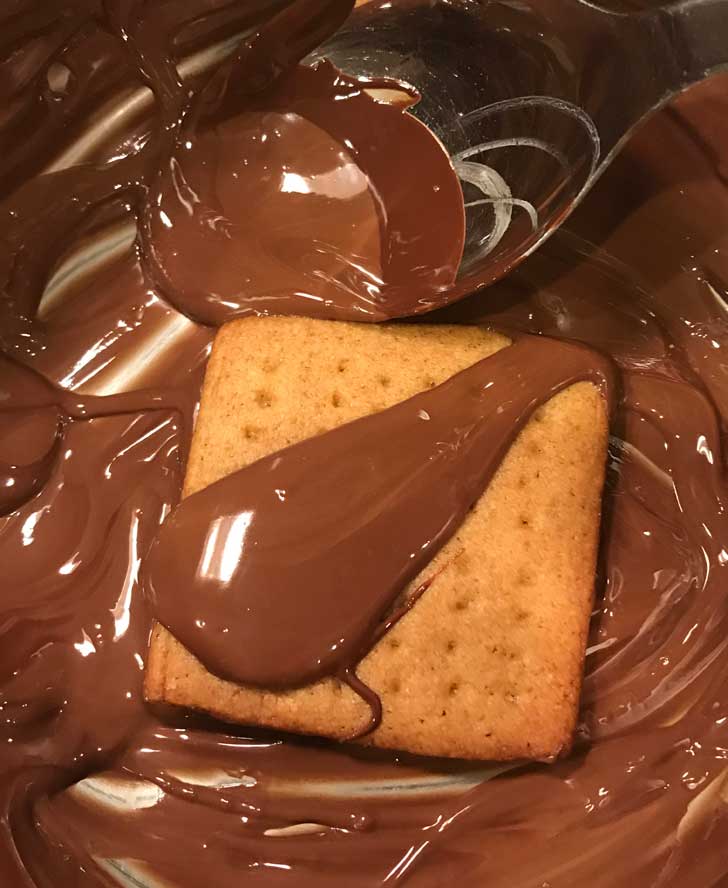 Another nice thing about "CCGs" (that's my new name for them) is that they are a project, but don't require a ton of equipment and aren't necessarily messy. You can really focus on rolling out your dough evenly and neatly (if that's an issue for you [cough]) and cutting perfect squares.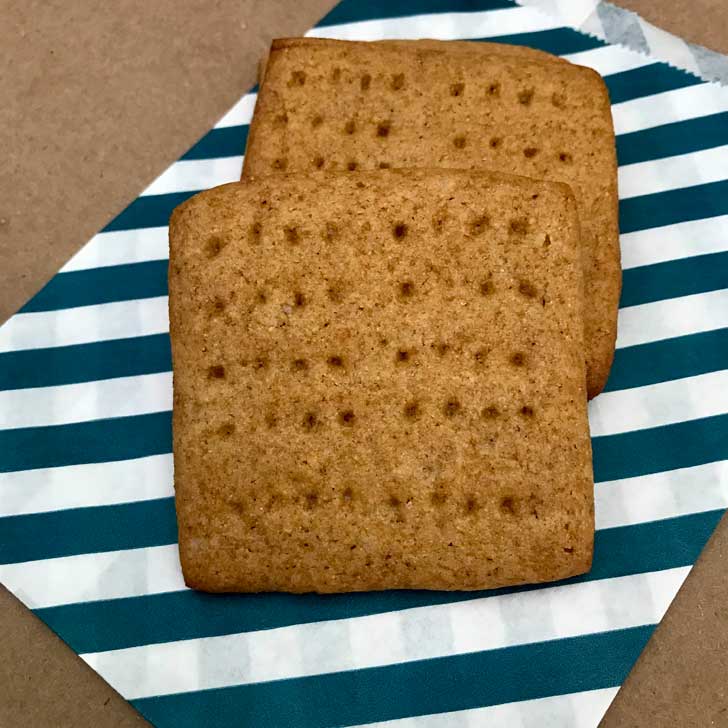 They are perfectly imperfect as usual -- kind of rhombus-y, really. But I think they're still pretty. Here's the recipe for Chocolate Covered Graham Crackers. If you are interested in a vegan version, you could try using the chocolate dipping technique with vegan graham crackers.
Recipe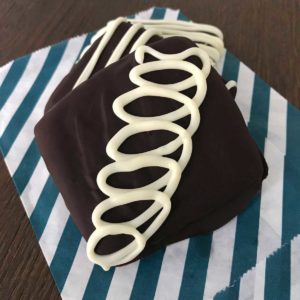 Chocolate Covered Graham Crackers
Made with white whole wheat flour, these graham crackers can be served plain or enrobed in your favorite chocolate.
Ingredients 
2 ¼

cups

white whole wheat flour

(300 grams)

½

teaspoon

salt

½

teaspoon

baking soda

¼

teaspoon

cinnamon

12

tablespoons

unsalted butter, softened

(170 grams)

⅓

cup

light brown sugar

(65 grams)

3

tablespoons

granulated sugar

(35 grams)

2

tablespoons

honey

(40 grams)

1

large

egg

1

teaspoon

vanilla

10

oz

dark or milk chocolate, chopped

(280 grams)

2

teaspoons

coconut oil

(8 grams)

2

ounces

white chocolate bark/almond bark, chopped

(optional)
Instructions 
Mix together the flour, salt, baking soda and cinnamon. Set aside.

In the bowl of a stand mixer, beat the butter and both sugars until light and creamy. Beat in the honey, then beat in the egg and vanilla. Scrape bowl and beat until well blended.

By hand, gradually stir in the flour mixture to make a soft dough. Divide dough in half and press into two squares about 6 inches each. Wrap tightly and chill until firm (at least two hours).

Preheat oven to 325 degrees F. Have ready two large baking sheets lined with parchment paper.

On a pastry mat, roll out one of your dough sections into a large square. Trim to make a 7 inch square with sharp corners. Using a pizza cutter, cut the square into 9 even squares and arrange on a parchment lined baking sheet spacing 2 inches apart. Re-roll the trimmings and make 3 more crackers. Repeat with second square of dough so that you have 24 crackers total.

Bake one sheet at a time on center rack for about 15 to 18 minutes. If you need to, you can rotate the pans for even baking. Let rest on baking sheets for 2 minutes, then transfer to a wire rack to continue cooling.

Chocolate Dipping. You can use your favorite method of course, but if have a double boiler it's worth pulling it out from wherever you keep it and using it to melt the chocolate. Just put the chopped chocolate in the top, set over simmering water and stir until chocolate is melted. Set a graham cracker right in the chocolate and spoon chocolate over. Lift with two forks and let the excess chocolate drip off. Set on a wax paper or parchment lined plate or tray and freeze until firm.

To make a white swirl, put the white chocolate or almond bark in a microwave-safe freezer bag. Heat for 30 seconds and massage bag to melt the white bark. Clip off bottom corner of the bag and squeeze chocolate onto crackers.
Notes
This recipe is originally from Carole Walter, but I've made a few little changes including using white whole wheat flour rather than a mixture of all-purpose and whole wheat. So if you don't have white whole wheat, you can use mixture of wheat and all-purpose. For the chocolate I used Trader Joe's dark. The graham crackers are sweet and flavorful without it as well.