The last recipe I posted for Mayonnaise Chocolate Chip Cookies was kind of weird. And by weird, I mean the ingredient list includes shortening, cake flour and cashews. That's not to say those cookies are bad (my notes say otherwise), but this new recipe is for true mayonnaise chocolate chip cookies where ¾ cup of mayonnaise stands in for butter. Here's one fresh out of the oven.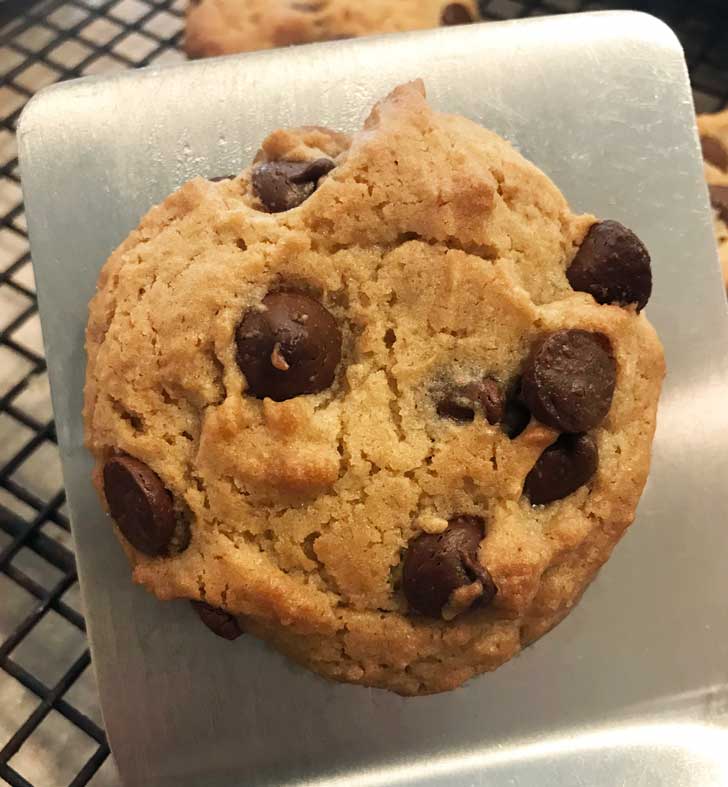 Mayonnaise Chocolate Chip Cookies
The recipe is a fun way to use mayonnaise, and the cookies are actually worth eating! Their texture is less cakey than I expected -- more dense and with crumbly shells. They obviously do not have any butter flavor, but there's plenty of flavor from the chocolate chips and vanilla. And as a bonus they are really easy to make because you just stir everything together.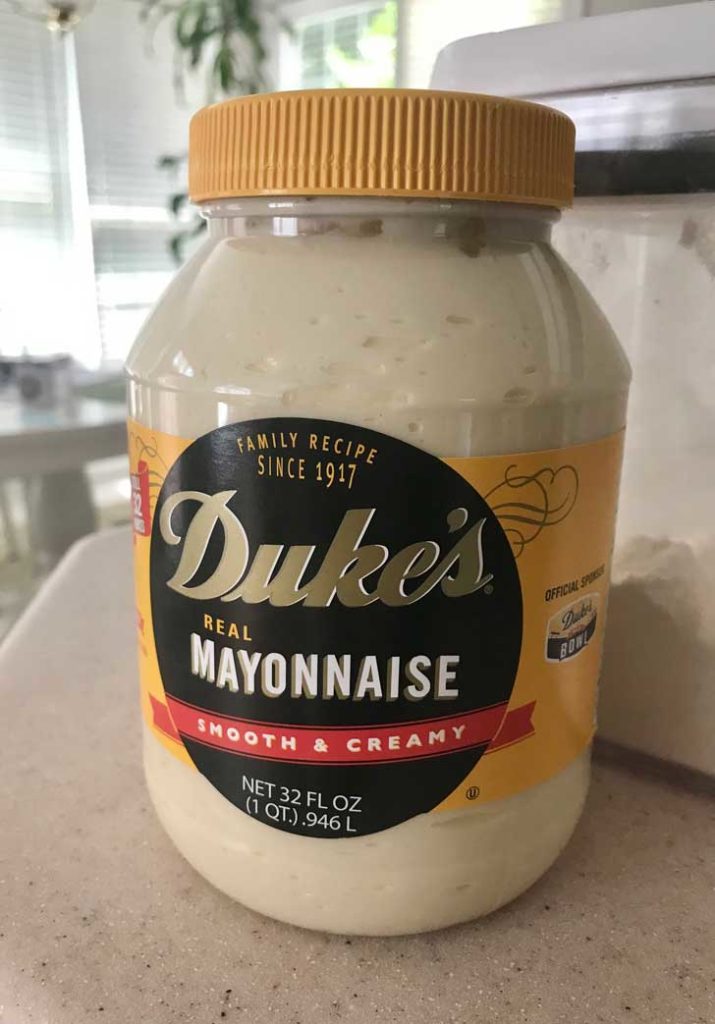 Duke's Mayonnaise Cookbook
The recipe is from Ashley Strickland Freeman's Duke's Mayonnaise Cookbook which is a very fun read with plenty of imaginative ways to mayonnaise. The only problem is it's brainwashing me into thinking Duke's is the best mayonnaise because every few pages there are quotes from chefs pledging their loyalties in big red letters on a yellow background. I can't really relate because my parents only bought Miracle Whip, and when I finally did try actual mayonnaise I thought something was wrong with it because it wasn't sweet. So for a few decades I thought I didn't like mayonnaise at all. It wasn't until I started using it as a baking ingredient (Hello, Mayonnaise Cake!) that I slowly started warming up to it. Guess it's time for some more mayonnaise side-by-side tastes test. Whatever's left can go in chocolate chip cookies!
Recipe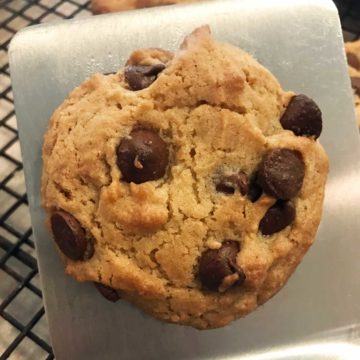 Duke's Mayonnaise Chocolate Chip Cookies
Ready to try something a little different in your chocolate chip cookies?
Ingredients 
2

cups

all-purpose flour (weigh for best results)

(260 grams)

2

teaspoons

cornstarch

½

teaspoon

baking soda

⅛

teaspoon

salt

¾

cup

Duke's Mayonnaise

(170 grams)

½

cup

granulated sugar

(100 grams)

½

cup

packed light brown sugar

(100 grams)

2

teaspoons

vanilla extract

1

large

egg, cold out of the refrigerator

2

cups

semisweet chocolate chips or chunks
Instructions 
Heat to 350 degrees F. Line a large baking sheet with parchment paper.

In a medium size bowl, mix together flour, cornstarch, baking soda and salt.

In a large bowl, whisk together the mayonnaise, granulated sugar, brown sugar, egg and vanilla extract.

Add the flour mixture to the mayonnaise mixture and stir until blended, then stir in the chocolate chips.

Drop batter by slightly rounded tablespoons or a medium cookie scoop onto the parchment lined baking sheet and bake at 350 for 12 to 14 minutes.

Let cool on baking sheets for 5 minutes; remove to wire racks to cool completely.