This recipe was inspired by something I saw in Our State Magazine, a special dish just for Tomato Pie. I didn't realize Tomato Pie was so popular in North Carolina, but it's right up there with shrimp, grits and fried chicken. And it makes sense since tomatoes are so easy to grow here. One thing I learned from moving to NC is that I don't have a black thumb after all.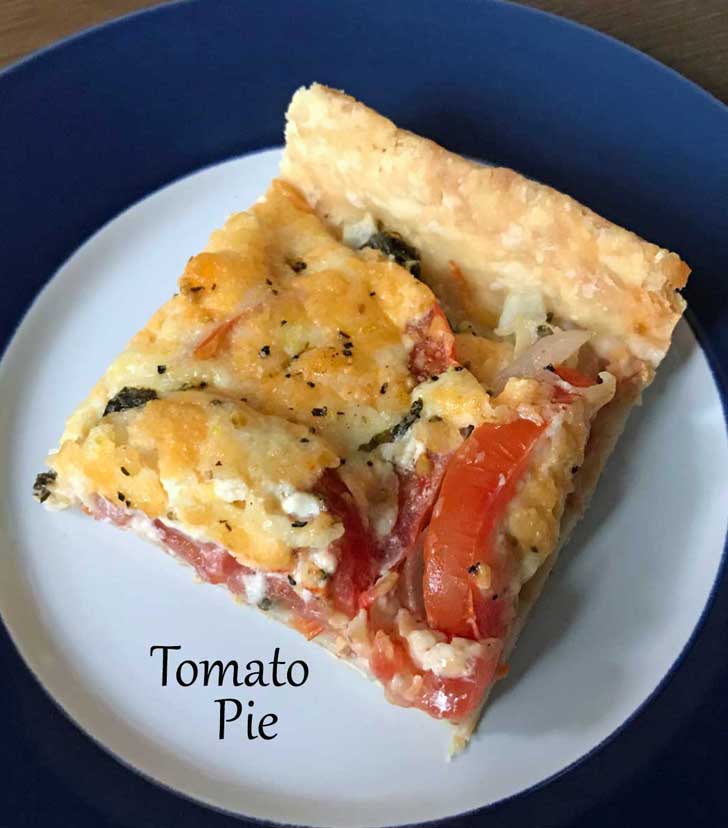 But back to Tomato Pie. The odds are if you own a $55 tomato pie dish you don't really need my recipe, but I'm sharing it anyway because it's a ⅛ sheet pan version that serves 4. I'm calling it Mini Sheet Pan Tomato Pie.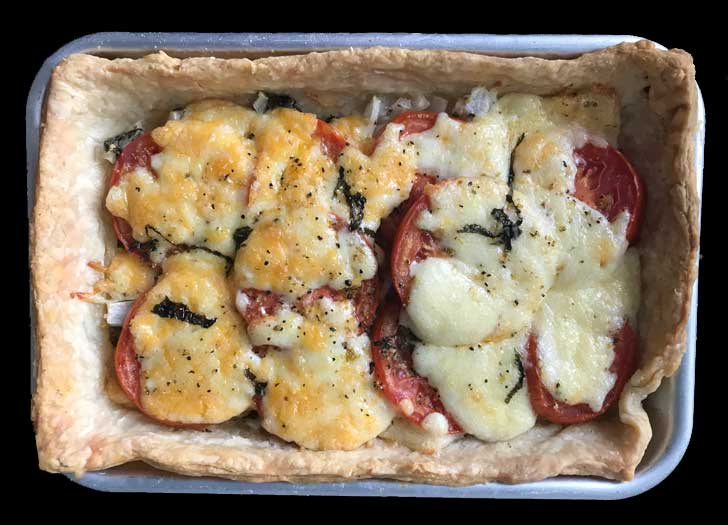 The little sheet pan worked perfectly for this pie, though I didn't do a very good job of reinforcing the sides when I pre-baked the crust. But aside from a little shrinkage, it was flaky and delicious. Next time I'll put some extra layers of dough along the top sides. Either way, the mini sheet pan version was just the right amount and was easy to cut into slices.
I really enjoyed making it as Mini Sheet Pan Tomato Pie, but you can certainly make it in a regular round pie dish (or a fancy Tomato Pie dish!). Also, I apologize for how long the recipe appears on paper. This is because of the crust making process. If you already know how to make crust you can use any crust you want, but I included this recipe because it's very reliable. If you already have pie crust or prefer buying it, this recipe comes together in no time.
Mini Sheet Pan Tomato Pie Ingredient List
Crust -- If you love making pie dough or keep homemade pie dough in the freezer, Tomato Pie is a great way to use it. You need enough dough for one single crust pie. On the other hand, if you are not keen on making crust, just use a store-bought crust. I haven't tested with a store-bought crust, but will add some notes when I do.
Tomatoes -- I used 12 oz of vine ripened tomatoes. You can add more or less. Draining the tomatoes helps keep the pie from being soggy. Some Tomato Pie experts roast half the tomatoes first and do a combination of roasted and fresh. I may try that next time, but just letting them sit in the colander worked fine.
Basil -- Fresh is a must! Okay, not a must, but fresh basil is almost always better than dried. But dried could work too.
Onions -- Sweet Vidalia. I always pre-cook onions for egg dishes and such, but for Tomato Pie, the raw onions were fine and didn't leak too much water into the filling.
I used a mixture of pizza blend cheese and shredded cheddar for half the pie, and just pizza blend (sans cheddar) for the other half. I preferred the side with the cheddar.
Za'atar -- Didn't have any thyme, so used Za'atar instead and loved it. Would do it again.
Mayonnaise -- Duke's has a loyal following here in North Carolina. I wanted to use it, but ended up using Hellman's which I also like. With all the other flavors, especially the Za'atar, the mayonnaise flavor wasn't a big deal. In fact, the mayonnaise isn't really prominent at all, it just kind of melts in with the cheese making the cheese more saucy.
Serving Size
I could probably have eaten at least half of this myself, but realistically it serves 4 as an entree and 8 as an appetizer.
Recipe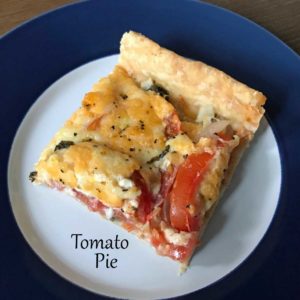 Mini Sheet Pan Tomato Pie
A very Southern style tomato pie assembled and baked in a ⅛ sheet pan.
Ingredients 
Pie Crust
1 ⅓

cup

all-purpose flour

(170 grams)

¼

teaspoon

salt plus a pinch

⅛

teaspoon

baking powder

1

teaspoon

sugar

1

stick

unsalted butter, cold

(114 grams)

½

tablespoon

vinegar

¼

cup

ice water
Filling
12

ounces

medium to large size tomatoes, sliced

¼

cup

chopped fresh basil, or use however much you like

⅓

cup

chopped onion, use more or less

½

cup

shredded cheddar cheese

½

cup

shredded mozzarella or Italian Blend cheese

¼

cup

mayonnaise

Salt and pepper or lemon pepper to taste

¼

teaspoon

Zaatar (use more or less to taste)

optional, but really good!
Instructions 
To make the crust, mix together the flour, salt, baking powder, and sugar. Put this mixture in the bowl of a food processor or a large mixing bowl.

Grate the butter into the flour mixture, stopping occasionally to toss. If using the food processor, just throw in chunks of butter and pulse.

Add the vinegar and half the water and stir (or pulse, if using a processor). Continue adding water and stirring until dough holds together when pinched. Empty onto a pastry mat and shape into a block or square. Wrap in plastic wrap and chill for an hour or until ready to use.

Roll the dough into rectangle large enough so that you can drape it over the mini sheet pan. Trim to fit. Be sure to reinforce the top sides of the dough to prevent shrinkage (see my photo!) and chill or freeze the dough lined pan for 30 minutes prior.

Preheat oven to 400 degrees F. Press foil down over dough lined pan and weigh down with pie weights or beans. Bake at 400 degrees for 15 minutes. Remove weights, dock with a fork and bake for another 5 minutes or until dry and just slightly brown around the edges. You will be baking again after filling, so it doesn't need to be too brown.

Start Making Filling While Crust Bakes and Cools

Place the sliced tomatoes in a single layer in a colander set over a bowl. Season with salt and let tomatoes stand for about 10 to 15 minutes. Blot with a paper towel and season with some pepper.

When ready to assemble, sprinkle onions and basil over the baked pie crust, then spread drained tomatoes over the onion mixture. Sprinkle with Zaatar, if you have some, and maybe a little more salt and pepper if you feel like it.

Mix together both cheeses and the mayonnaise and dollop the cheese mixture over the tomatoes. Spread it a little bit, then season with a little lemon pepper. Add a few more sprigs for basil for color.

Bake at 350 for about 30 minutes or until crust is lightly browned and cheese is melted.