After making multiple loaves of the Three Rise Sandwich Bread, I needed another way to use it and had the idea for Tres Leches Bread Pudding. I didn't have any recipes for Tres Leches Bread Pudding, but a quick Google check showed it had been done multiple times in multiple ways. Even Betty Crocker has a version.
Jump to Recipe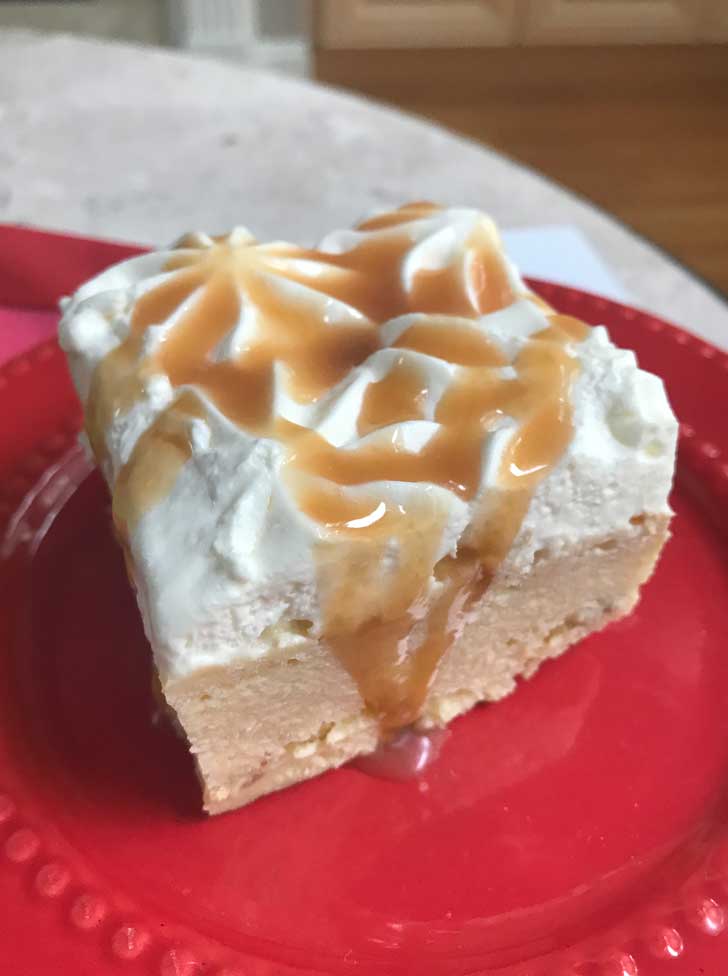 How to Make It
It's super simple. For Tres Leches Bread Pudding, you just cube a slightly sweet bread, put it in a pan and pour over a mixture of eggs, yolks, evaporated milk, whole milk, condensed milk, heavy cream and vanilla. You then bake it custard style in a water bath. You can serve it warm or cold. In my opinion, this one is best chilled, then brought to room temperature. But you can use your own judgement. I tend to like firmer bread pudding rather than soft, and this one is pretty firm. It's also not super sweet, but the sweetened whipped cream and some caramel sauce fix that.
8 Inch Pan Tres Leches Bread Pudding
As a way to make mine a little different, I made an 8 inch pan version -- enough to use up about half a loaf of the Three Rise Sandwich Bread I'm obsessed with. This recipe was the result. The 8 inch pan should serve at least 6 people, especially if you serve small pieces with caramel sauce and maybe a little fresh fruit on the side. Plating it is half the fun because its flavors go well with different kinds of fresh berries.
Half a Can of Condensed Milk
One thing about this recipe is you'll need 7 oz of condensed milk. In some countries you can buy it in a squeeze bottle and just weigh out the 7 oz/196 grams. In the USA, condensed milk comes in a 14 oz (measured by weight, by volume it's more like 1 ⅓ cups cups or 11 fluid oz) of condensed milk. So what I'm trying to say here is that you're gonna have a half can of condensed milk to use up. Sorry, not sorry! You can use it for Small Batch Magic Cookie Bars, Vietnamese Coffee, or many other things. Just make sure to transfer the leftover condensed milk to a glass or good quality plastic container. It should stay fresh in the refrigerator for about a week.
Loaf Pan Bread Pudding
Before I posted this recipe, I tested it again twice as Loaf Pan Tres Leches Bread Pudding. To make an even smaller batch version, just halve the recipe and use an 8 ½ by 4 ½ inch loaf pan. Bake time should be about the same.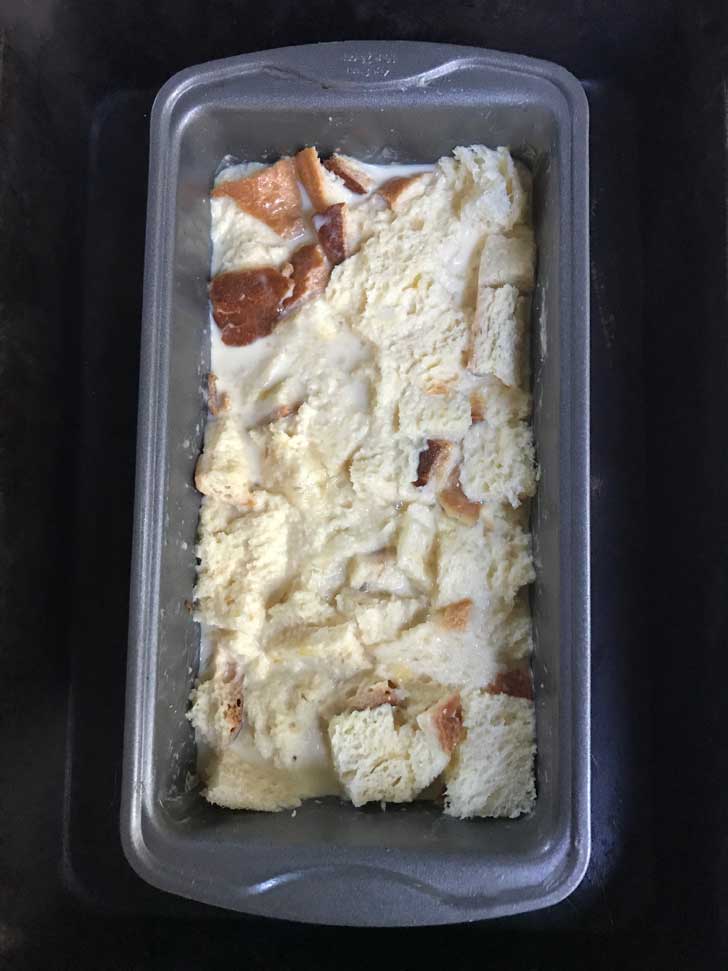 A Few More Tips
Use only a half pound of bread. Adding more bread makes it a little dryer.
I like little flecks of crust throughout so I use the crust. You can make it with only the crumb if you prefer.
Be sure to use a bread with a little sweetness to it.
Be mindful of the steam when removing the foil and use an oven mitt. I'm typing this with a steam burn on my knuckles.
If you like Cool Whip, you can skip the step of making sweetened whipped cream.
Tres Leches Bread Pudding seems to freeze well, though it might alter the texture slightly.
Recipe
Tres Leches Bread Pudding
An easy bread pudding recipe using sandwich bread.
Ingredients 
Butter

for greasing the baking dish

½

pound

good quality homemade white bread or brioche

cut into small chunks**

2

large eggs

2

large egg yolks

¾

cup

heavy cream

170 grams

½

can condensed milk

(196 grams

¾

cup

whole milk

170 grams

1

cup

evaporated milk

230 grams

1 ½

teaspoons

vanilla extract

¼

teaspoon

kosher salt
Whipped Cream Topping
1

cup

heavy cream

¼

cup

powdered sugar or to taste (I sometimes use more)

½

teaspoon

vanilla

caramel sundae sauce or whatever your favorite is
Instructions 
Preheat the oven to 350 degrees F. Grease an 8 inch square pan with butter.

Put the cubed bread in the baking dish.

In a large bowl, whisk together the eggs and egg yolks, then whisk in heavy cream, condensed milk, whole milk, evaporated milk, vanilla and salt.

Pour the milk mixture over the bread, letting it sink in gradually. Press the bread down gently to help it soak up the milk mixture (it won't soak it all).

Let the bread sit for another 5 to 10 minutes while you boil a large saucepan of water.

Cover the pan tightly with foil and put it in a slightly larger pan such as a roasting pan. Add hot water to the roasting pan so that it comes halfway up the sides of the square pan. If you don't have enough boiling water, you can add hot tap water.

Bake covered for 25 minutes, then remove foil and bake for another 25 minutes or until the top is lightly browned. Let cool completely or cool and chill if you'd prefer to serve it cold..

Shortly before serving, whip the cream, sweeten with powdered sugar, flavor with vanilla and pipe over the bread pudding.
Notes
I've been using the Three Rise Sandwich Bread because it's slightly sweet and soft, but you can also use Challah or Brioche.