It's hard to come up with new descriptions for plain white sandwich bread, so what I'll say about this one is it's tight crumbed, fluffy, tall, high rising and has a touch of sweetness to it. It also has three rise times, so to distinguish it from my other good white sandwich breads I'm calling it Three Rise Sandwich Bread.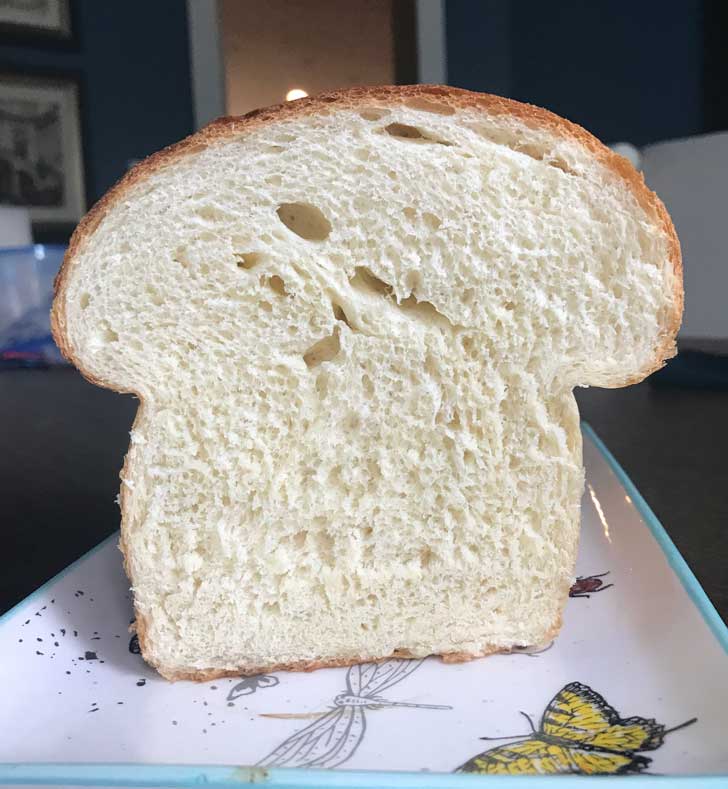 Here's a picture of the wheat version. The color is off because I didn't have any natural light, but as you can see the wheat version didn't rise *quite* as high as the white. It was still very good.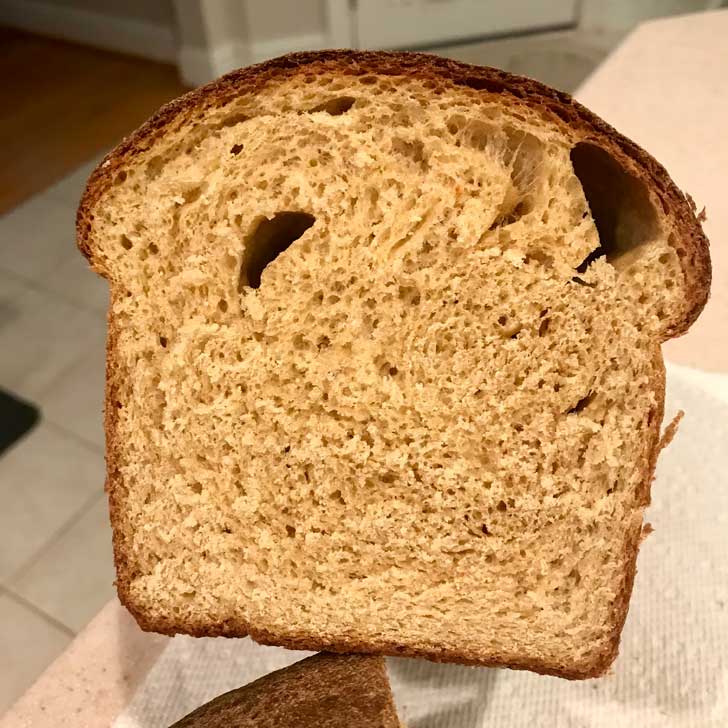 USA Loaf Pan
By the way, I have a new loaf pan to recommend. My trusty 8 ½ by 4 ½ inch Chicago Metallic pan was getting lonely (and a wee bit rusty), so I bought it a friend -- the 8 ½ by 4 ½ inch USA Pan. It seems to be well built, it's a nice shape, and I love the little ridges on it that appear in the finished loaf. A few people on Amazon have complained that rust catches in the corners, but if you stay on top of it and clean diligently, you can keep the rust at bay. I'm just impressed with the pan's performance.
But back to the bread, I hope you try this one. Here's the ingredient rundown.
Raisin Bread Variation
As requested, here's a raisin bread variation. I tried making changes without straying too far from the recipe, so I kept the flour amount the same but used a mix of white whole wheat and bread flour (so no dough improver is needed), added a few scrapes of orange zest for flavor, and used 1 tablespoon of brown sugar plus 2 tablespoons granulated. For the raisins, I used 1 cup, which I soaked in water for a few hours and drained. Next time I'll use even more and use a better method of incorporating them because this time I just rolled them in and they migrated to the edge of the loaf. The Milanese Raisin Bread recipe (also very good!) calls for a method that keeps the raisins more scattered throughout.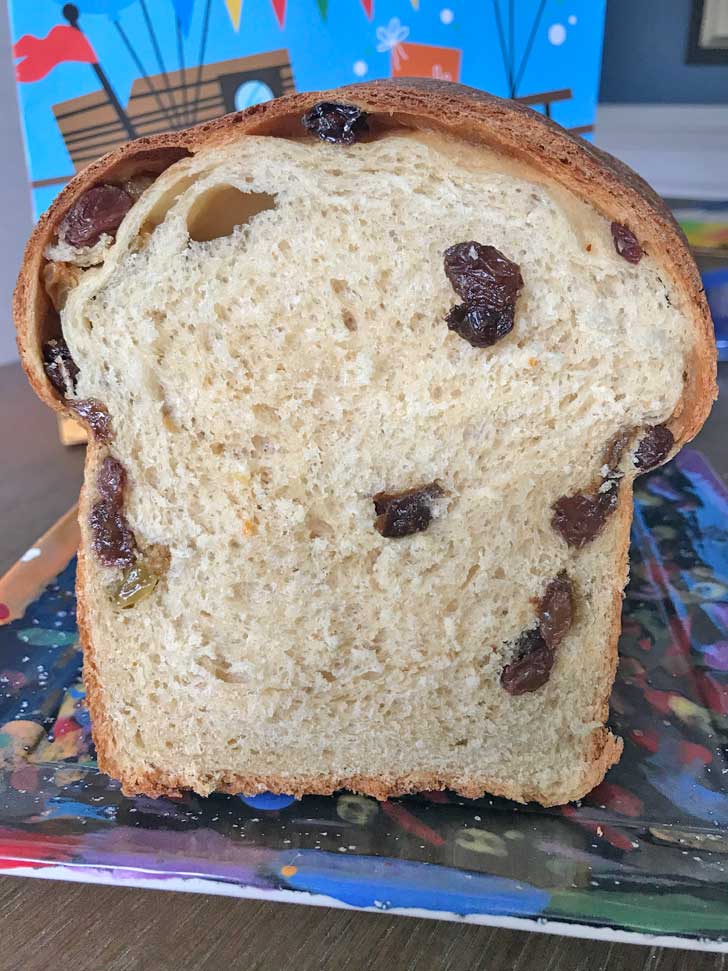 Ingredient Rundown
Yeast -- I'm a fan of SAF yeast. It keeps well in a sealed bag in the refrigerator or freezer.
Sugar-- The first time I made the bread I used the full amount of sugar. We loved it. It was slightly sweet, but not too sweet for sandwiches. The second time I accidentally used only about ½ tablespoon of sugar. The bread was slightly lighter in texture and still great for sandwiches. So with or without the sugar it's a good bread, but I prefer the full 3 tablespoons of sugar version.
Water or Milk -- Carnation powdered milk is now a staple, so I use ¼ cup dry milk and 8 oz of water. If you need to, you can omit the powdered milk and use a cup of regular milk.
Salt -- Morton kosher which measures like table salt. 1 teaspoon seems just right.
Flour -- I've tested with all-purpose flour, white whole wheat flour and bread flour. With the AP flour and the white whole wheat, I add 2 teaspoons of King Arthur Dough Improver. With bread flour, I leave it out. The bread in the first picture was made with bread flour and without dough improver.
Butter -- 2 tablespoons for the loaf and as needed for the pan and the bowl the dough rises in.
Egg -- It seems like white bread with an egg or two always tastes better and has a more pleasing crumb.
I've made this bread four times in the past 3 days, so if you have any questions leave me a comment or send and email and we can talk about bread. Next up I'll be posting a great way to use what's leftover.
Recipe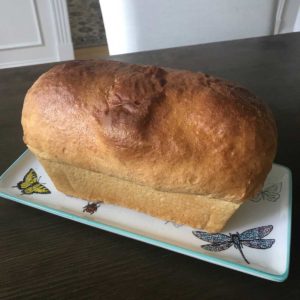 Three Rise Sandwich Bread
Just another great sandwich bread. It has three rises. I've added a raisin version to the notes.
Ingredients 
2

teaspoons

instant yeast

3

tablespoons

sugar

1

cup

warm water

¼

cup

nonfat milk powder

3 ⅓

cups

all-purpose flour, white whole wheat or bread flour

432 grams plus more if needed

2

teaspoons

King Arthur Dough Improver (optional)

1

teaspoon

salt

2

tablespoons

softened butter

(28 grams)

1

extra large

egg, room temperature**

(60 grams)
Instructions 
Put ¼ cup of the warm water in a stand mixer bowl and add the yeast to proof. When you start seeing bubbles, add the sugar, dry milk powder and a cup of the flour. Stir well. Add remaining flour, dough improver (if using) salt, butter and egg and stir until blended, then gradually pour in the rest of the water.

Put the stand mixer bowl on the stand and knead until smooth and elastic. The dough should leave the sides of the bowl and cling to the hook. It should not be sticky, but it shouldn't be really dry either. If the dough clings to the side of the stand mixer as it's being kneaded, add more flour one tablespoon at a time until it doesn't. This is a very smooth but firm and not too airy or fluffy dough. It will rise, but it takes its time, so be patient. If you've reduced the sugar, it might rise a little quicker.

Rub a large bowl with oil or melted butter and put the dough in it, rolling it over so it's slick on all sides. Cover and let rise until it doubles in size. This should take about an hour, but could take longer, so go by how the dough looks and not the clock.

Punch down the dough and knead gently once or twice, then put it back in the bowl and let it rise again for 30 minutes.

On a pastry mat (you can flour it if you need to, but I find I don't need to with slick, buttery, dough), shape the dough into a loaf. Pinch down the ends and put in a greased 8 ½ x 4 ½ inch loaf pan or a 9x5 inch loaf pan.

Cover loosely with some greased plastic wrap and let rise in a warm place until the dough domes at least an inch over the pan. This is a strong dough and shouldn't collapse on you if you've kneaded it well.

Preheat oven to 400 degrees F. Bake the loaf at 400 for the first 20 minutes, then drop the heat to 350 and bake for another 15 minutes.

Let cool in pan for about 15 minutes, then remove from pan and let cool completely.
Notes
Raisin Variation: Start with 430 grams of flour -- 1 cup of white whole wheat (130 grams) plus a little over 2 cups of bread flour (300 grams).  The volume amounts are approximate, just start with 430 grams.  You will most likely need to use an extra 2 tablespoons of flour as the bread is kneaded. Use 1 tablespoon of brown sugar plus 2 tablespoons of granulated, a few scrapes of orange zest for a little extra flavor, and add 1 cup of soaked and drained raisins after the second rise.    
How to Add Raisins:  After the second rise, press dough into an oval and scatter on ⅓ of the raisin.  Fold dough up and over the raisins and pinch to seal them in, then press into an oval again.  Scatter on another third of the raisins and repeat.  Now press dough into a rectangle and scatter on the last of the raisins.  Roll dough into a cylinder and shape into a loaf tucking edges etc.