Lately I've been adapting old soup recipes to be made in an Instant Pot Ace Blender, and Roasted Butternut Squash Soup is the latest. If you have an Ace Blender the recipe should be pretty straightforward. If you don't have an Ace, you can still make the soup the traditional way. I put directions for that in the notes. I also talk a lot in this post about the blender, so if you have no need for a new appliance you might want to just jump straight to the recipe.
Jump to Recipe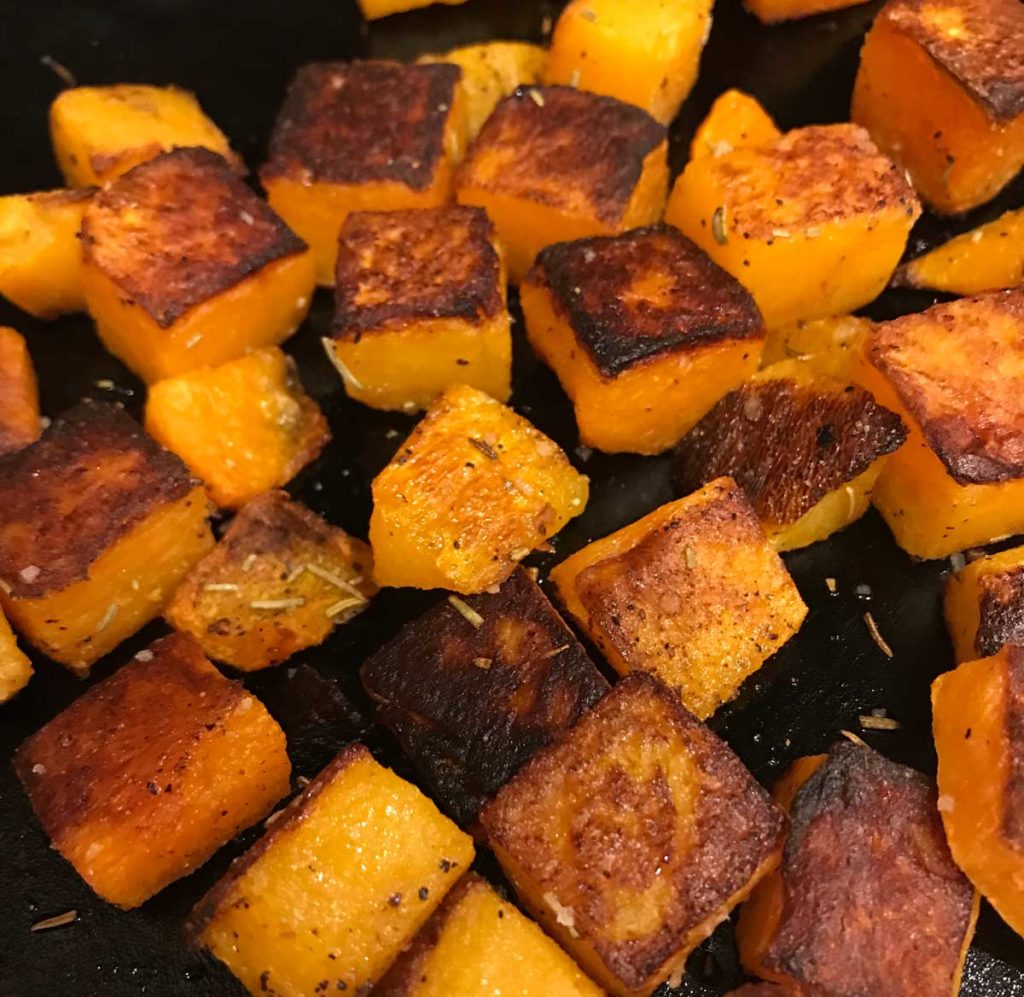 Roasted Butternut Squash Soup
This is your basic butternut squash soup recipe, but I think it's a little better than others due to the roasting of the cubed squash. The roasting concentrates and intensifies the flavor the of the caramelized squash cubes. I typically add a teaspoon or two of maple or sugar to butternut squash type soups, but this recipe doesn't need it thanks to the sweetness of the squash itself and the carrots. There's a good amount of onions in the soup as well (no garlic, no ginger).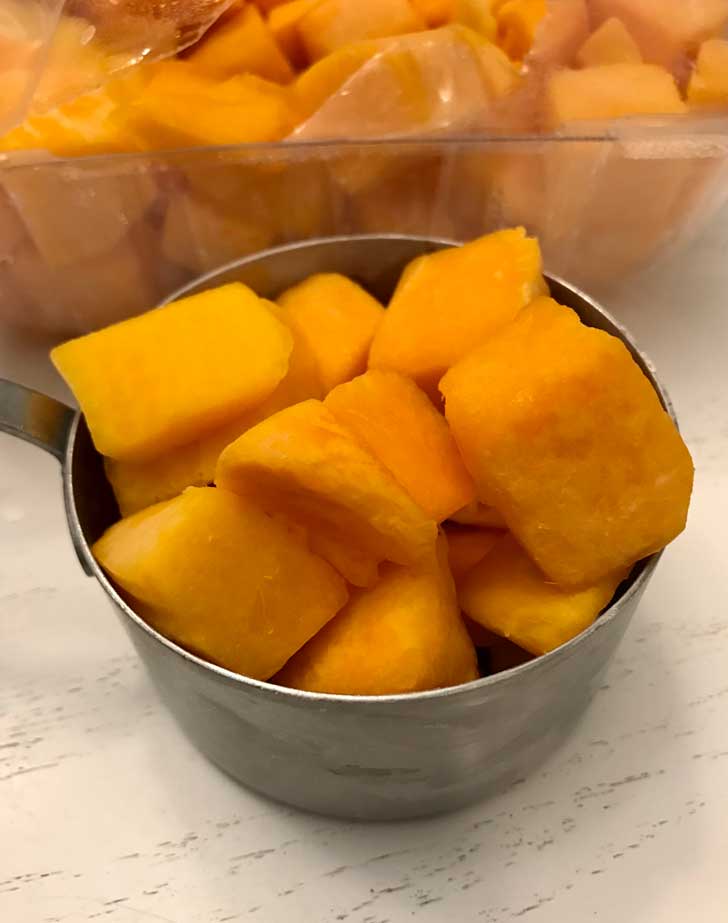 More Ingredient Notes
Cubed Fresh Butternut Squash -- As mentioned above, use fresh or frozen cubed. I tried roasting a whole squash and scooping out the equivalent of cooked squash. The soup wasn't as rich and flavorful and I ended up having to add more squash, sugar, and spices to get the same level of flavors as the caramelized cubes.
Rosemary and Celery Seed -- The key spices are the rosemary and the celery seed. Celery seed is great to have around for when you come upon recipes that call for celery and you don't have any. It gives you the flavor of celery without having to use any cooked celery. It's also perfect if you don't like the texture of cooked celery.
Vegetable or Chicken Broth -- You can use vegetable or chicken broth. I've been using fully salted Swanson or Progresso vegetable broth, so there's very little salt added to the recipe. If you're using any form of unsalted or reduced sodium broth, you'll probably need to add a little more to lift the flavor. I'm just mentioning this because the amount of salt will vary. Imagine also makes a good vegetable broth. It's less salty so if you use that brand you'll probably need more salt.
The Instant Pot Ace Blender -- Discontinued!
A few months ago I replaced my noisy Nutribullet with an Instant Pot Ace Blender. If you are not familiar with the Ace, it's a blender that heats. I'd actually been considering a Vitamix, but then I read this review on The Kitchn and bought the Ace. I love it so much that if it breaks I'll immediately buy a new one, but so far there's no sign of that. Update: Discontinued! I hope they bring it back. I still use mine.
Benefits of the Ace Blender
Eliminates a lot of chopping -- You don't really have to chop the ingredients. I've specified chopped amounts for those using regular blenders, but if you are using an Ace you can just throw in the equivalent weight of each ingredient. For instance, instead of chopping up 2 cups of onions you can quarter them and put in 240 grams. The blender takes care of the rest.
The Ace saves a pot and no transferring from pot to blender so there's less risk of burns.
You can blend hot food safely.
It's sturdy -- The unit is sturdy, so I feel comfortable turning it on and walking away. In the past I've used a Nutribullet, which I'd have to stand next to and hold the lid while wearing ear protectors. With the Ace I can turn it on and leave the room if I need to.
Power -- Smoothies and soups seem extra smooth and creamy.
Almond, Oat and Nut Milks -- The blender comes with a special sack for making almond, oat and soy milk if you need to. I haven't tested it, but it supposedly does a great job with alternative "milks".
Layering Flavors and Other Instant Pot Ace Hacks -- If you buy the blender, you should grab a copy of this Cook's Illustrated Instant Pot Ace Blender book which has lots of tips on building or enhancing flavor so you get the most out of the appliance.
Recipe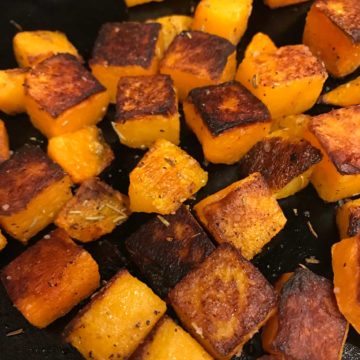 Ace Blender Roasted Butternut Squash Soup
A very smooth and creamy soup made in the Instant Pot Ace.
Equipment
Ace Blender by Instant Pot
Ingredients 
22-24

ounces

cubed, fresh butternut squash ( 5 cups)

weight is for trimmed, seeded and cubed

2

tablespoons

olive oil

½

teaspoon

dried rosemary (add more if you love rosemary)

¼

teaspoon

salt, plus more to taste

¼

teaspoon

pepper

3 ½

cups or more**

vegetable broth, Swanson fully salted or any brand

2

cups

roughly chopped onions (2 medium)

(240 grams)

¾

cup

rough chopped carrots or 12 baby carrots

(105 grams)

¼

teaspoon

dried celery seed (feel free to add more!)

black pepper to taste
Instructions 
Preheat oven to 450 degrees F.

Spread squash on a large rimmed heavy duty baking sheet and toss with oil, salt, pepper and about half the rosemary. Roast at 450 for about 35 minutes, stopping halfway to turn, or until sides are nicely browned and you see some caramelization. The 22 oz of squash should cook down to about 10 oz.

Add broth to the blender, then add roasted buternut squash, onions, carrots, and everything else.

Close blender and select the "soup" cycle, using setting 2 for smooth. Hit start.

The blender will start to heat up and temperature will climb to 212 degrees. When it hits 212, a 12 minute countdown begins.

When the blender is finished, remove lid and add pepper to taste. If you've used unsalted broth, you'll probably need to add at least ¼ teaspoon more salt. I use salted broth and end up adding an extra pinch or two.
Notes
If using frozen squash, you only need 16 oz rather than 22-24.  Toss frozen squash with the 2 tablespoons of oil and salt.  Roast frozen squash cubes at 450 for about 20 minutes or until edges have caramelized somewhat.
To make this soup without the Ace, follow directions above for roasting squash, but saute the onions and carrots for about 5 minutes in an extra ½ tablespoon oil until onions are soft.  Add broth and spices and simmer for 15 minutes or until carrots are very soft.  Add the roasted squash.  Transfer to a blender or food processor and process until smooth.  Return to soup pot and season to taste with any extra salt and pepper.    Another option is to use an immersion blender and just blend the soup directly in the pot. 
Note that if you use the traditional method, you *may* need to add a little more broth, as more moisture evaporates from a pot than it would from the blender.