Inspiration for Shoofly Pie came from Fuzz, who made a similar pie while home on break. Hers wasn't a Shoofly, but it was similar and reminded me of my long-ago Shoofly Pie attempt. I don't remember much other than being slightly disappointed with the pie and putting all Shoofly Pie making aside until I could finally make it to Pennsylvania where I could taste the real thing and have a true benchmark.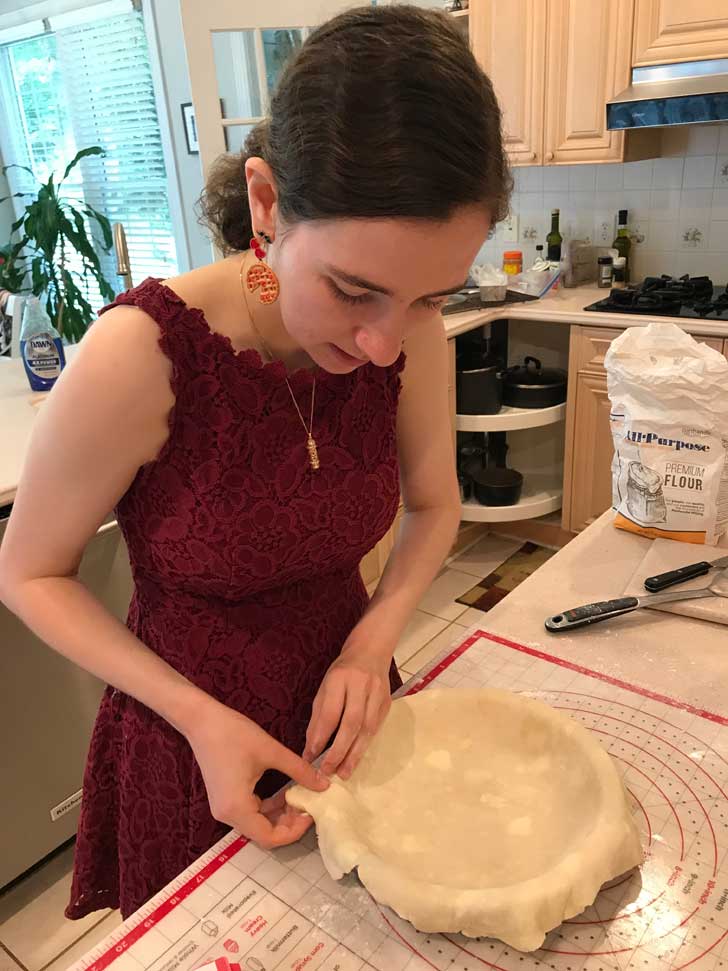 Well, not having a benchmark of how something should taste never stopped me before, and since it's going to be a while before I get to Pennsylvania, I decided to take another shot at Shoofly Pie. I'm glad I did because when made correctly, it is an excellent dessert!
Some Things About Shoofly Pie
Since I'd forgotten everything I'd learned earlier about Shoofly Pie, I had to study up. Here's what I've re-learned.
No one knows the exact origin, but some believe it is an offshoot of Centennial Cake.
Shoofly Pie is a cakey pie, and there are two types -- wet bottom and dry bottom.
Wet bottom Shoofly has more distinct top and bottom layers -- a thick cakey layer and a thick soft bottom layer. Dry bottom Shoofly pie is cakey throughout, yet can still have a thin layer of syrup at the bottom.
I read that dry bottom pie is usually made by putting a good portion of the flour mixture directly in the pie plate, pouring the molasses mixture over and sprinkling more flour mixture on top. The wet bottom pie is typically made by putting all of the flour mixture on top of the liquid mixture. But I will say that my own experiences in making three pies back-to-back contradicted this somewhat. It seems that wet bottom vs. dry bottom really depends on the recipe and its outcome rather than the layering technique.
The Amish have been making Shoofly Pie since the 1800s. The Amish type is typically wet-bottom type, and it is served for dessert or breakfast. It is usually a molasses pie, though some recipes call for different syrups.
Lastly, there are SO many variations. Similar to Pecan Pie, they are all similar but very, very, different and I still need to go to Pennsylvania.
Jean Hewitt's 1965 New York Times Shoofly Pie
To get started on the Shoofly Pie making adventure, I chose a recipe from The New York Times. It was originally shared in 1965 by Jean Hewitt, who traced it back to Housekeeper's Scrapbook (1896). I'm not sure how much The Times adapted it from the original, but theirs is a little different than most of the ones I've run across in my old cookbooks in that it calls for a stick of butter rather than just the usual 1 ½ tablespoons of shortening. The New York Times version also has less brown sugar, but more flour. Here's what mine looked like right out of the oven.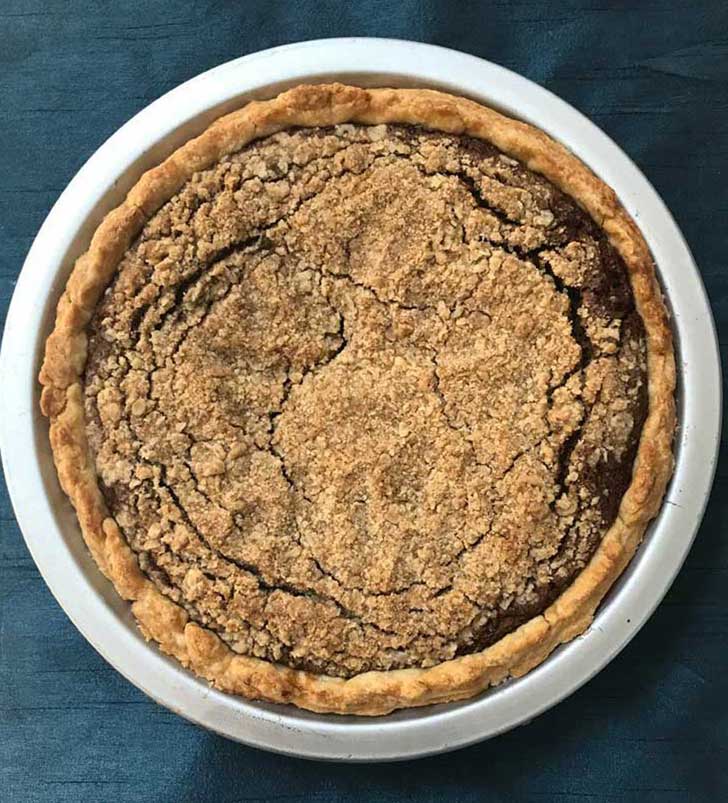 Flour Mixture In The Pie Flour Mixture on Top?
I made the New York Times pie twice. The first time I took suggestions from the NYT comment section. I put half of the flour mixture directly in the unbaked pie crust, poured the molasses/water mixture over that, then put the remaining crumbs on top. The pie baked up perfectly, and while it was on the cakey side, it did have a thin syrupy layer at the bottom. At that point I wasn't sure if it was a wet bottom or a dry bottom, even though I used what I thought was a dry bottom method.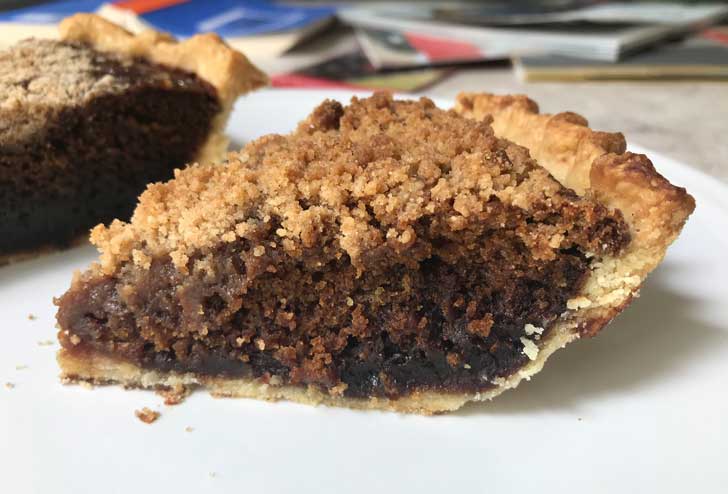 The second time I followed the recipe exactly. I poured the very fluid molasses mixture directly onto the pie crust then spooned all of the crumb mixture on top. Thank goodness I always bake pies on a rimmed baking sheet, because even though the pie came out of the oven looking nice, some of liquid had boiled up through a pinhole crack and burnt along the edge. Once completely cooled and cut, the texture was pretty much the same as the first one. So using both techniques, I ended up with a fairly wet bottom pie. Or maybe it's a dry bottom pie with syrup on the bottom? Here's another texture shot.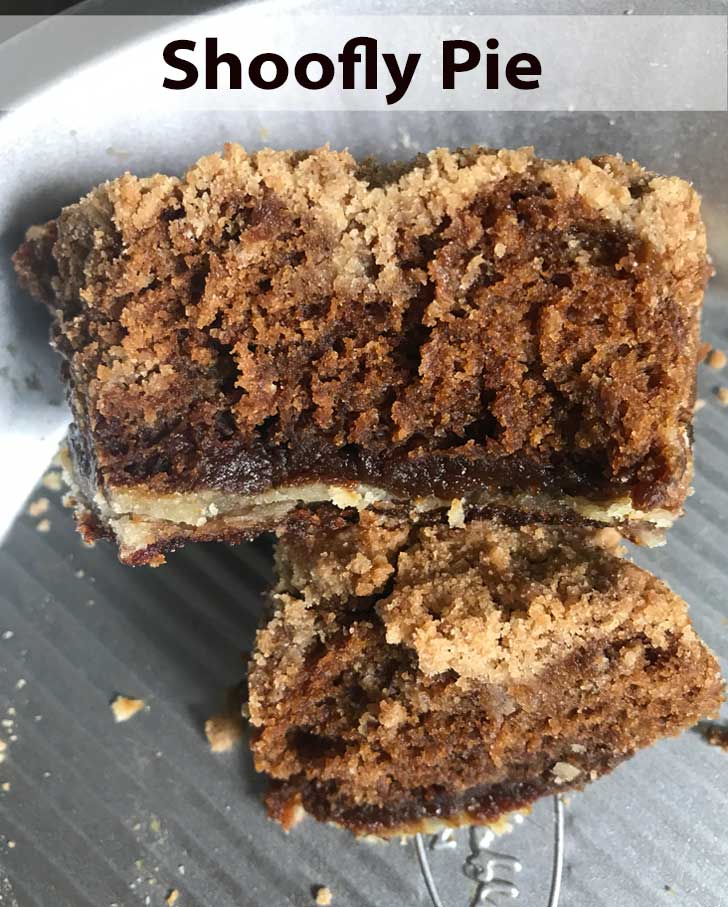 Oh, and it was delicious!! It was not overly sweet, nor overpoweringly molasses. It tasted like a very moist spice pudding cake baked in a pie shell. I couldn't wait to make it again, and to be honest I did. I'll post the other recipe tomorrow.
Shoofly Pie Tips
Make sure the pie dish you are using is big enough to hold the filling. I've been enjoying my new metal pan from Sur la Table called USA Pan. There's a very similar one on Amazon. It's the right size, plus it has ridges on the bottom which seem to help the crust bake evenly. Also, pieces slide right out.
I've had good results using Grandma's unsulphured original. There's another brand I've been reading about called Golden Barrel that I want to try since I had such success with this pie. If you've tried it, I'd be interested to hear your opinion. But the Grandma's works just fine and isn't too strong.
The best way to measure molasses, at least my in opinion, is to just weigh it. A cup of molasses weighs around 320-330 grams, so for ¾ cup you just set your bowl or pan on the scale, set the tare to "0" and pour in about 240 grams molasses.
Some of the older recipes don't call for spices, but I recommend using the cinnamon and fresh nutmeg. They really add to the flavor of the pie.
Update: Here's a link to the THIRD Shoofly Pie, which I spelled Shoo-Fly Pie. This most recent one is definitely a wet bottom version and only calls for 1 ½ tablespoons shortening.
Recipe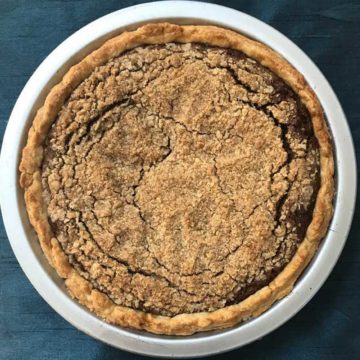 Shoofly Pie
A molasses version of the famous PA pie. This one is adapted from The New York Times, where they use a slightly different technique. The Times version uses the Wet Bottom method and all of the crumb mixture is sprinkled on top of the molasses mixture. I changed this one a bit by putting half of some of the crumb mixture on the bottom of the pie shell, pouring the liquid over, then topping the pie with the remaining crumbs.
Ingredients 
1 ½

cups

all-purpose flour

(200 grams)

½

cup

dark brown sugar

(110 grams)

1

teaspoon

cinnamon

½

teaspoon

nutmeg

⅛

teaspoon

salt

1

stick

cold unsalted butter

(114 grams)

¾

cup

molasses, Grandma's brand

(240 grams)

¾

cup

boiling water

½

teaspoon

baking soda

1

unbaked 9 inch pie dish lined with dough
Instructions 
Preheat oven to 450 degrees. Have ready a rimmed pie pan lined with foil.

Mix flour, brown sugar, cinnamon, nutmeg and salt together in a bowl.

Using a flat grater, grate the stick of butter into the dry mixture, tossing occasionally to distribute the butter evenly. Once you've used the whole stick of butter, use a fork or your fingers to blend evenly into coarse crumbs.

Sprinkle 1 generous cup of the crumb mixture over an unbaked pastry crust. Alternatively, skip this step and just put all of the crumb mixture on top.

Put the molasses in a bowl or saucepan. Put ¾ cup water in a microwave safe measuring cup and heat until boiling. Pour it into the molasses, then stir in the baking soda. As you stir, the mixture will start to fizz and froth from the baking soda/molasses reaction. Continue stirring until it's pretty frothy, Once frothy then pour into the crust over the crumbs. Spoon remaining crumb mixture evenly over the top.

Set the pie on a rimmed baking sheet and bake for 15 minutes at 450F. Lower the heat to 350 degrees and bake 20 minutes longer, or until mostly set. Let cool for several hours.
Notes
You can make Shoofly Pie in small disposable tins like the ones used for chicken pot pie.  The size I tested with measured 3 inches across the bottom and 5 inches across the top.  Line the 6 tins with dough.  Make the crumb with the same amounts as above, but increase the filling amount to 1 cup molasses and 1 cup water and ¾ cup molasses.  Follow the same directions as above, but decrease the bake time as follows:  450 for about 7 minutes and 350 for about 18 minutes (check at 15).