I am so happy with these Olive Oil Chocolate Chunk Cookies! They turned out much better than expected, and I'm just bummed I can't share them with everyone in real life. I came up with the recipe as a way to use up some olive oil that's been accumulating around here — and maybe as a slightly healthier alternative to butter, but that's a always a dubious claim when talking about cookies. Honestly, these are just good!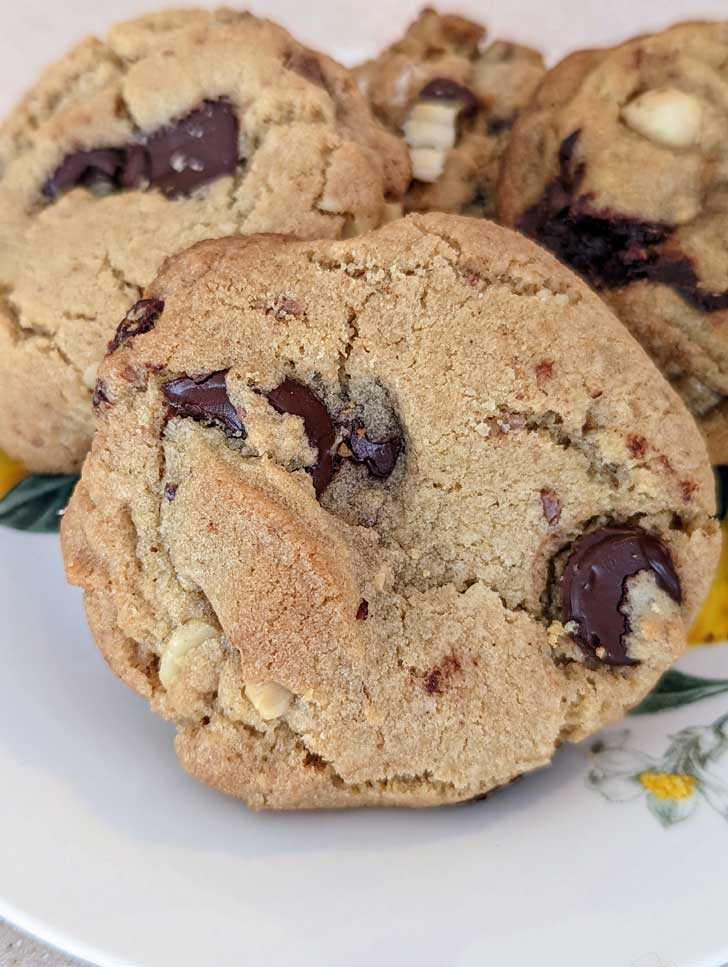 Extra Virgin Olive Oil Cookies
The recipe is a variation on an old olive oil cookie recipe that calls with whole wheat flour. It's funny because back when I first made the old recipe I was trying to cover up the olive oil flavor and put an emphasis on light tasting olive oil. With this new recipe, I went for the fullest flavor olive oil I could find, which in this case was the Olio Santo, which is one of my favorites. Because I ended up making the recipe multiple times, I also tested with Costco's Colavita. Both worked perfectly.
Texture and Flavor
The texture is my favorite thing about these cookies. They are very firm, crinkly, pretty, and soft on the inside. Also chewy. What I didn't like about them at first was they lacked flavor — or at least butter flavor, and were on the sweet side. A few tiny changes fixed that. I added cinnamon (a tip I took from the DoubleTree and Laura Bush cookies), added a ton of toasted walnuts, and more than usual vanilla. I also added three different kinds of chocolate– Belgian chunks from Aldi (the best of the Aldi baking chocolate, imho), some Guittard disks and Ghirardelli Bittersweets. Mixing chips (or chunks) is a great way to really improve the flavor of any cookie. In this case, their large size was also beneficial since it matched with the large size of hte cookies.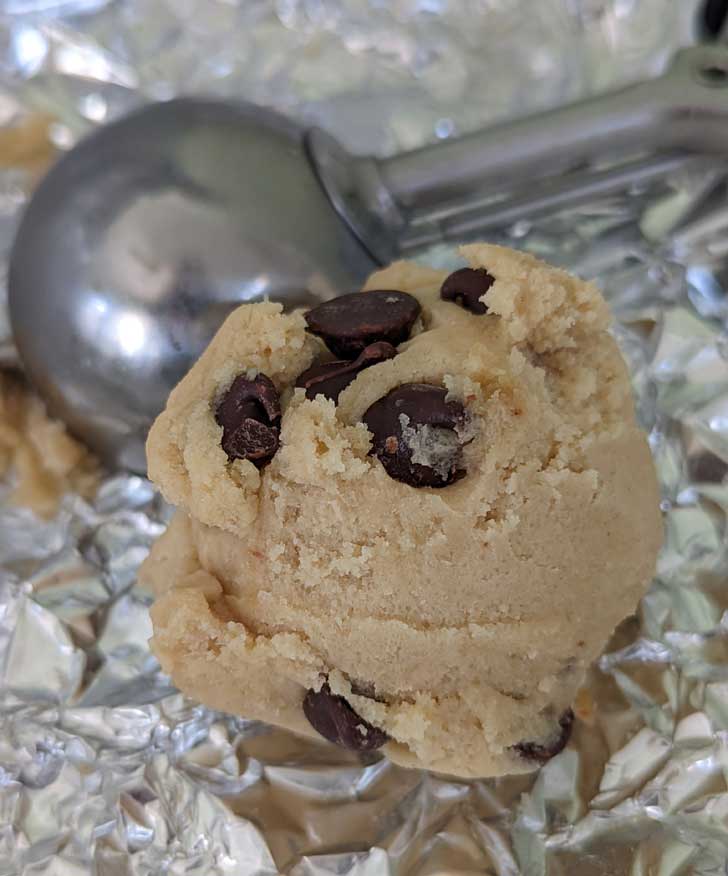 Large Cookie Scoop
I used a large cookie scoop and made these about 2 1/2 oz (70 grams) each. The oil makes the dough a little funky, so they don't scoop perfectly clean and you'll be doing some dough-pinching, but using the scoop reminded me just how much I appreciate my cookie scoop. For many years I thought I did not need a cookie scoop because I had a tablespoon. Then at some point I finally gave in and bought a couple of cookie scoops. Now they are all I use for several reasons. Scoops portion dough evenly, but they also imprint tiny abrasions into the dough so that the dough bakes up with crevices and cracks. Or usually. It depends on the recipe, but scooped cookies often have a special look to them. You can especially tell with shortening or peanut butter based doughs. So that's just a side note about scoops. Here's a link to my favorite.
Olive Oil Chocolate Chunk Ingredient Rundown
Flour — I've been using King Arthur All-Purpose this week
Baking Powder
Baking Soda
Salt — Morton Kosher
Cinnamon — Just enough to bump flavor, but not enough to make the cookies taste cinnamon-y.
Brown Sugar — Light, but I sometimes slip in a little dark as well. But just light is fine. No need to go out and buy dark brown if you don't have it.
Granulated Sugar — I used Domino brand.
Olive Oil — Full flavored. I've been using Costco and Olio Santo.
Coconut Oil — Unrefined or refined are both fine. You can substitute butter if needed.
Large Egg — Room temperature. If it's cold, the chill from the egg will re-solidify the softened coconut oil, so make sure to bring the egg to room temperature.
Vanilla — Still using Nielsen Massey this week.
Dark Chocolate — Any kind will work, and chunks or large chips (like the Ghirardelli and Guittard) are best here.
Walnuts — I made a batch with untoasted and a batch without and thought the toasted version was just a tiny bit better. But untoasted is fine too.
More Recipes
Recipe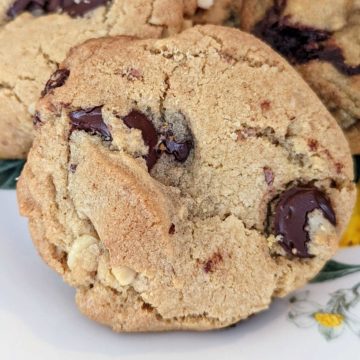 Olive Oil Chocolate Chunk Cookies
Cookies made with extra virgin olive oil.
Ingredients 
1 1/2

cups

all-purpose flour

(200 grams)

1/2

teaspoon

baking powder

1/2

teaspoon

baking soda

1/4

teaspoon

plus an extra pinch salt

1/8

teaspoon

cinnamon

3/4

cup

light brown sugar, packed

(150 grams)

1/4

cup

granulated sugar

(50 grams)

2

tablespoons

coconut oil, room temperature

(26 grams),

6

tablespoons

olive oil, a flavorful extra virgin

(72 grams)

1

large

egg

room temperature

2

tsp

vanilla

5

oz

dark chocolate

cut into chunks

1/3

cup

coarsely chopped walnuts
Instructions 
Preheat oven to 350 degrees F. Line a baking sheet with parchment paper (or a Silpat)

Weigh your flour and mix with the baking powder, baking soda, salt and cinnamon. Set aside.

In a mixing bowl, using either an electric mixer or a wooden spoon, stir together the brown sugar, granulated sugar, and softened coconut oil just until blended. Stir in olive oil, egg, and vanilla.

Add the flour mixture and stir until blended, then stir in the chocolate chunks.

Using a large cookie scoop, scoop out mounds of dough (they should weigh about 70 grams each). If you don't have a cookie scoop use slightly less than 1/4 cup.

Arrange dough balls 3 1/2 inches apart on a baking sheet lined with parchment paper or a Silpat.

Bake one sheet at a time for 12 to 14 minutes or until the top looks slightly dry and the edges are lightly browned. Let cool on the baking sheet.