I used to frequent a coffee shop that sold the best scones.  The owner said the secret was "lots of butter" and I guess I took that to heart because I never really bothered trying olive oil scones or any other scone recipes with oil.  This morning, eager to use some "light tasting olive oil" acquired in a buy one, get one deal, I made Blueberry Olive Oil Scones.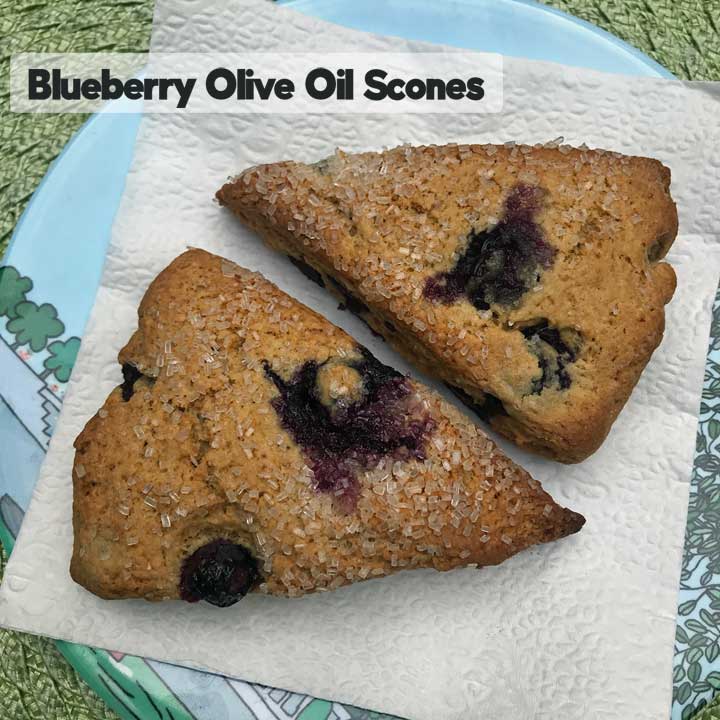 Olive Oil Scones Texture
The texture of olive oil scones is a little different than the texture of buttery scones. While they are moist, olive oil scones have a harder crust and crumblier interior. If using whole wheat flour, the flavor and texture may remind you of cornbread even though there is no cornmeal in the recipe. So using olive oil in scones definitely changes the texture, but it's a pleasant texture and worth a try. It's also a lot faster than cutting in the butter!
Scone Ingredients
I've had a stash of white whole wheat flour in the freezer for a while, and it works perfectly here.  If you want, you can substitute 1 cup of whole wheat and 1 cup of AP or 2 cups of AP.  As mentioned, the olive is the "extra light" tasting kind, because we didn't want any extra virgin flavor mingling with the blueberries.  For the buttermilk, I used reconstituted Saco which I always keep on hand, but if you don't have that or any buttermilk, the substitute would be 2 teaspoons of lemon juice with enough regular milk to make ¾ cup total.  The final and best ingredient is sparkling sugar!
King Arthur Sparkling Sugar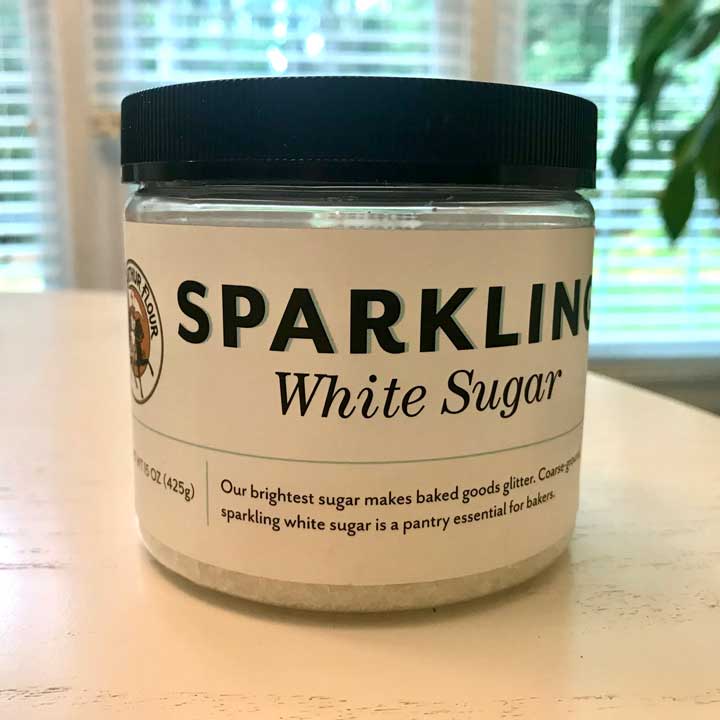 Sparkling white sugar is one of the best scone ingredients. Not only does it make the scones pretty, it adds crunch and sweetness. The sweetness on top helps you get away with using less sugar in the dough. Since sugar causes spreading, less sugar in the dough usually means puffier scones.   I buy sparkling sugar from King Arthur flour and it is well worth whatever it costs. It comes in white sugar and colored.
I definitely plan on making these again when I'm in a hurry or just feel like using olive oil. I hope you try them too. However, if you are looking for a really good buttery scone recipe and don't necessarily need olive oil scones, I highly recommend the Maple Oat Scones.
Recipe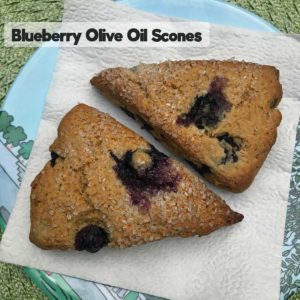 Blueberry Olive Oil Scones
Using olive oil instead of butter speeds up the scone making process a bit.
Ingredients 
2

cups

white whole wheat flour

(280 grams)

1

Tbsp

baking powder

¼

tsp

baking soda

¼

tsp

salt

3

Tbsp

granulated sugar

plus extra for topping (40 grams)

1

large egg

¼

cup

olive oil

use light tasting or any other oil

¾

cup

buttermilk

plus a little extra for brushing

1

teaspoon

vanilla or 2 teaspoons lemon zest

1

cup

fresh blueberries

Sparkling Sugar or extra sugar plus milk or cream for brushing
Instructions 
Preheat oven to 425°F. Have ready a heavy baking sheet lined with parchment.

In a large mixing bowl, thoroughly stir together the flour, baking powder, salt and baking soda, then stir in the sugar.

I n second bowl, stir together egg and oil, then add buttermilk and vanilla (or lemon).

Make a well in the dry ingredients and pour in half the liquid ingredients. Stir well, then continue adding liquid ingredients very gradually until you have a rather stiff dough. Turn dough onto a pastry mat and pat it flat.

Dot the flat slab of dough with blueberries and fold over on itself. Repeat, flattening dough without crushing the blueberries (much!) and adding more berries.

Shape the dough into a circle and cut into 8 wedges. Brush surfaces with 1% milk and sprinkle with sugar. Place on parchment-lined baking sheets.

Bake scones for 10 minutes at 425, then reduce heat and bake at 375 for another 10 minutes.
Notes
If you don't have white whole wheat flour you can use 1 cup each white and whole wheat or 2 cups total white flour.