When Fuzz was little I'd take her to the Chick-fil-A and let her loose on the playscape. Back then it was the South Austin respite for tired moms, and since it was usually mid-afternoon rather than mealtime, we'd buy lemonade and chocolate chunk cookies. They were so good I tried making copycat Chick-fil-A cookies at home. I lost that recipe, but since then I've found a Chick-fil-A Copycat cookie recipe that's better!
Jump to Recipe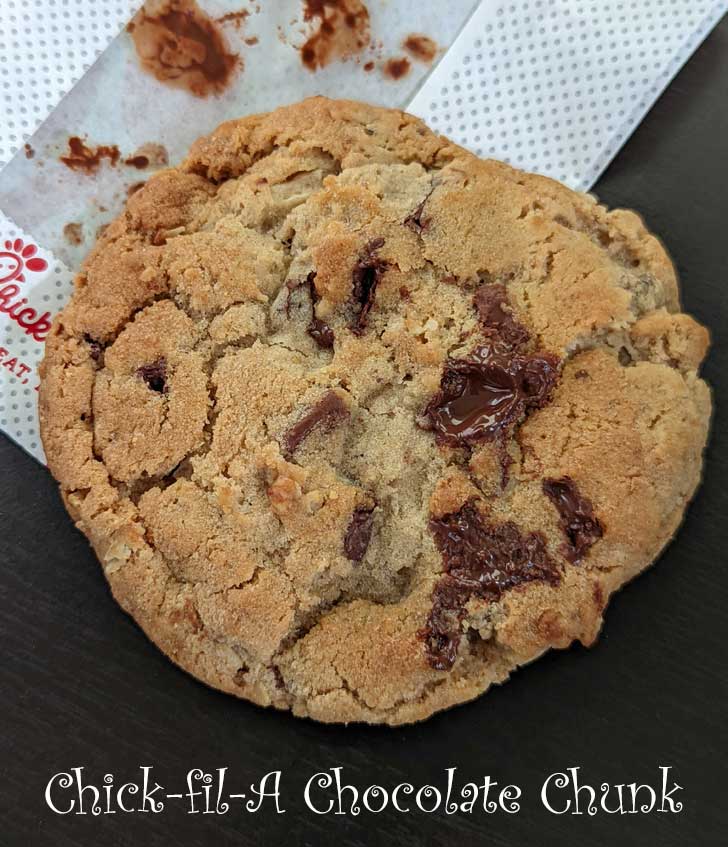 Chick-fil-A Chocolate Chunk Cookies
If you plan on trying the copycat, you may want to buy an actual cookie from Chick-fil-A for comparison. Or at least that was my line of thinking before making the copycat recipe.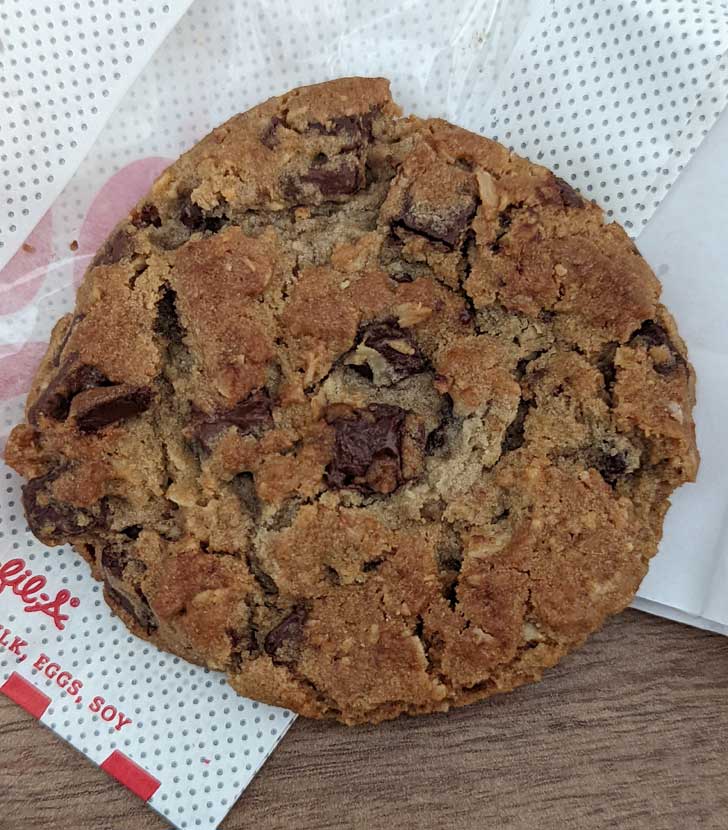 The cookies from the restaurant are thick and chewy, and they're not always the same. I bought one on a Monday (first photo) and it was stale. I went on another day of the week and got one that was warm, flavorful and chewy (directly above). Both cookies were brown with cracks and crevices, had a decent amount of chocolate, but seemed light on the salt.
The "Better Than" Copycat Versions
There are quite a few copycats on the internet, but some of them seem a little bit more like oatmeal cookies than actual CFA cookies. The recipe with 3 tablespoons of honey was the best, but the cookies had a strong honey flavor. Still, that one was close so I just made some minor changes. I replaced the honey with molasses and Lyle's Golden Syrup, added some salt and baked the cookies in different ways, with the latter being a reminder just how much the type of oven/heat you use affects the end product. Convection/Air Frying makes them thicker, darker, chewier and more crinkly, so if you happen to have convection, it's the way to go. If you have an Aga, even better.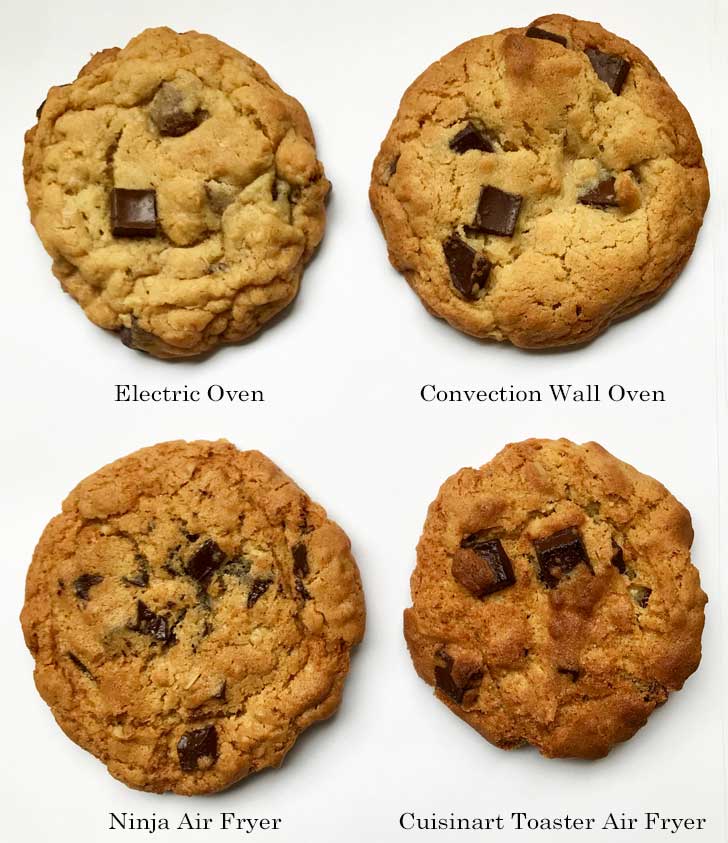 But you can bake the cookies any way you like. They'll taste good even if they don't look exactly like the originals Also, you don't have to chill the dough, but if you have the patience to do so the cookies will be chewier. Or at least I thought so.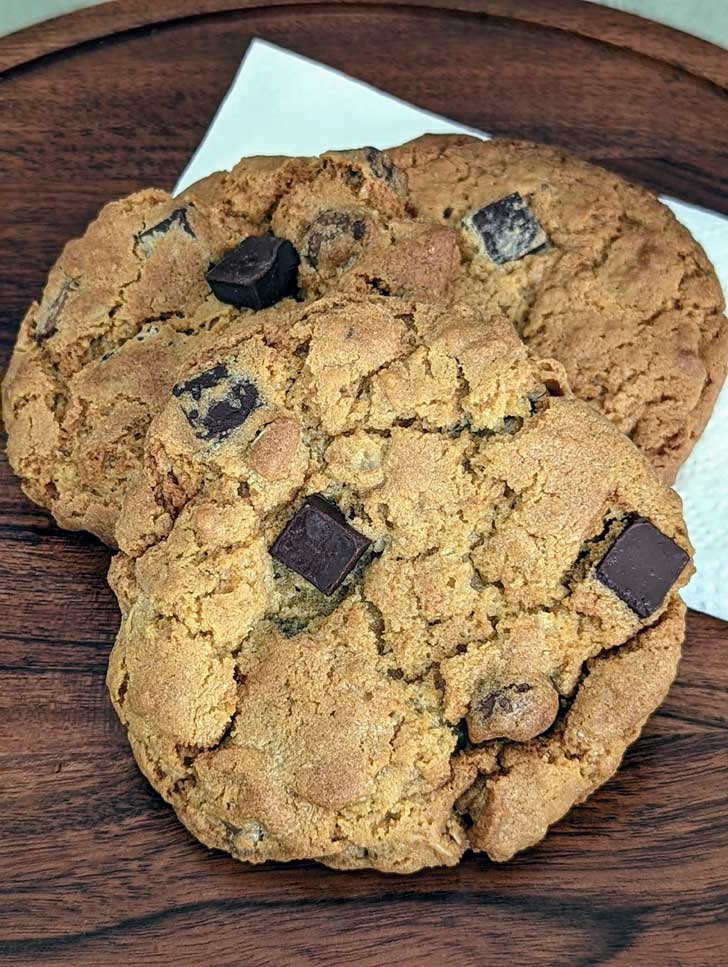 Here's the ingredient rundown along with a mini batch and the "regular" size batch.
Ingredient Rundown
All-Purpose Flour — King Arthur AP flour is what I've been using. The extra protein in the KA flour might contribute to extra chewiness and it definitely helps with thickness.
Baking Powder, Baking Soda and Salt
Shortening — I've used Spectrum and Crisco. The Crisco cookeis tasted better.
Butter — Unsalted American style butter. If you use salted butter, be sure to reduce the salt to 1/2 teaspoon.
Granulated and Light Brown Sugar — The cookies spread more with dark brown. so stick with light for this recipe. You won't miss out on any molasses flavor because the recipe calls for a tablespoon of it.
Molasses — I used Grandma's mild flavored.
Lyle's Golden Syrup – Makes the cookies chewy and adds a hint of caramel flavor. If you don't have the syrup, you can use honey. I also tested with light and dark corn syrup and thought the cookies with dark corn syrup were better.
Egg — large eggs, bring to room temperature.
Vanilla — There's a lot of it. I've been using Costco vanilla lately (Kirkland).
Oats –I tested with quick cooking and old fashioned and a combination of the two. All variations worked, but the cookies made with the combination had the best shape and didn't spread as much. You don't have to go out and buy both types of oats, but if you happen to have both it's worth using half each.
Chocolate Chunks — Aldi's Belgian chocolate chunks work perfectly and look kind of like the ones in the original cookies. If you use chopped chocolate, the cookies may spread just a little more.
Milk Chocolate chunks — Guittard milk chocolate chips or chunks of whatever milk chocolate happens to be around.
Mini Batch Version
The printable recipe makes 16 large cookies, but you can also make a mini batch of 4, which I often do. Mini batch measurements are below, and I always use a scale, so the gram measurements are the most accurate.
Mini Batch of 4
83 grams of AP flour (1/2 cup plus 1 T.) 1/8 teaspoon baking soda 1/4 teaspoon baking powder 1/4 scant salt (reduce to 1/8 if using salted butter) 68 grams brown sugar (1/4 cup plus 1 1/2 tablespoons) 18 grams granulated sugar (1 1/2 tablespoons) 28 grams unsalted butter (2 tablespoons) 24 grams shortening (2 tablespoons) 2 tablespoons beaten egg (25 grams) 1/2 teaspoon vanilla extract 1/2 cup dark chunks and milk chocolate chunks or chips
Recipe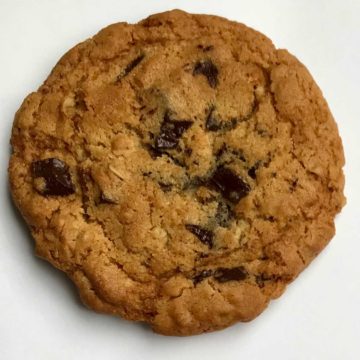 Chick-fil-A Copycat Cookies
Thick oatmeal chocolate chunk cookies made with a blend of molasses and golden syrup for extra chewiness.
Ingredients 
2 1/2

cups

all-purpose flour

(330 grams)

1/2

teaspoon

baking soda

1

teaspoon

baking powder

1

teaspoon

salt (reduce to 1/2 teaspoon if using salted butter)

8

tablespoons

unsalted butter or salted butter, softened

(114 grams)

8

tablespoons

shortening

(96 grams)

1/3

cup

granulated sugar

(65 grams)

1 1/3

cup

packed light brown sugar

(275 grams)

2

tablespoons

tablespoons Lyle's golden syrup

(40 grams)

1

tablespoon

molasses

(20 grams)

2

large

eggs

(100 grams)

2

teaspoons

vanilla

3/4

cup

oats, quick and old fashioned

(70 grams)

2

cups

mixed milk and dark chocolate chunks

Use about 3/4 dark and 1/4 milk
Instructions 
Preheat the oven to 350 degrees F. If you are making the dough ahead of time and chilling it, skip this step (recommended).

In a medium size bowl, mix together flour, baking soda, baking powder and salt.

With an electric mixer, beat softened butter, Crisco, granulated sugar, and brown sugar. Beat in the golden syrup and molasses. With mixer on low, add the eggs at a time, beat until well blended. Beat in the vanilla.

By hand, or if using a stand mixer use the paddle on low, stir in the flour mixture, followed by the oats and chocolate.

Using a large cookie scoop or just a big spoon, scoop or spoon up about 16 large rounds of dough. They should weigh around 78 grams each. Arrange them on a dinner plate, then cover and chill. Bake one or two rounds (or bake them all) immediately.

Bake in a convection oven at 350 for 12-15 minutes or until cookies start to appear lightly browned and cracked. Alternatively, bake in a Ninja Foodi air fryer at 300 for 16 minutes. You can also bake in a Cuisinart Air Fryer Toaster Oven using 250 degrees F and 20 minutes. Let cool on baking sheets for 5 minutes; remove to wire racks to cool completely. And finally, baking in a regular oven is fine too. All ovens vary, so try baking at 350 degrees F. for about 15 to 18 minutes and adjust heat if that doesn't work.