This recipe is for anyone reminiscing about old school lunches from back in the '70s. Up until about 1979 I was embarrassed to admit that I liked school lunches, but it turns out I'm not alone. Growing up in San Antonio, school lunches were good — especially the Wednesday enchiladas and chocolate cake. It had a touch of cinnamon in it if I recall, but was not quite the same as classic Texas Sheet Cake. But what I remember most were the 10 cent peanut butter cookies. I've tried to recreate them, but the school ones were always crumblier and dryer. These school lunch peanut butter cookies are crumbly around the edges, but have softer centers.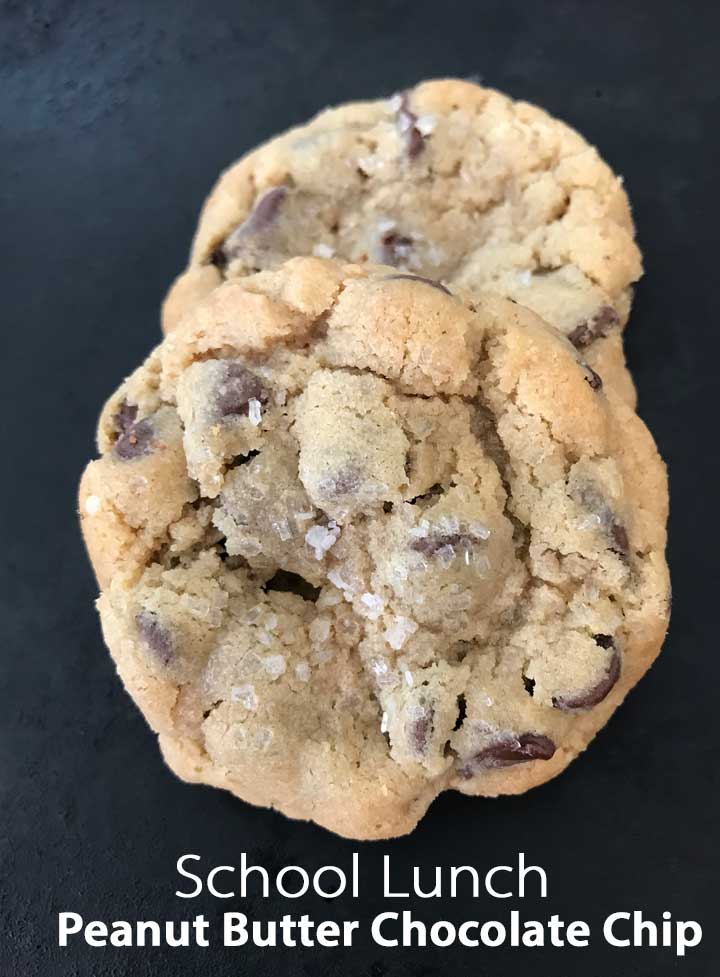 You can find similar recipes by searching for "School Lunch Peanut Butter Cookies" or more specifically "Chicago Public School Peanut Butter Cookies". This version is based on recipes from Anne Byrn (otherwise known as The Cake Mix Doctor) and famous cookbook author, Snoop Dogg.
Anne Byrn's Maria Catholic High Version
Anne Byrn's School Lunch Peanut Butter Cookies recipe is from American Cookie, an interesting book that includes some history behind popular American cookies. She adapted it from a recipe featured in a 1961 Chicago Tribune profile of the cafeteria manager at Maria Catholic High School in Marquette Park. At Maria Catholic, Sister Maria Trinita baked them for 1300 lucky girls. That version plus a lot of the other old school versions called for shortening.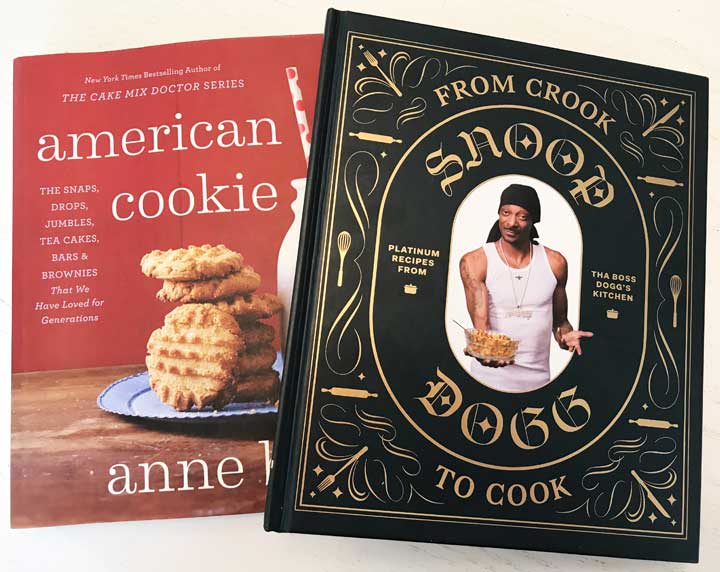 Snoop Dogg's Crook to Cook Version
Butter is more popular these days, and you can definitely use it in place of shortening. In fact, you can use a whole lot more of it as I learned from Chef Snoop Dogg. In From Crook to Cook he has a recipe almost the same as Anne's but with 2 sticks of butter in place of 1/2 cup shortening. Snoop Dogg's come out of the oven soft and delicate and firm up as they cool. Like scones and other really buttery recipes, they're best once they've cooled completely and set. They are just really good — especially frozen.
Below is a dough shot. As usual, I scooped the dough, wrapped it up and chilled it so I can bake cookies as needed. Snoop's are on top and Anne's are the ones on the bottom. Since Anne's are made with shortening and won't spread as much, I flattened them a bit before chilling so they'll start out as disks rather than balls and bake evenly.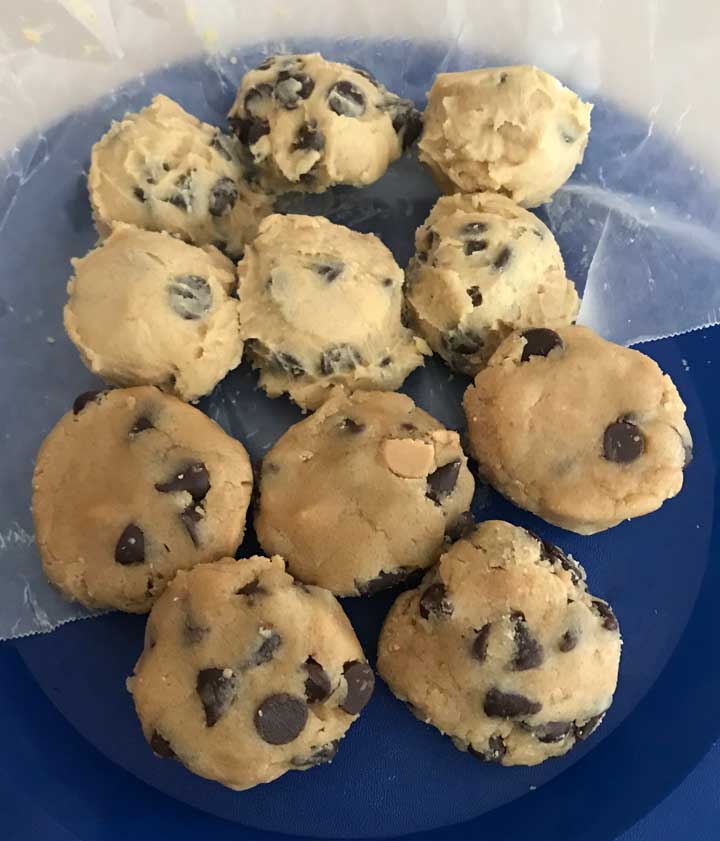 Anne's or Snoop Dogg's School Lunch Peanut Butter Cookies — You Decide
For this recipe you can use Anne's 1/2 cup shortening or Snoop Dogg's 2 sticks of butter. I made both and the family chose Snoop's, citing "more flavor" yet commenting on how they liked the texture of Anne's. The cookies on the left are Anne's and the ones on the right are Snoop's. Whichever version you choose, adding peanut butter chips is never a bad idea, and you might also want to throw on a little coarse sugar and sea salt to amplify the flavor.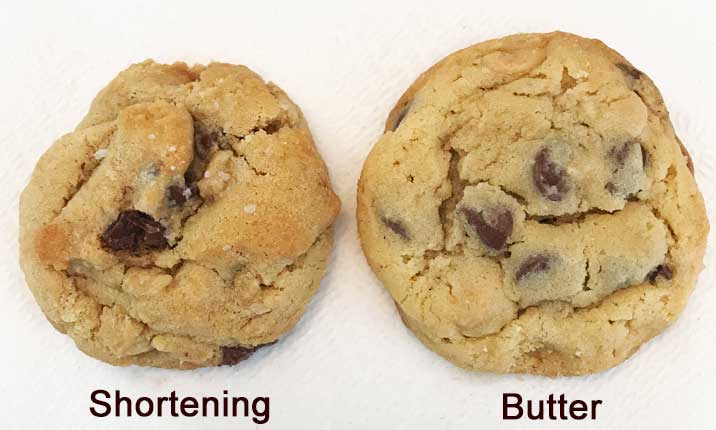 If you don't want to make either version or are interested in a shortening/butter hybrid, check out Sadie's Peanut Butter Cookies, another one close to the old school lunch peanut butter cookies. The only catch with Sadie's is you need to have cake flour.
Recipe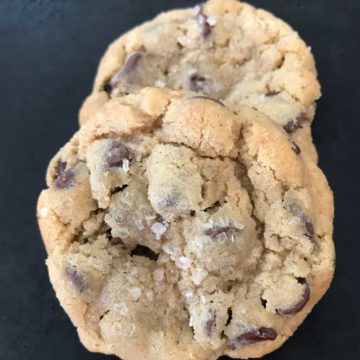 School Lunchroom Peanut Butter Cookies
Fat and crumbly chocolate chip peanut butter cookies similar to the ones that used to be served in school cafeterias.
Ingredients 
1 1/2

cups

all-purpose flour, weigh or sift before measuring

(210 grams for butter version, 200 grams for shortening version)

1

teaspoon

baking soda

1/2

teaspoon

salt

2

sticks

unsalted butter (softened) OR use half shortening and half butter

(230 grams butter) or (114 butter and 98 shortening)

1/2

cup

creamy peanut butter

(130 grams)

1/2

cup

brown sugar

(100 grams)

1/2

cup

sugar

(100 grams)

1

large

egg

(54 grams)

1

teaspoon

vanilla

2

cups

semisweet chocolate chips

1/2

cup

peanut butter chips

optional

sea salt and coarse sugar

garnish
Instructions 
Preheat oven to 375 degrees F. or skip this if you plan to chill the dough. I recommend chilling the dough.

In a bowl, mix together the flour, baking soda and salt. Set aside.

In a large bowl, using an electric mixer, beat the butter, peanut butter, and both sugars until creamy.

Stir in the egg and vanilla. When fully blended, stir in the flour mixture, followed by the chips.

Using a rounded tablespoon or a medium size cookie scoop, drop onto the parchment paper covered baking sheets or better yet, put them on a plate lined with plastic wrap and chill the dough balls for a few hours until ready to bake (or just bake one "can;'t wait cookie" and chill the rest of the dough for later.

Bake one sheet at a time for 10 to 12 minutes (check at 8 if you made your cookies smaller or if your oven runs hot).

Let the cookies cool and serve.
Notes
There's a big difference in the amount of shortening vs. butter.  If you use shortening, 1/2 cup will work fine.  If you use butter, you can use 1 full cup (2 sticks) and get really rich, crumbly, cookies.