I first saw this recipe in a Food52 cookbook and couldn't get it out of my mind. I trust Food52, but Saltine Brownie Ice Cream Sandwiches? How would that even work? Would the crackers get soggy? And why bother putting a cracker on the brownie when you already have a perfectly good brownie base? So after thinking about this for a few days, I gave in and made a small batch version in a loaf pan. They were so good!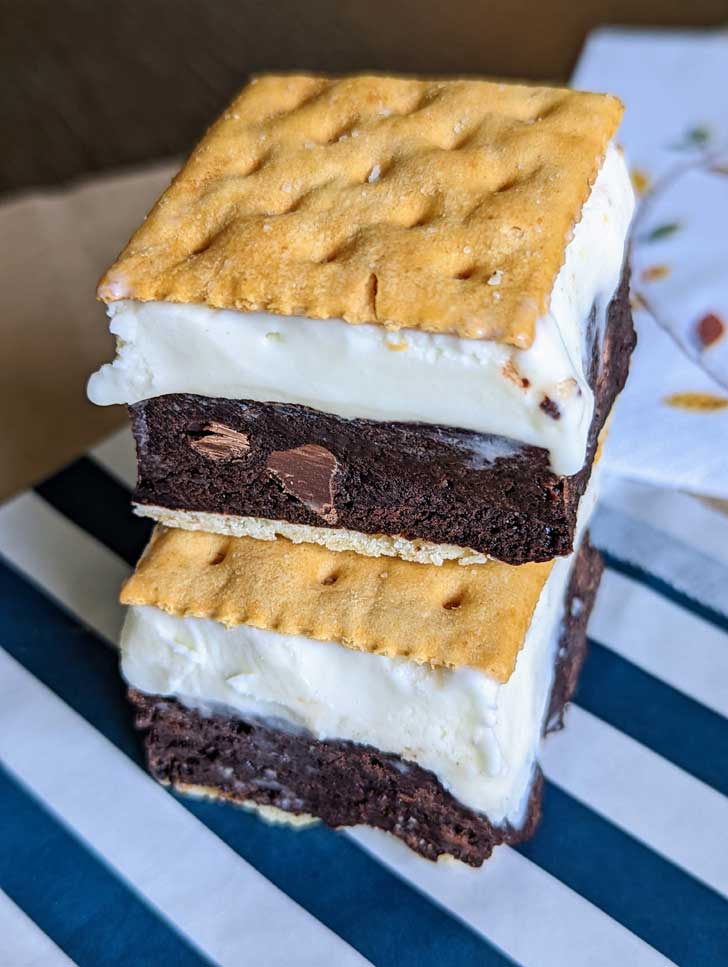 Loaf Pan Saltine Brownie Ice Cream Sandwiches
I'm glad the small batch version worked because now I want to make multiple batches in different flavors using different brownie recipes and ice creams. For this batch, I used Alice Medrich's famous cocoa brownie recipe (cut in half) and baked in a loaf pan with a layer of buttered saltines on top. The saltine topped brownies were frozen and inverted, then topped with a layer of ice cream and more toasted saltines.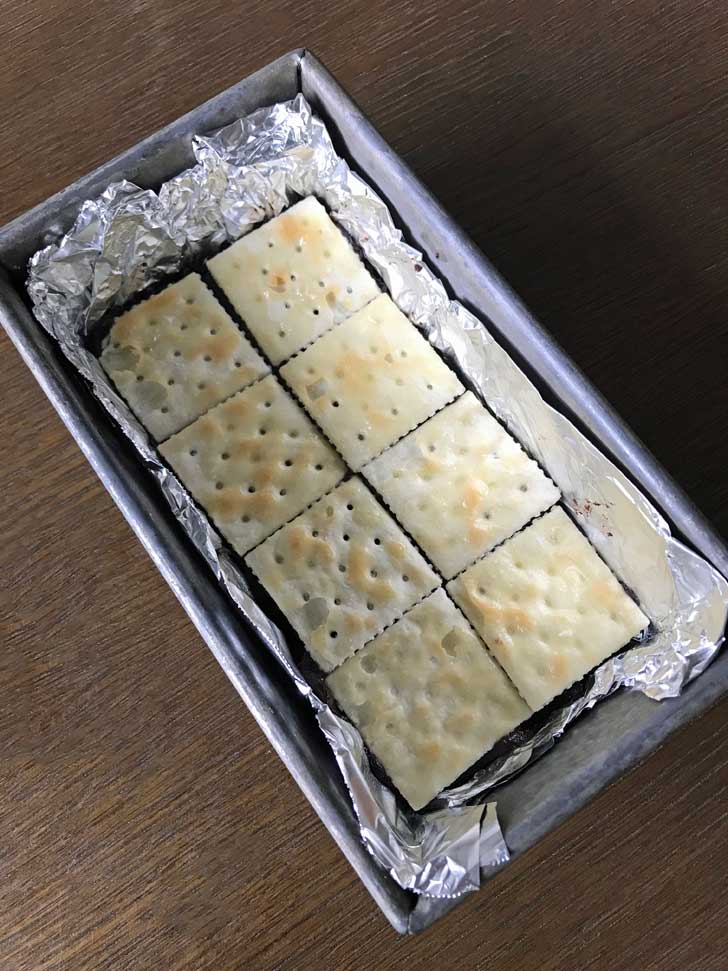 The loaf pan version makes 8 perfectly square sandwiches, which is more than enough for two. Even though they're small, they're pretty filling. With all of the different textures going on, they are interesting and satisfying as well.
Ingredient Notes
Saltines -- I had one sleeve of Zesta shttps://www.youtube.com/watch?v=dJ_MPCD-VoUaltines that had been sitting in the pantry for literally months, and was glad to put them to good use. Now I have to go out and buy more so I can try variations.
Butter on the Saltines -- I was worried buttering the crackers would make them brown too quickly. The butter and toastiness adds more flavor, so don't skip that step. Even if you over-brown the crackers somewhat, they're still good.
Ice Cream -- I used homemade vanilla because I'm on an ice cream making kick, but any kind should work. The original version called for a quick no-churn condensed milk recipe. Eagle Brand's website has tons of variations.
Brownies -- The Alice Medrich recipe flies together. They are chewy brownies made with butter, so they freeze a little harder and give the sandwiches have some bite. For a softer brownie, you might try an oil based brownie recipe. I will update when I do.
Thanks to Food52 Ice Cream and Friends: 60 Recipes and Riffs for the inspiration!
More Ways to Use Crackers
Recipe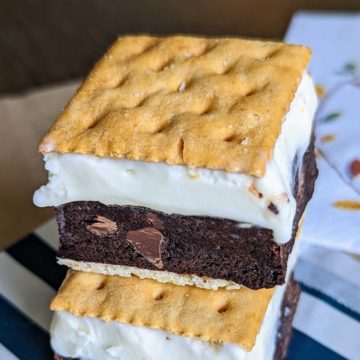 Saltine Ice Cream Sandwiches
Ice cream sandwiches made with saltines and a layer of brownie.
Ingredients 
16

saltines

5

tablespoons

butter plus extra for brushing the Saltines

(140 grams)

½

cup

sugar plus 2 tablespoons

(125 grams)

7

tablespoons

unsweetened cocoa powder, Dutch process

1

large

egg

⅛

teaspoon

salt

¼

teaspoon

vanilla

¼

cup

all-purpose flour

(35 grams)

chocolate chips (optional)

2

cups

ice cream softened (may use more or less)
Instructions 
Preheat oven to 325 degrees F.

Brush 16 saltines front and back very lightly with butter.

Line an 8 ½ by 4 ½ inch loaf pan with foil and spray bottom with cooking spray.

In a large saucepan, melt the butter over medium heat. Reduce heat to low and stir in the sugar and cocoa powder. Stir until smooth. Remove from heat, let cool slightly, then whisk or stir in the cold egg, vanilla and salt. Lastly, stir in the flour. If you'd like to throw in a handful of chocolate chips, make sure the batter is cool so they won't melt.

Scrape the brownie batter in the loaf pan and spread evenly. Arrange 8 buttered Saltines evenly over the batter. Put the other 8 saltines on a baking sheet.

Set the loaf pan in the oven on the middle rack and the baking sheet with the crackers on the lower rack. Bake for about 25 to 27 minutes. After about 20 minutes, check the Saltines on the bottom rack to make sure they aren't too brown. They should be just slightly golden.

Let the brownie/saltine layer cool for 10 minutes, then place in the freezer and freeze until firm (or freeze and wrap until ready to use).

To assemble the sandwiches, line the loaf pan you used to make the brownies with plastic wrap. Tip: Try wetting the pan a little before adding the plastic wrap. It helps go on smoother. Spread some softened ice cream (as thick as you want, so amount varies) across the pan. Cover and freeze for about 2 hours or until very solid.

Take the frozen brownie/cracker out of the freezer and set it cracker side down on a flat surface. Unwrap the frozen ice cream rectangle and set it on top. Arrange reserved 8 toasted Saltines over ice cream, then wrap and freeze again until solid.

Remove from loaf pan and cut into 8 squares. Store squares in a freezer bag.