I didn't feel like baking yesterday, but wanted something homemade. Remembering the Saltines we'd bought last weekend, I decided to make Cracker Candy – an easy recipe composed of brown sugar, butter, crackers and chocolate. Luckily, I had everything on hand, including a nice bar of chocolate (which in this case was a Toffee Interlude by Ghirardelli).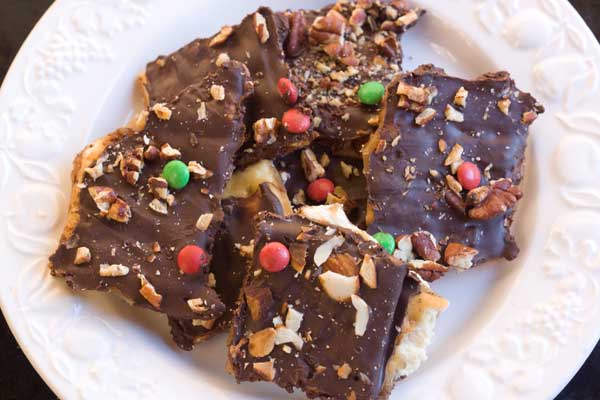 The end result was an excellent cookie/candy. In fact, I think I like cracker candy better than butter toffee. The crackers offer a nice bit of relief from the richness of the butter and sugar. Plus, there's more chocolate. My only mistake was using a chocolate bar containing toffee bits. The chewiness of the toffee bits clashed with the crispness of the candy. Next time I'll use a different Ghirardelli bar.
Update: I've made this candy a million times since posting and have edited the recipe so that it's a little more precise. This candy is really fun, and one of my favorite things about it is that you can vary the type of chocolate that you spread over the top. Using semisweet chips is fine, but lately I've been using Lindt or Trader Joe's Belgian. I also like putting toasted pecans on top.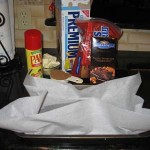 Print Recipe
Cracker Candy
Cracker Candy is a mock toffee type candy made by pouring a hot sugar mixture over Saltine crackers.
Ingredients
1

sleeve of Saltines or enough to cover a 10x15 inch pan

about 40

1

cup

2 sticks butter (use salted or add 3/4 tsp salt if using unsalted)

1

cup

light brown sugar

12

ounces

chopped semisweet chocolate or 2 cups of chocolate chips

1/2

cup

toasted and chopped pecans or almonds
Instructions
Preheat oven to 400 degrees F.

Line a 10x15 inch pan with nonstick foil or parchment paper.

Lay Saltines side-by-side over bottom of pan - sides touching.

Combine butter and sugar in a large saucepan and bring to a gentle boil. If the butter is cold, let it warm slightly before adding the sugar. When mixture starts to boil, set timer for 3 minutes and boil, stirring once or twice. Pour over crackers and spread evenly.

Bake in oven for 5 minutes. Quickly sprinkle chocolate over hot candy and let stand for about 3 minutes or until chocolate starts to melt. Spread chocolate over crackers, then sprinkle with nuts. Note: If chocolate isn't melting fast (mainly, if you are using chips instead of chocolate chocolate), throw the pan back in the oven for a minute.

Let cool at room temperature for about an hour, then transfer to the refrigerator to chill and set.