Saltine Cracker Candy is one of the easiest homemade candies out there. It's composed of brown sugar, butter, crackers and chocolate -- things you might already have on hand. It's also pretty quick, so you can have a batch ready in around an hour (give or take a few minutes).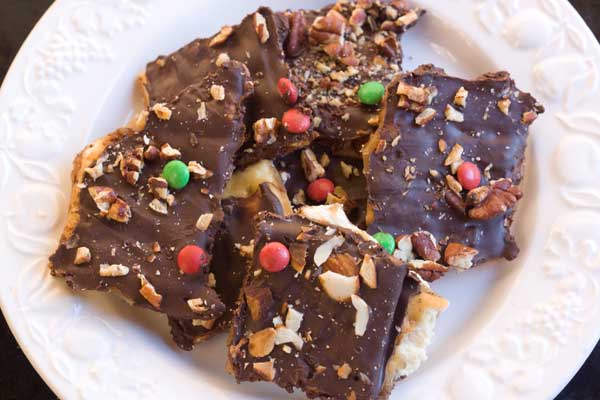 Better Than Almond Toffee?
In some ways, this is even better than almond toffee because the salty crackers are a contrast to the richness of the butter and sugar. Plus you can vary the chocolate. You can use bittersweet chocolate chips, or chop up whatever makes you happy -- Lindt, Cadbury Dairy Milk, perhaps a Hershey Bar?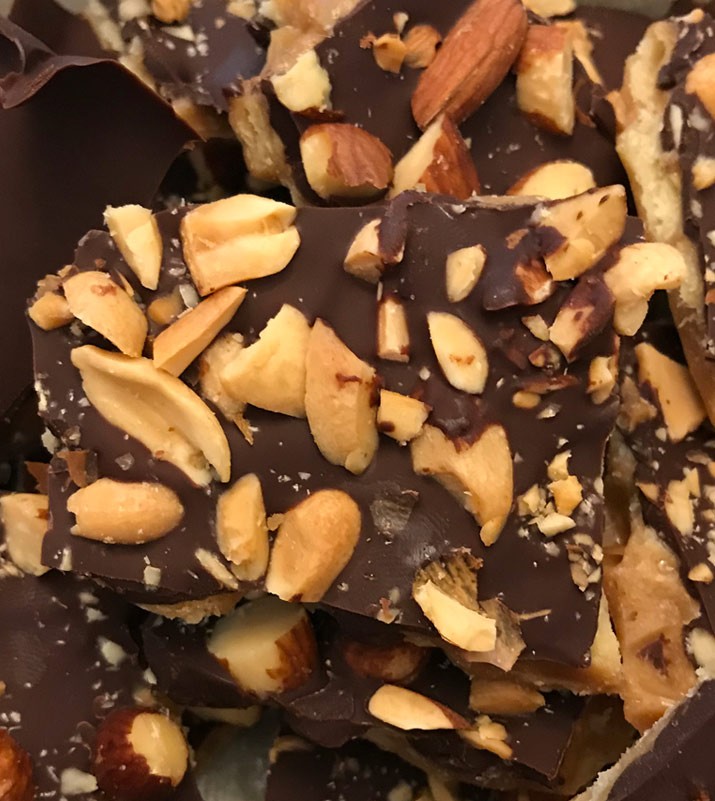 Half Batch Saltine Cracker Candy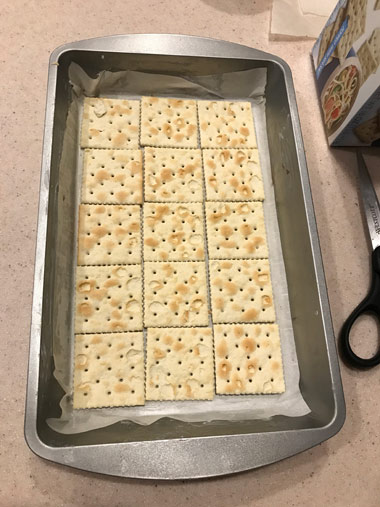 The recipe below makes a 15x10 inch pan. If you don't need a ton of Cracker Candy, you can make Half Batch Cracker Candy by spreading half the Saltines in an 11x7 inch pan or a 9 inch square pan. For the toffee mixture, just use 1 stick butter and ½ cup of sugar and boil in a small saucepan. The baking time stays the same.
Recipe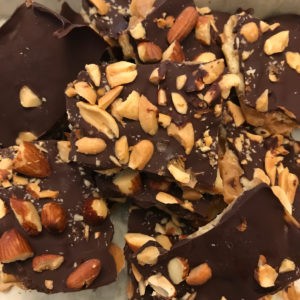 Cracker Candy
Cracker Candy is a mock toffee type candy made by pouring a hot sugar mixture over Saltine crackers.
Ingredients 
1

sleeve of Saltines or enough to cover a 10x15 inch pan

about 40

2

sticks

butter

230 grams, salted or unsalted

1

cup

light brown sugar

200 grams

12

ounces

semisweet chocolate or chocolate chips

½

cup

toasted and chopped pecans or almonds or salted mixed nuts if you really like sweet & salty!
Instructions 
Preheat oven to 400 degrees F.

Line a 10x15 inch pan with nonstick foil or parchment paper.

Lay Saltines side-by-side over bottom of pan - sides touching.

Combine butter and sugar in a large saucepan and bring to a gentle boil. If the butter is cold, let it warm slightly before adding the sugar. When mixture starts to boil, set timer for 3 minutes and boil, stirring once or twice. Pour over crackers and spread evenly.

Bake in oven for 5 minutes. Quickly sprinkle chocolate over hot candy and let stand for about 3 minutes or until chocolate starts to melt. Spread chocolate over crackers, then sprinkle with nuts. Note: If chocolate isn't melting fast (mainly, if you are using chips instead of chocolate chocolate), throw the pan back in the oven for a minute.

Let cool at room temperature for about an hour, then transfer to the refrigerator or freezer to chill and set. I usually use the freezer.
Notes
If you use unsalted butter, you can add a pinch or two of salt to the butter/sugar mixture for extra flavor.