I always have high hopes for cookie recipes calling for potato chips, but so many of them turn out chewy rather than crispy. Chewy cookies are great, but when potato chips are involved I think the cookies should be crisp throughout like Tate's. And that's how these Crispy Potato Chip Cookies came to be. I combined some of my favorite chocolate chip cookie recipes for thin, crisp, flavorful cookies. The only downside to potato chip cookies is that like their namesake, it's hard to stop at just one.
Jump to Recipe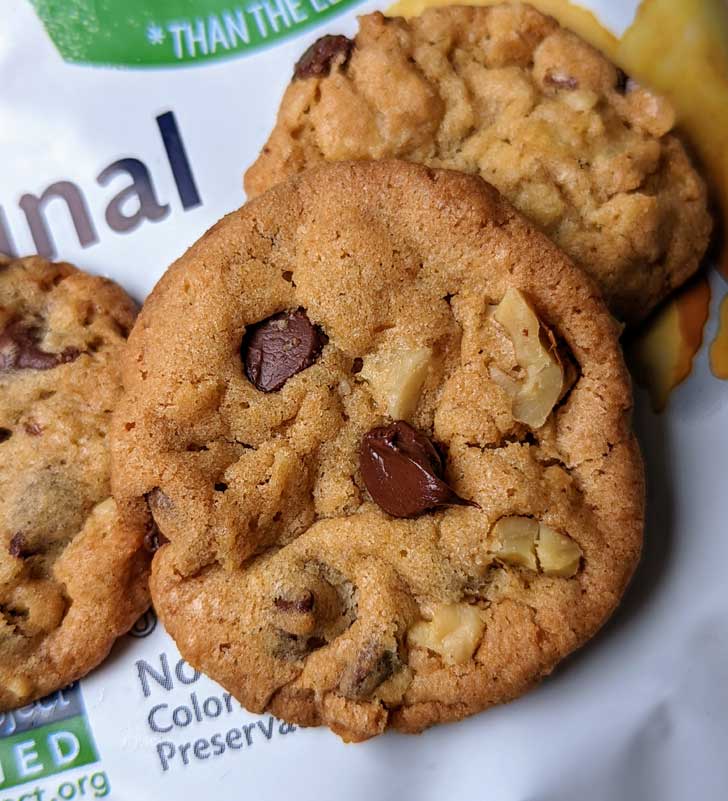 Butter vs. Butter & Shortening Combo
I made the first couple of batches with butter only, and the cookies were excellent, but really thin. When I switched to the butter & shortening combo, the cookies had a slightly nicer shape to them (pictured above) and were lighter in texture. So if you want to use all butter (pictured below) you can, but the butter & shortening combo dough is slightly easier to work with and gives you cookies with a lighter texture.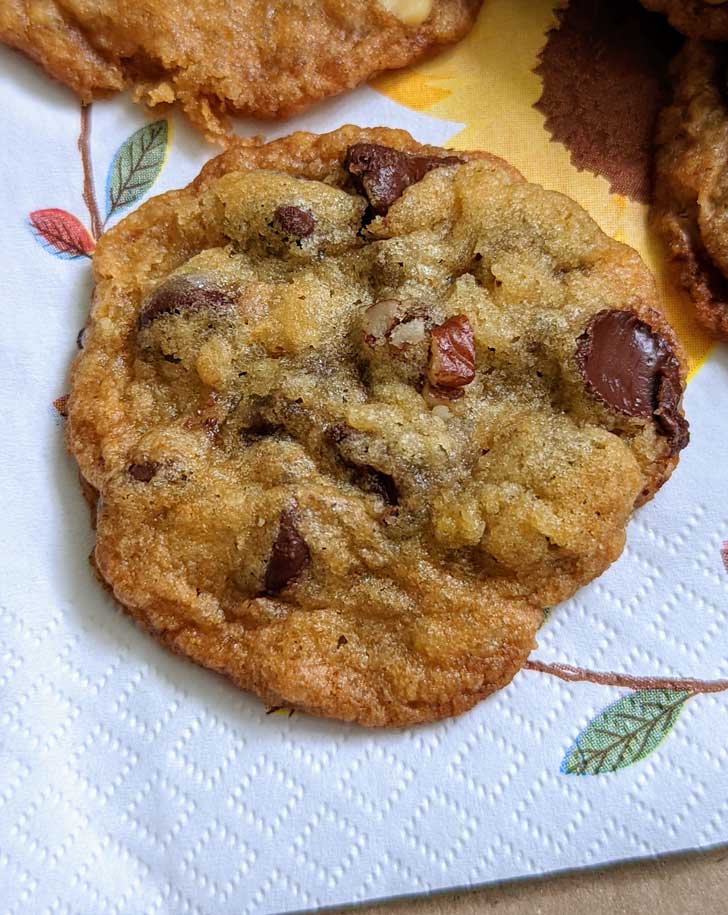 Gluten-Free Crispy Potato Chip Cookies
Another thing I discovered was that these are excellent when made with gluten-free flour. Just make sure you use a 1:1 blend that includes xanthan gum. The first time I used King Arthur gluten-free flour, which says right on the box "does not contain xanthan gum" and the cookies were misshapen. The probably was easily fixed by adding a little xanthan gum, but it was a reminder that not all gluten-free blends work the same as the 1:1 blends. Here's what the gluten-free potato chip cookies looked like. They weren't as pretty, but their flavor was excellent.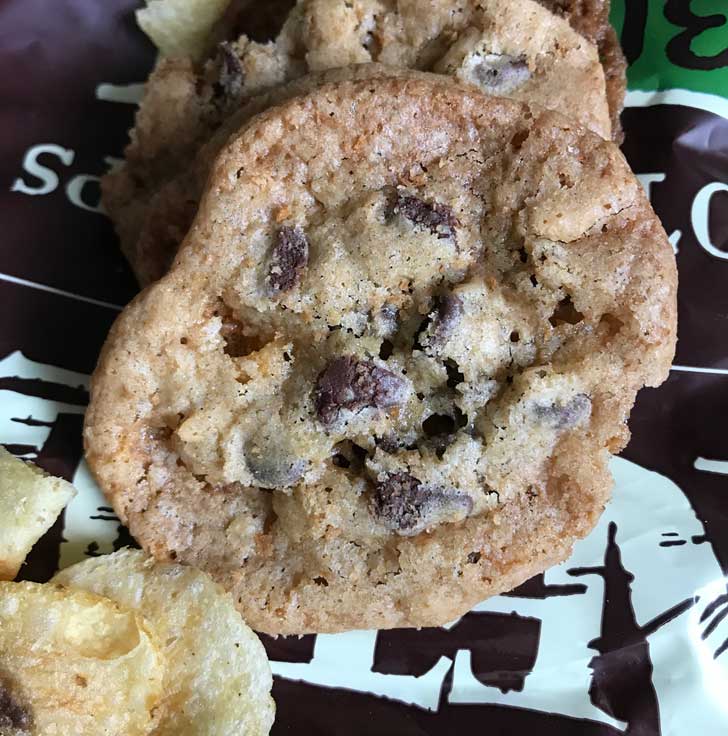 What's Up With the Vinegar
Adding a little vinegar to the cookie dough might seem like a gimmick since you don't taste it, but it helps give the cookies a little lift -- just not as powerful one as baking powder. My issue with the baking powder was that the cookies kept coming out a little softer, but when I used vinegar I got that tiny bit of lift without any softening. So vinegar is my go-to "baking powder lite". You can leave out the vinegar and the cookies will still be very good and very crispy, I just felt like they were a little bit airer with. Plus I needed a gimmick (just kidding).
Type Potato Chips for Crispy Potato Chip Cookies
Not counting flavored potato chips, any brand should work. I've been using reduced fat, regular thickness, Kettle and Cape Cod chips. At first I put a note that I'd update when I tested with thick cut potato chips. However, I didn't want to let all of you out there down, so I went and bought some thick and "wavy" potato chips (they're on sale for Memorial Day) and tested with thick cut. Still good.
More Crispy Chocolate Chip Cookie Recipes
Recipe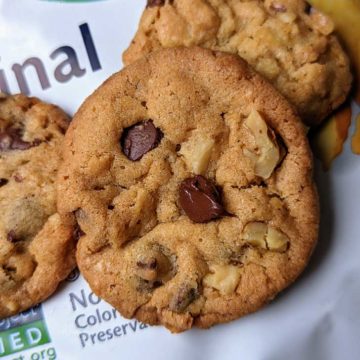 Crispy Potato Chip Cookies
Flat, crispy, crunchy cookies with chocolate chips and potato chips.
Ingredients 
1

stick

unsalted butter, softened or use half shortening and half butter

(114 grams) or (56 grams butter plus 48 grams shortening)

½

cup

granulated sugar

(100 grams)

½

cup

packed light brown sugar

(100 grams)

1

large

egg

½

teaspoon

vanilla

½

teaspoon

salt

½

teaspoon

baking soda

½

teaspoon

apple cider or malt vinegar (or white)

1

cup

all-purpose or 1-1 gluten-free flour

(135 grams)

¾

cup

crushed potato chips -- you can use more or less

(70 grams)

1

cup

semisweet chocolate chips, sightly heaping

½

cup

pecans, toasted and chopped or chopped walnuts

(nuts are optional)
Instructions 
Beat the butter (or butter and shortening) and both sugars until creamy using an electric mixer. Beat in the vanilla and the egg. When egg is mixed in, beat in salt and baking soda, scraping the sides of the bowl well. Beat in the vinegar. Scrape sides of bowl again.

Add flour and stir until well blended, then stir in the crushed potato chips and chocolate chips. Add nuts (if using).

Using a small cookie scoop or a rounded teaspoon, scoop out about 42-44 balls (about 17-20 grams each) onto plates (or a tray) lined with plastic wrap, then cover and chill for an hour. Alternatively, you can just bake the dough balls immediately, but the cookies might not have as round a shape.

Preheat the oven to 350 degrees F.

When ready to bake, shape the chilled dough portions with your palms to make them into compact and relatively neat balls. Space 1 ½ inches apart on a parchment lined baking sheet. Bake at 350 for about 12 minutes (check at 10) or until golden brown. they should be very flat. Let cool briefly on the parchment (about 3 minutes) then carefully transfer to a wire rack and let cool completely.

If your cookies are still coming out chewy or if they are darker around the edges and chewy in the middle, reduce your oven temperature to 325 and bake slightly longer. I've found that using a lower baking temp and a longer baking time results in more uniform crispness.