This recipe fir Chocolate Chip Cheerio Cookies is adapted from a 1977 Cheerios recipe booklet. The cookies are light, crisp and have a vanilla-oat flavor plus a puffy/crunchy texture from the Cheerios. My add-in was dark chocolate chips, but I set aside some of the dough and plan to try these with coconut and/or cinnamon chips.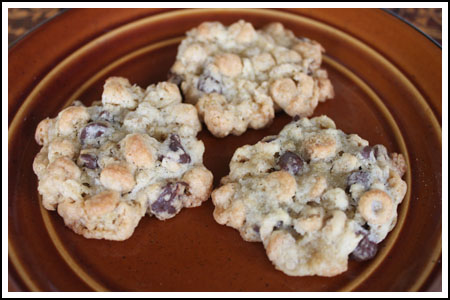 I typed the recipe below as I made it, but noticed Cheerios has an updated recipe on their website. For now, I'm sticking with this one because the cookies were so good.
Then again, if I were in a peanut butter mood I'd make these Cheerios Cookies again. The peanut butter cookies were very good too, but I'd say this non-peanut butter version is lighter and crispier.
Crispy Chocolate Chip Cheerio Cookies
6 oz (1 1/2 sticks) unsalted butter, cool room temperature or cold (168 grams)
1 1/2 cups granulated sugar (300 grams)
1/4 cup water
1 1/2 teaspoons vanilla
1 teaspoon salt
1/2 teaspoon baking soda
1 large egg
1 1/2 cups all purpose unbleached flour (190 grams)
4 cups Cheerios (You can lightly crush them or leave them whole)
1 cup old fashioned oats
1 1/2 cups dark chocolate chips**
Heat oven to 375 degrees.
Beat cool butter until creamy. Add sugar and continue beating until light. Reduce speed of mixer to medium and beat in water, vanilla, salt and baking soda. Add egg and beat just until it's incorporated.
By hand, stir in the flour followed by the Cheerios, oats and chocolate chips.
Drop dough by rounded teaspoonfuls about 2 inches apart onto greased cookie sheet. Bake until light brown, 10 to 12 minutes.
About about 4 1/2 dozen cookies.
**Variations
1 cup raisins
6 ounces chocolate chips (what I used)
1 cup shredded coconut
1 cup chopped nuts
1 cup butterscotch chips
1 cup cinnamon chips