This easy peanut butter ice cream recipe comes courtesy of my ongoing ice cream obsession. I hope to get back to baking soon, but at the moment I am very interested in how cream, sugar and eggs (or condensed milk) come together to make what may be the easiest to eat substance on the planet. For me, peanut butter falls into that category too, which makes this ice cream doubly good.
Jump to Recipe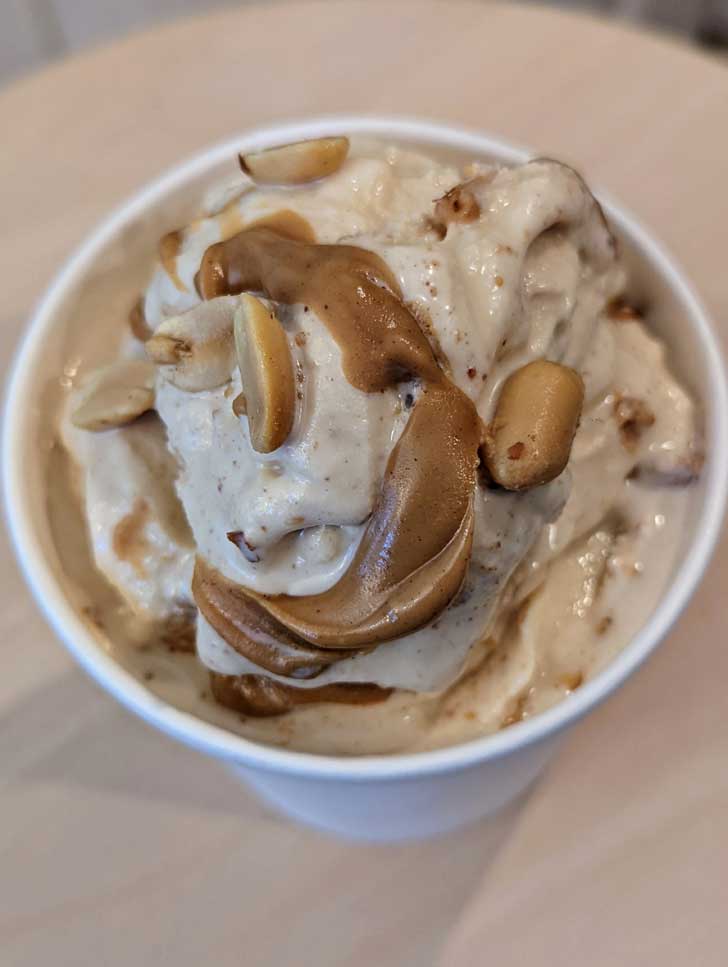 Flavor and Texture
The peanut butter flavor in this ice cream is fine. Still, if you are a serious peanut butter lover, you may want to enhance it a bit with a couple of teaspoons of powdered peanut butter. Adding cocktail peanuts and swirls of straight peanut butter also helps. In addition to the peanut butter, the vanilla adds flavor. As for texture, condensed milk can make things kind of chalky, but the evaporated milk helps counteract that with slickness so the end result is just creamy (not too chalkly or slick). Speaking of slick, I don't like ice cream that feels too fatty on the tongue. Using the fat free condensed milk helps with that, but regular condensed milk is fine too.
Cuisinart Ice Cream Maker
No-churn ice cream recipes are popular right now, but I prefer recipes that call for an ice cream maker, so this one does require an ice cream maker. Years ago I bought this little Cuisinart and while it's old and kind of beat up, it still churns up fantastic ice cream. The key is to keep the freezer bucket in the freezer at all times so that you'll always be ready for ice cream making. If you're willing to spent a little (okay, a lot!) more money and want a built in condenser, the Lello 4080 is the way to go. Or so they say. I don't think I could spend that much, but it's probably worth it.
Maple Syrup or Agave
Homemade ice cream can get rock hard. Adding things like sunflower lecithin, xanthan gum, alcohol and syrups helps mitigate that, though even with those additions homemade ice cream is rarely as soft as store bought. Using maple syrup or agave as a sweetener helps keep this ice cream soft, so I wouldn't advise cutting out the syrup. If you want to take it a step further you can add a little lecithin or xanthan gum, but those things aren't completely necessary. You just have to be willing to let the ice cream stand at room temperature for a few minutes to soften.
Where To Buy Ice Cream Cartons
I've always used plastic containers from the grocery store, but since I started making more ice cream I bought some plain white pint cartons on Amazon. They're nice if you plan on giving gifts of ice cream to people. Another option is to just recycle pint containers of store bought ice cream.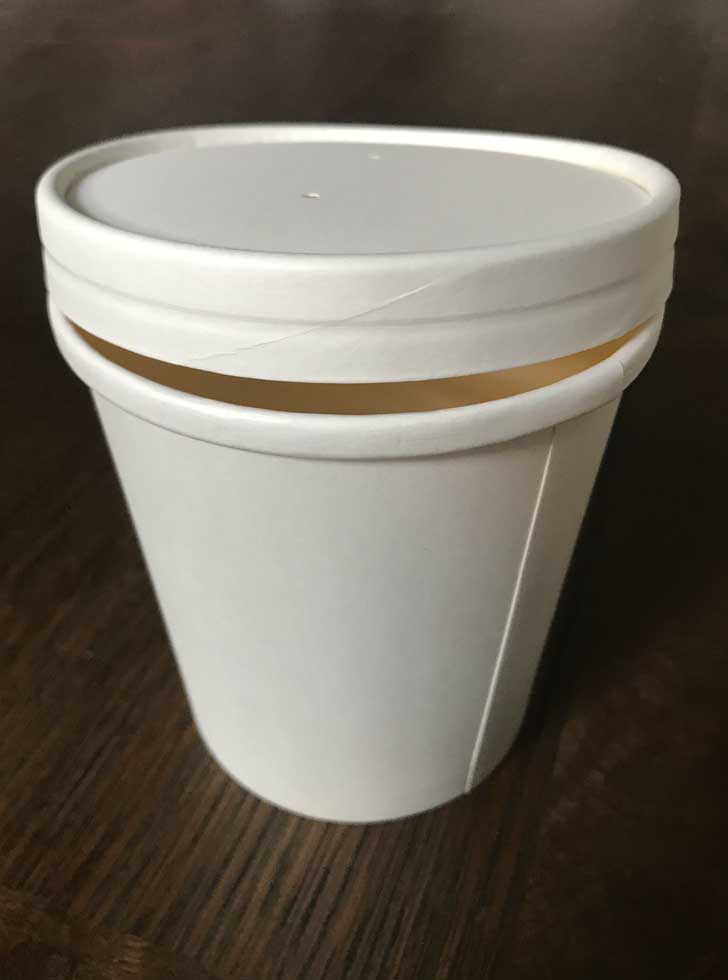 Peanut Butter Ice Cream Ingredient List
Whole Milk -- I use whole milk, but given the fat from the peanut butter, I don't see why 1 or 2% wouldn't work.
Evaporated Milk -- Not to be confused with condensed milk, this helps give the ice cream a slick, creamy texture.
Eagle Brand Fat Free Condensed Milk or and brand regular condensed milk -- I rarely use fat free condensed milk, but in this case the ice cream gets so much fat from the peanut butter, you can cut the fat from the condensed milk with no problem. It's also very good with regular condensed milk, just a tad creamier and richer. Not exactly a bad thing!
Unsweetened Peanut Butter -- Unsweetened peanut butter gives you more peanut flavor. The condensed milk and syrup add tons of sweetness, so you don't need sweetened peanut butter for the base. For the ice cream that is swirled through, you can continue to use sweetened peanut butter. The ice cream in the photo uses Whole Foods brand unsweetened peanut butter in the base, and swirls of regular creamy Peter Pan.
Agave is a great for helping keep ice cream soft. Maple syrup also works and adds a little flavor. Golden syrup might also work, but I haven't tested it yet.
Sunflower Lecithin or Xanthan Gum -- Helps with lower fat ice creams. I use it when I use the fat free condensed milk, but with the regular condensed milk it doesn't really need either of those things.
Salt -- Some people find it strange to add salt to ice cream, but it really helps tame the sweetness. The salt from the cocktail peanuts helps too.
Recipe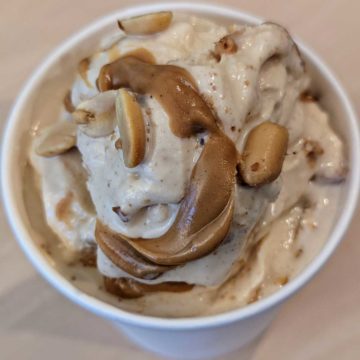 Peanut Butter Ice Cream
A lighter version of peanut butter flavored ice cream.
Ingredients 
10

ounces

whole milk

12

ounces

evaporated milk

14

ounces

fat free or regular condensed milk

½

cup

unsweetened peanut butter (generous half cup)

(140 grams) -- go by weight

1

tablespoon

agave syrup or maple syrup

(20 grams)

½

tablespoon

vanilla extract

maybe a little more

⅛

teaspoon

salt

2

teaspoons

peanut butter powder (optional) and some regular sweetened peanut butter for adding at the end.

1

teaspoon

sunflower lecithin or ½ teaspoon xanthan gum

(optional)
Instructions 
Combine all ingredients in a blender and blend.

Alternatively, you can mix the ingredients in a mixing bowl. If using a mixing bowl, put the condensed milk and peanut butter in first and beat with an electric mixer. Gradually add in the other two milks and the remaining ingredients and beat until smooth.

Make sure your mixture is very cold, then transfer to the prepared ice cream container and process as per manufacturer's directions. Turn off the ice cream and add small gobs or swirls of softened sweetened (or non sweetened) peanut butter) and cocktail peanuts.

Scrape the ice cream into your preferred container. As you scrape or spoon it into the carton, you can add even more mall gobs or lines of softened peanut butter so that the ice cream has swirls of peanut butter.