I've been going through all my Cake Mix Doctor books lately and admiring the genius of Anne Byrn. As much fun as it is to bake from scratch, the number of things that can be done with a simple box of cake mix is pretty impressive.   So this week, in my ongoing attempt to avoid the grocery store, I decided to make the Cake Mix Doctor's very simple "Incredible Melted Ice Cream Cake".  I had been wondering about this one for years.  What kind of texture would the cake have?  Would it be dense like a pound cake or light like birthday cake?   Would the ice cream make it extra moist?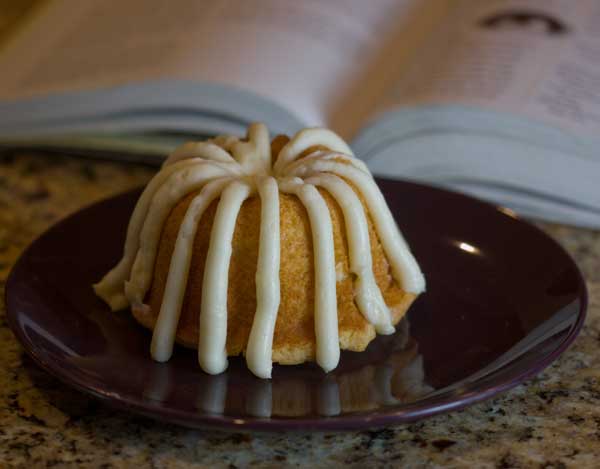 Melted Ice Cream Cake Texture
Turns out Melted Ice Cream Cake is light textured like a grocery store bakery cake. It definitely not moistest and richest of doctored cake mix cakes (though it improved after it sat around iced and covered), but it was tasty and easy to put together.    Because I like to make small batch recipes, I weighed out a third of a box of cake mix in grams, used ⅔ cup of melted ice cream and 1 large egg to make 3 mini Bundts. Most people will probably want to make a full Bundt, so I've posted that recipe along with my favorite cream cheese frosting. The original recipe recommends marshmallow frosting, but I had some leftover homemade  cream cheese icing in a bag in the refrigerator, so I used that.
I probably wouldn't make this cake again now that I've tried it, but that doesn't mean you won't like it.  The reviews on Epicurious range from 4 star fabulosity to "waste of ice cream", while talk on the Cake Mix Doctor forum mentioned adding pudding mix, putting water in the oven so that the steam will moisten the cake (a good trick!) and the best flavor ice cream to use (they recommend Ben & Jerry's Cherry Garcia. Fun reading, but you'll have to try the recipe to really know.  As for the cream cheese icing, I can assure you that it is delicious.
Recipe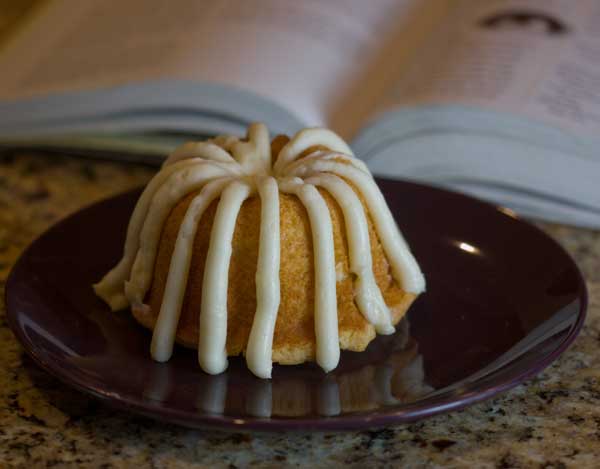 Melted Ice Cream Cake
Bundt cake made with cake mix, melted ice cream and eggs.
Ingredients 
1

package

18.25 ounces plain white cake mix

2

cups

melted premium ice cream

I used Amy's Mexican Vanilla

3

large eggs
Cream Cheese Frosting
8

oz

cream cheese

softened

4

oz

butter

softened

2

cups

sifted confectioners' sugar

1

teaspoon

vanilla extract
Instructions 
Preheat the oven to 350°F. Spray a 12 cup Bundt pan with Baker's Joy (after making a ton of Bundt cakes, I've had 100% success with Baker's Joy, so I'm mentioning the brand).

Place the cake mix, melted ice cream, and eggs in a large mixing bowl. Mix well, then beat until smooth. Pour into the Bundt pan.

Bake the cake until it springs back when lightly pressed with your finger and just starts to pull away from the sides of the pan, 38 to 42 minutes. Remove the pan from the oven and place it on a wire rack to cool for 20 minutes. Run a long, sharp knife around the edge of the cake and invert it onto a small rack, then invert it again onto a second rack so that the cake is right side up to complete cooling, 30 minutes more.

To make the frosting, beat together the cream cheese and butter. Gradually add the sugar and beat until smooth. Beat in the vanilla. Put it all in a heavy zipper bag (or an icing bag fitted with a round tip if you have one), snip off the bottom corner of the bag, and pipe it up and down the sides of the cake.