I've always been a fan of browning butter in cookies, but I think sometimes people overdo it with the browned butter. In my opinion, the best Brown Butter Chocolate Chip Cookies are made by browning half of the butter. Adding molasses also pumps up the flavor, which is why I like this recipe. Originally from Joy the Baker and King Arthur, it pulls out all the stops.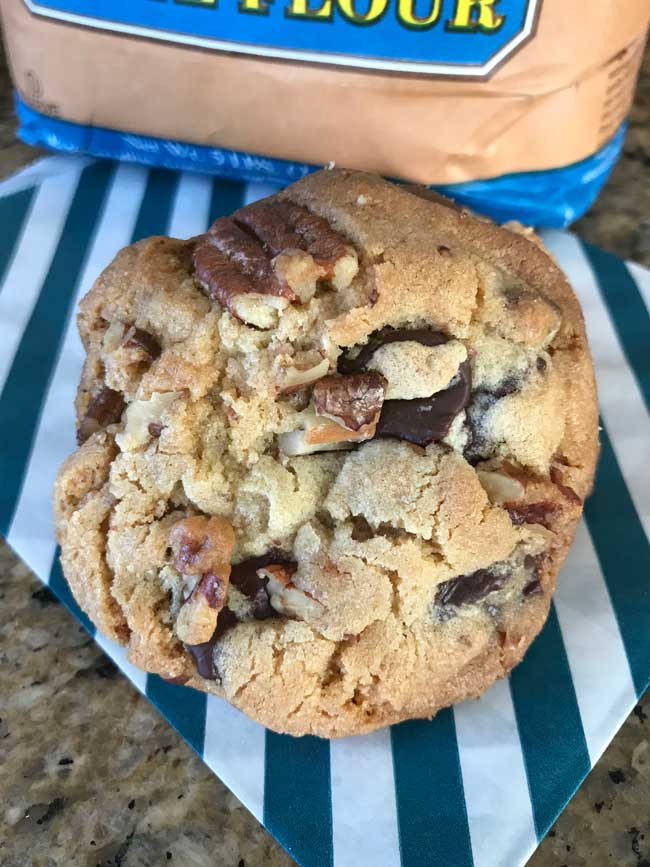 Why I Like This Recipe
Unlike some chewy recipes that involve melting the butter and just stirring everything together (Bon Appetit Chocolate Chip, for example), this recipe calls for more creaming and beating, leading to an airier texture with more contrast between the center and crunchier edges. To get the right texture, you'll definitely need an electric mixer. The flavor is great, too. You get enough brown butter flavor from browning half, but you also get the flavors of the brown sugar, molasses and nuts. And for some reason, this recipe goes extremely well with bittersweet chips.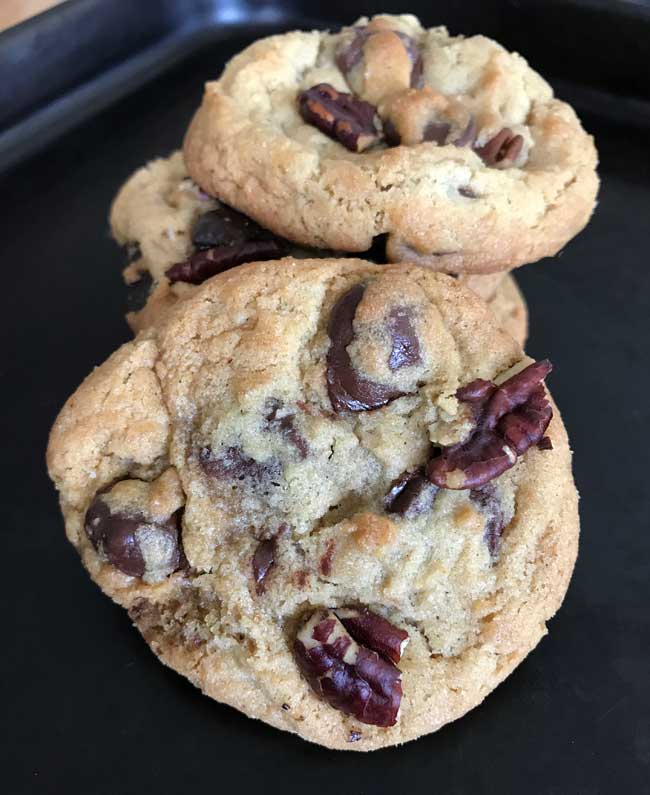 Molasses
A little molasses goes a long way in this recipe. You can use mild or blackstrap. The flavor is subtle. That said, if you want a lot of molasses flavor, I recommend the Jumbo Chocolate Chip Cookies with Molasses.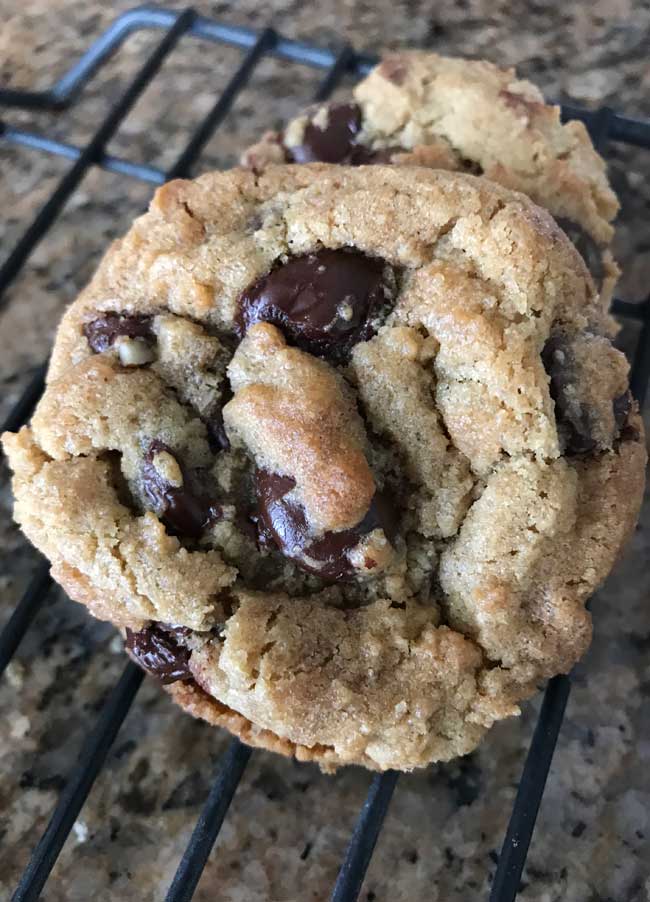 Brown Butter Chocolate Chip Cookies Dough
Here's a picture of the dough ready for the freezer. The cookies improve with dough that's been chilled for at least 24 hours, so I usually don't move the cookie dough balls to the freezer until they've been in the refrigerator for about 2 days.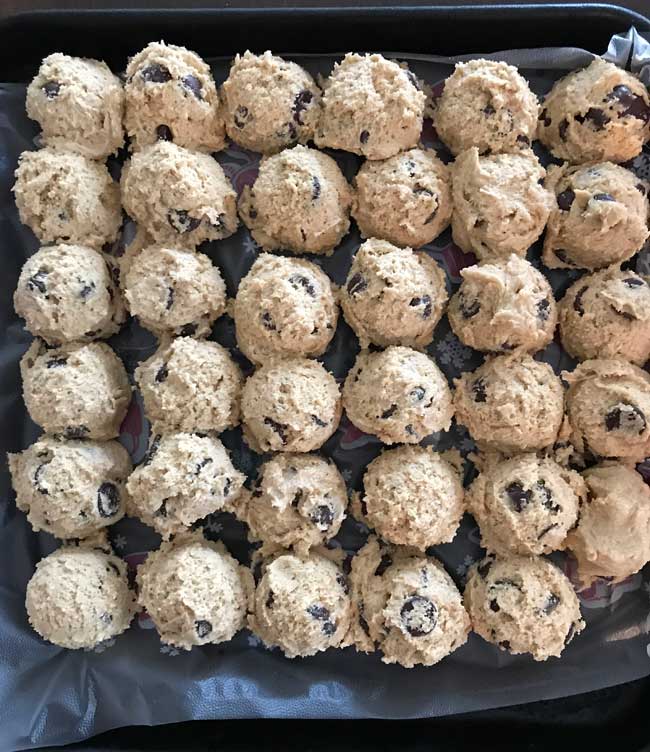 Browned Butter Chocolate Chip Ingredients
Butter -- I use unsalted. Sometimes I use half regular butter and half European style, such as President brand. This makes the cookies a little thicker and richer tasting.
Flour -- King Arthur AP Flour. For accuracy, it's best to weigh 270 grams.
Baking Soda
Salt -- Morton kosher in the dough and flaky Maldon on top (or whatever salt I have).
Sugar -- The recipe calls for 1 cup light brown sugar and ½ cup granulated. I sometimes use a mixture of light and dark brown for the 1 cup brown sugar along with the ½ cup granulated.
Egg -- 1 egg and 1 egg yolk. If making a half batch, I use 1 egg yolk and only 17 grams of the white. It's a great trick for halving recipes that call for 1 egg and 1 yolk.
Molasses -- Mild and blackstrap are both good choices. I've read reviews from some people who leave it out completely.
Chips -- Bittersweet Ghirardelli are larger and less sweet than regular semisweet chips. The flavor of the bittersweet chips really elevates the cookies
Nuts -- Toasted pecans tossed in a little butter (and sometimes salt) work well, as do lightly salted macadamia nuts.
There are so many great brown/browned butter cookie recipes out there, but this is one I always go back to. Main changes: Half European style butter/half LOL, half dark and light brown sugar and macadamia nuts!
More Cookie Recipes (Mostly with Molasses)
Recipe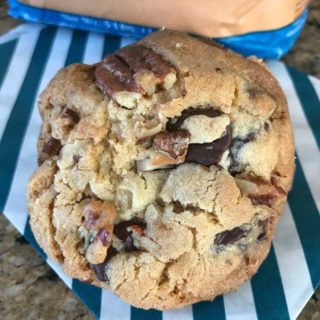 Brown Butter Chocolate Chip Cookies
Chocolate chip cookies made with browned butter. For best results, use weights rather than volume.
Ingredients 
8

oz

unsalted butter, cool room temperature (2 sticks)

(228 grams)

2

cups

unbleached all-purpose flour***

(270 grams)

1

teaspoon

baking soda

1

teaspoon

salt

1

cup

tightly packed light brown sugar

(210 grams)

2

teaspoons

vanilla extract

1

teaspoon

molasses

8 grams, mild or blackstrap are both good

½

cup

granulated sugar, scant cup

(90 grams)

1

large egg

1

large egg yolk

2

cups

bittersweet chocolate chips (Ghirardelli)

¾

cup

walnuts, pecans or macadamia nuts

Coarse sea salt

to sprinkle on top (good, but optional)
Instructions 
Brown 1 stick (114 grams) of the butter using your favorite method for browning butter. I like to melt it in a small saucepan over medium low heat, swirling often as it melts and watching for browned bits to form. Remove from heat.

Allow the browned butter to cool while you weigh out the flour.

Mix the 270 grams flour with the baking soda and salt. Set the flour mixture aside.

In the bowl of a stand mixer, beat the remaining ½ cup (1 stick) butter with the brown sugar for 3 full minutes, scraping the side of the bowl often.

Beat in the vanilla and molasses.

Add the cooled browned butter and the granulated sugar to the mixing bowl and beat for 2 more minutes.

Add the egg and egg yolk, and stir until blended, then beat for about 30 seconds.

Add the flour mixture and stir until blended, then stir in the chocolate chips and pecans (if using).

Using a medium cookie scoop or a generously rounded tablespoon measure, scoop dough into balls and arrange on a plate or cookie sheet lined with plastic wrap. Chill the dough balls for an hour or overnight or until ready to bake.

Preheat the oven to 350°F. Have ready two ungreased baking sheets or if you prefer, line with parchment. I like to bake these directly on the clean baking sheets.

Set the dough balls 2 ½ inches apart on sheets. If desired, sprinkle with a little salt. This balances out the sweetness.

Bake the cookies for 12 to 15 minutes, until they're golden brown.

Remove them from the oven, and allow them to rest on the baking sheet for at least 5 minutes before moving them.
Notes
For the butter, you can use all American butter or half American and half President or Plugra for a slightly richer cookies. 
For the sugar, use all light or mix light and dark.
Don't leave out the nuts (unless you have to).  They really add to this cookie.
These are perfect with Ghirardelli's bittersweet chips.
Make sure to weigh the flour.  I always use 270 grams.  The cookies should not be at all greasy tasting or overly thin.