I hadn't planned on doing a post about the new Bon Appetit chocolate chip cookies, but after making them a couple of times and watching reviews from other bakers appear on their site, I changed my mind. So many people are saying the cookies spread too much and are greasy, but that shouldn't be the case.  If you didn't have good luck with the recipe, it's worth trying again with a few changes.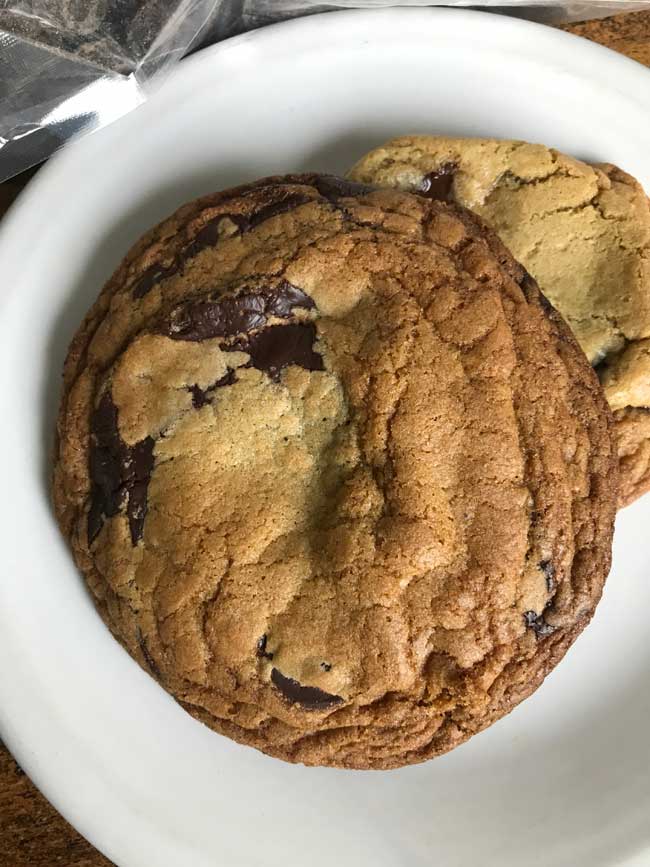 Since this recipe appears to be a riff on an old famous Cook's Illustrated recipe, I made it again and added back a step that CI originally used, which is stirring the butter and sugar mixture, letting it stand for 3 minutes and repeating a couple of times before adding the flour.  Even with the stirring, BA's version was still too loose to shape.  Contrary to what the original BA article said, it seems the dough does need some chill time.  So here's how I made the cookies.  I made the whole recipe in one large (3 1/2 quart) saucepan, let the dough chill until it was thick enough to work with, then shaped the cookies and baked a few right away.  The ones made after an hour or two of chilling were not thin and greasy, and the ones made with dough that had chilled overnight were just slightly thicker.  I'll add some more notes when I make them again, but I'm really curious to know why so many people got thin and greasy cookies.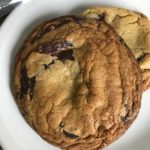 Print Recipe
Bon Appetit's New Best Chocolate Chip Cookies
Chocolate Chip Cookies made with browned butter and 2 egg yolks.
Ingredients
12

tablespoons

unsalted butter

170 grams

1/4

cup

granulated sugar

50 grams

1

cup

packed dark brown sugar

200

1

teaspoon

table salt

2

teaspoons

vanilla extract

1

large egg

2

large egg yolks

1 1/2

cups

unbleached all-purpose flour

210 grams -- use KA or one with a higher protein

3/4

teaspoon

baking soda

1 1/2

cups

semisweet chocolate chips or chunks
Instructions
Brown 8 tablespoons (114 grams) of the butter in a large (3 1/2 quart) saucepan. Remove pan from heat and add remaining 4 tablespoons of butter, stirring with a heavy duty heat proof scraper until fully melted. Add dark brown sugar, sugar, salt and vanilla and stir until blended, then stir in the egg and yolks. Let mixture stand for 3 minutes.

After 3 minutes, stir again for 30 seconds. Let stand for another 3 minutes, then whisk again. The standing time helps dissolve the sugar with the theory being that more dissolved sugar in the batter will contribute to extra caramelization while baking.

Add the baking soda and stir until blended, than add the 210 grams of flour and stir. The batter will be thinner than typical chocolate chip cookie dough and most likely still a little warm. Allow it to stand for another 5 minutes (or until cool) then stir in the chocolate chips.

The batter will still be pretty runny, so empty it onto a large plate, cover and chill for about 30 minutes or until it is thick enough to scoop into portions.

When thick enough to shape, shape into 16 equal portions and keep the portions chilled until ready to bake. You can bake right away, or let them chill overnight.

Preheat oven to 375 degrees F. Place on parchment lined baking sheets, 2 inches apart. Bake 10-14 minutes at 375 degrees F. Allow them to cool directly on the baking sheet for about 10 minutes, then transfer to a wire rack.