I've been on a mission to make a copycat of the Marathon Bread from Wegmans. Let me tell you, this is not it. Wegman's Marathon Bread is a light textured, chewy loaf. But this one, Martha Stewart's Overnight No-Knead Seed Bread, is chewy, crusty and baked as a round. What it does have in common with Marathon Bread is lots of seeds --specifically pumpkin, sesame and flax seeds.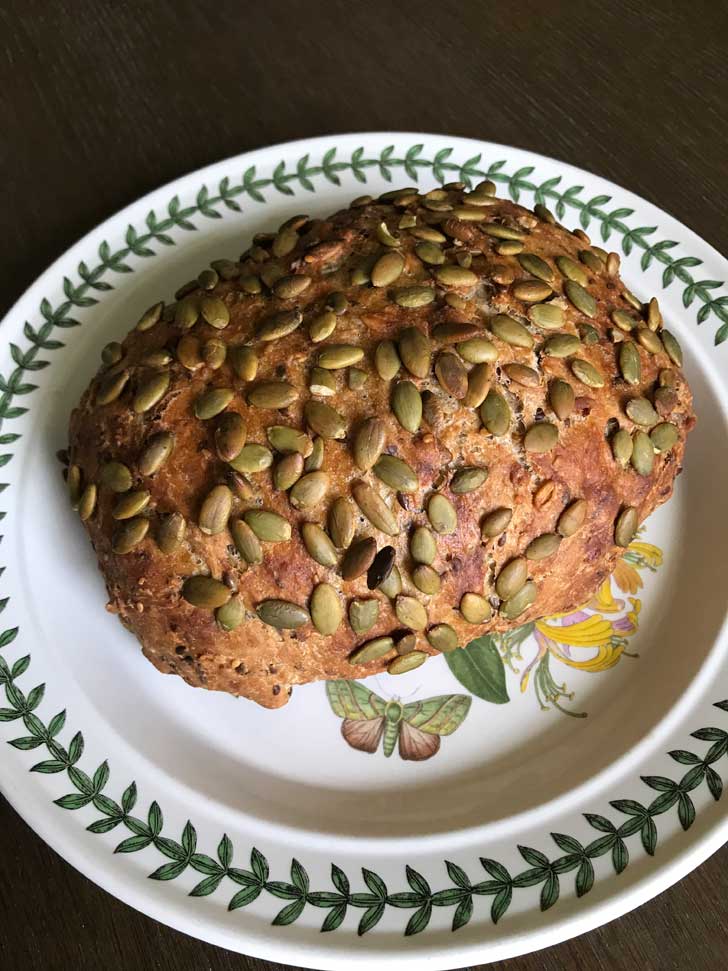 Martha Stewart's Seed Bread
Here's a link to Martha's original recipe in case you want a very large loaf. This no-knead recipe is as easy as they come, but you'll need a lidded Dutch oven like a Le Creuset and a pantry full of different seeds and flours. Oh, and patience. It's an 18 hour process.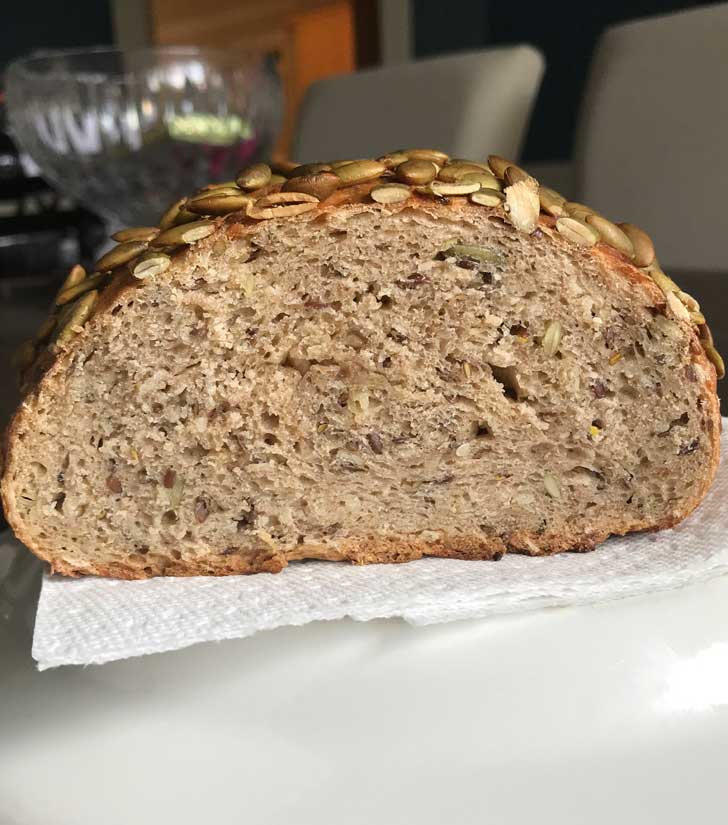 I halved the recipe (and changed the seed ratios a bit), and it's still more bread than we need. This is what the dough looked like after I'd drizzled it with olive oil and set it aside to rise.
After halving the amount of dough, I had to adjust the baking time and temp somewhat. And I did use the lidded Dutch oven method of bread baking. Since my loaf was smaller it was easy to plop onto a sheet of parchment and cover. Martha Stewart just greases and flours her Dutch oven and puts the dough directly in.
Bake Time and Temperature
The bake time in my oven was 35 minutes total at 450 degrees F. The oven gets preheated to 475 degrees. This gets it good and hot, so when you open the oven to take the pot out, it will still be very hot even with the heat loss. I baked the bread covered for 30 minutes, then took the lid off and baked it for another 5. You know your oven better than anyone, so if yours runs hot check the bread at 25 minutes, and if it's a little slow expect to bake it a little longer. Martha's large loaf takes 45 minutes covered and another 15 uncovered. I suspect that even if I'd made the large loaf mine would have been done sooner.
The family likes this one, and I am already looking forward to making it again.
Recipe
Martha Stewart's Seed Bread
The easiest seed bread ever. Time does all the work.
Ingredients 
1 ½

cups

whole wheat flour (plus another T if needed)

(210 grams)

1

cup

bread flour

(140 grams)

1 ½

teaspoons

Morton kosher salt (or use 2 ½ teaspoons Diamond)

2

tablespoons

sugar (or honey)

(25 grams)

⅝

teaspoons

instant yeast

⅓

cup

old fashioned oats

2

tablespoons

whole flax

2

teaspoons

sesame seeds

¼

cup

pumpkin seeds plus more for the outside of the loaf

1

cup

water plus about 2-3 t more or as needed

1

large

egg white, for brushing over the loaf
Instructions 
Mix all of the dry ingredients together in a large bowl. Be sure the really mix so that everything is evenly blended.

Pour in the cold water and stir to make a dough. It should not be too sticky, but I wouldn't call it dry either. If it's too sticky and wet, add more bread flour. If it's too dry, add a little water.

Drizzle a slick coat of oil (I use olive) over the dough, then cover and refrigerator for 2 hours.

Remove from the refrigerator and let sit at room temperature, still covered, for 12 to 18 hours.

About 40 minutes before your are ready to bake it, put a large lidded pan such as a Le Creuset Dutch oven in the oven and heat to 475 degrees F. Let it get good and hot. You are going to drop the heat to 450, not bake at 475.

Meanwhile, scrape your dough onto a piece of parchment paper just large enough to fit in the pot.

When oven and pot are very hot, carefully remove from oven and plop the parchment with the dough in the pot. Cover and return to the oven.

Lower heat to 450 and bake covered for about 30 minutes. Remove cover (bread should be brown at this point and look almost done) and bake for another 5 minutes uncovered.